Benefit cosmetics is known for its unique design and lovely products. Till now i had not used any of their product but i got Benefit Smokin' eyes kit few days ago from a friend as gift. It is designed to create smoky eyes and have all essentials to create one. Today i am going to create an EOTD and write my thoughts about this eye kit.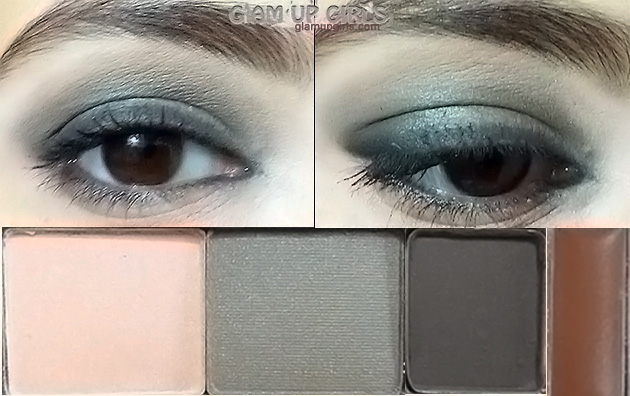 My Thoughts
The packaging of this kit is of paper/cardboard like Benefits other products have. It has one highlighter, two eye shadows, one tinted brow gel, one eye brightener, one eye liner pencil, small tweezer and dual end brush. Lets talk about each thing separately.
Pink highlight shadow
A light pink highlighter is very soft textured and have good pigmentation.
Pewter base shadow
A light grey shimmery shadow is soft textured as well having good pigmentation.
Deep charcoal shadow
It is deep grey shadow with hint of brown base shadow is also soft textured and very pigmented.
Smokin' liner
This eye liner is very black but i felt it little hard using it as eyeliner.
Brow zings shaping wax
The brow shaping wax is brown colored and work very well for filling and holding brows at their place.
Eye bright
It is creamy pink colored and can be used at inner corner of eyes to make them pop.
Tweezer and dual end brush
I find tweezer little difficult to handle as it is too small for my use but can come handy at times. The dual end brush is just ok, you can use it if you do not have any other option.
Overall this is very cute kit having all essentials to create smoky eye makeup having lovely shades which are quite pigmented however the tools are just average.
My Rating

4/5
Benefit cosmetics smokin' eyes
is priced
$24
.