A few days ago i spotted Milani Paint Eyeshadow Palettes which are not available officially now but are on some online stores you can buy them. This palette in Abstract instantly got my attention as it has some really beautiful neutral shades and some are even similar to Lorac Unzipped. Today i am going to share my thoughts and swatches on this palette so lets find out how it turned out.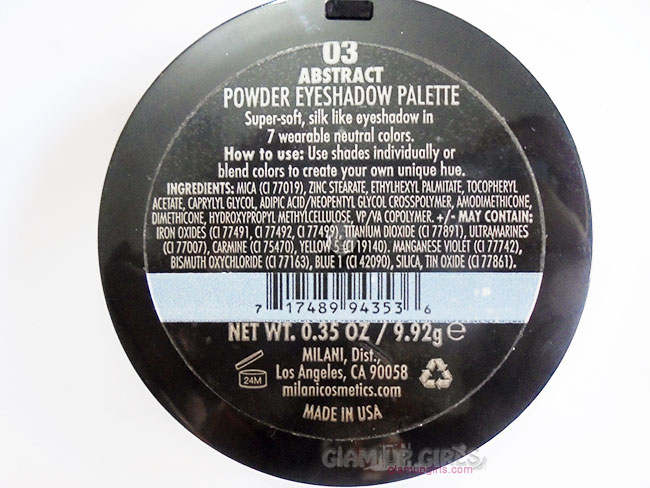 Milani Paint Eyeshadow Palette in Abstract
My Thoughts
This is a large round palette made of black plastic with transparent plastic lid. It has seven shades which are present in mosaic pattern. In these seven shades 3 are shimmery and 4 shades are matte. All the shades are very pigmented with soft texture which applies smoothly and blends effortlessly.
From Left to right -
A metallic gold shade with intense pigmentation. It has very soft texture which is easy to blend.
A medium brown shade with matte finish, have very good pigmentation and nice texture.
Dark brown shade with matte finish, it is also very pigmented and have nice texture.
A light rosy pink shade with shimmery finish. It is also very pigmented and have soft texture.
A dark bronze shade with shimmery finish which have great pigmentation and soft texture.
A dark reddish brown matte shade with intense pigmentation and soft texture.
In center is a light cream-beige shade with matte finish. It has nice color payoff with good texture.
This palette is versatile and have all the necessary neutral shades you need to create every day to glamorous look. I found few shades are similar to
Lorac Unzipped palette
so it can be nice dupe to that expensive one. The light beige shade is perfect as base eye shadow or as brow bone highlighter when you are going for no makeup makeup look. All the shades have good pigmentation and i have faced no issue with any shade to get good color payoff. The texture of all shades is also very soft and none of them is powdery or hard to work with.
You might be thinking that it will be hard to get each shade with eye brush but this is not the case at all. All the shades are separated and are large enough to be used individually and you can easily get them on your eye brush. So no need to worry that you will get mix shades when you don't want.
Overall this palette is really impressive, having beautiful collection of neutral shades which are highly pigmented with very nice texture. For the price i will highly recommend it.
In Favor
Versatile 7 neutral shades
Travel friendly packaging
3 shimmery and 4 matte shades
Highly pigmented shades
Nice soft texture
Blend able
Not in Favor
My Rating
5/5
Milani Paint Eyeshadow Palette is priced
$8.99
or PKR985