The eye primer plays an important role in your eye makeup. They make your eyeshadow look more vibrant and long lasting. I usually apply concealer and set it with powder before eye makeup which have worked for me so far. I have bought Makeup revolution eye primer in Stay don't stray, some can recognize that the name is borrowed from Benefit eye primer. Do you want to know how did it work for, then keep reading.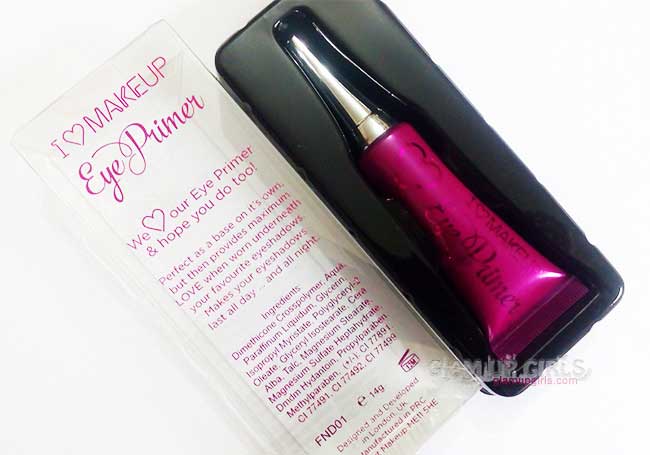 Makeup Revolution I ♡ Makeup Eye Primer Stay don't stray
My Thoughts
This primer comes in squeezable dark purple tube with slim nozzle for product to come out and silver long cap. The tube looks large comparing to any other primer but there is some air filled in it. The texture of primer is not very thin or very thick and is blend able. The shade is light beige color almost like ivory with pink undertones. This primer can also be used as eye shadow base.
The texture is very nice and is not thick creamy. Once it is set it doesn't feel heavy or oily and brighten up the lid. I would suggest to apply thin layer to prevent cakey look and wait few seconds to let it set and dry before applying eye shadow. With this primer you do not need to apply any other eye base to lighten the skin. When you apply the eye shadow on this primer there is visible difference one can notice. It really make the shadow more vibrant and chalky eye shadows look less powdery . Blending on this primer may need little more effort as on any other primer but it is not too drastic. It is light weight and feels natural on the skin and because of matte finish it doesn't crease much as well.
I would not say that it make your eye makeup very long lasting as i did not experience it. I usually wear makeup for 5 to 6 hours and it did stay with primer for this long. On swatches the eye shadow on bare skin rubs off more quickly then with primer so i can assume it does add more time to the staying power of eye shadows.
Overall in such reasonable price this primer is very good. It does make color more vibrant and little long lasting and matte finish does help prevent creasing.
In Favor
Light shade can be used as eye shadow base
Less amount is enough
Sets into matte finish
Makes the eye shadow more vibrant and less powdery
Makes eye shadows little long lasting
Budget friendly
Not in Favor
Might crease on oily lids
Makes blending little difficult like any other primer
My Rating

4/5
Makeup Revolution I ♡ Makeup Eye Primer Stay don't stray is Priced
£2.99