Holika Holika Aloe Vera 99% Soothing Gel - Review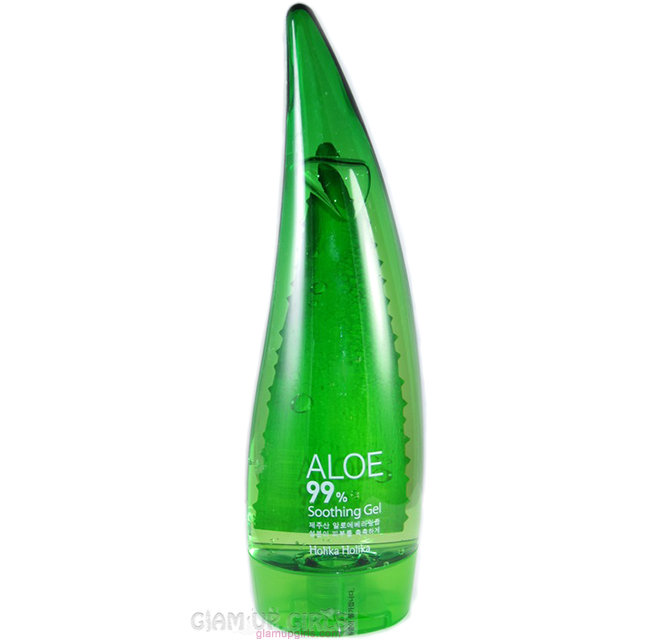 Holika Holika is one of the most popular Korean brand for makeup and beauty care products. Their Aloe soothing gel is quite popular around the world for last couple of years which claims to have 99% original aloe extract. I know you might be thinking why not try the natural Aloe leaf instead of one which is packed in one corner of the world and had to fly to you after who knows how many days after. Well you are right if you can easily get your hands on it and can secure it for some days. However if you have busy life and extracting the gel from natural leaf is hard for you then you can try this. So lets see how good is it on its words.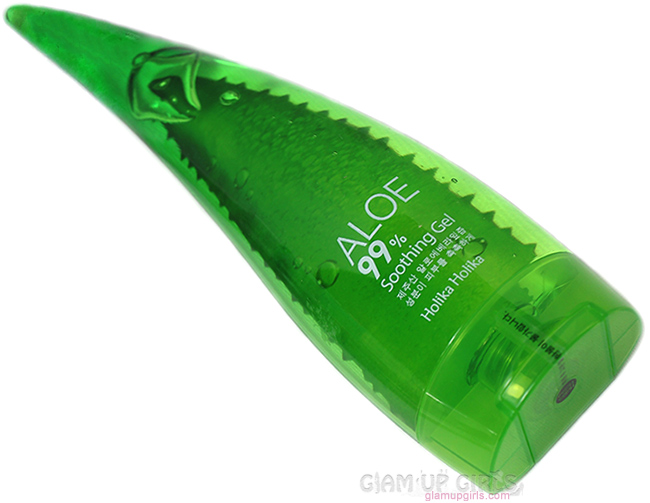 Product description
A soothing gel containing 99% aloe.
A fresh and fast absorbing feeling without sticky finish.
It helps to soothe all your irritated skin leaving a complete refreshing.
Multi care soothing gel that calms the reddened and sensitive face and body.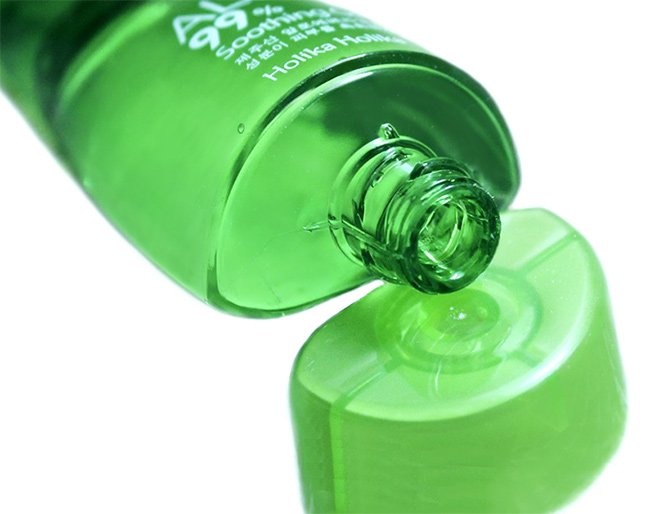 My Thoughts

The packaging is amazing and the leaf green color bottle in the aloe leaf shape is very unique idea. The amount of product can be seen through the bottle. The texture of this product is transparent gel like similar to the original aloe gel which is light weight and absorbed in the skin completely without making it sticky. Little amount is needed of it for whole face. This product have refreshing light scent to it which is not bothering and feels more like natural.

There are multiple ways you can use this products for hairs, face and body which includes following.
For Face

Moisture Cream
Moisture/Soothing Pack
Use for Eye Patch
Small Areas Dedicated Soothing Patch
After Shave
For Hair

Use for hair Essence
Hair Treatment
For Body

Body Soothing Gel
Hand/Foot Essence
This gel is a perfect moisturizer for all skin types specially for oily and combination skins in summers as it is water base and absorbed completely. The fact that it soothes the irritating or red skin makes it really good for the ones who are acne prone and get occasional breakouts. After spending time in sun this gel will restore the skin moisture and calm the heated skin. However it is not very moisturizing for very dry skin. After applying it on dry skin you have to use any other moisturizer for further hydration which is same as for using natural leaf gel as that is also not for very dry skin.

After application it leaves the skin smooth which can also be considered a good base for makeup. The foundation glides easily and you can mix it in your foundation to get more even application. You can also apply it as face pack for which apply generous amount on face as mask and leave for 15 to 20 minutes and then wipe the excessive amount. The effect is similar as you apply any hydrating sheet mask. For spot treatment you can apply it on the effected area and leave it as it is. It instantly soothes irritated or burning skin, the fact which i think is good to use it as after shave as well.

As it is recommended for hairs as well, you can use it to tame fly aways or apply it for itching on scalp because of dryness. If you are applying it as hair pack then wash it after 20 to 30 minutes but you can also use it lightly on damp hairs as hair essence which can also act as heat protection product. It is better to keep it in fridge for cooling effect.

All in all this is an amazing product which is versatile, lightweight, effective and not very costly. For summers it can be a savior for all skin and sooth the red or irritated skin.

In Favor

Multipurpose product
Based on natural aloe extract
Refreshing light smell
For all skin types
Little amount is required
Light weight
Soothing/calming
Absorbed completely without being sticky
Not in Favor
Not very moisturizing for very dry skin
Holika Holika Aloe 99% Soothing Gel is priced $6.25 at BeautyJoint
comments powered by

Disqus