Foodaholic 3D and 4D Essence Masks from Skin18 - Review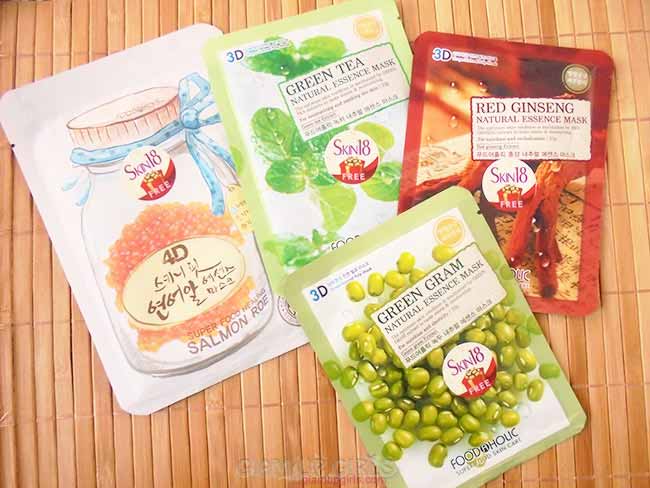 In our sheet mask series from skin18 we have reviewed Four seasons masks, Xilix and SOC masks and today we are going to share our thoughts on one more sheet mask brand from Skin18 called Foodaholic. All Foodaholic Natural Essence masks keeps the moist hydrating sense based on silky touch and excellent contact of 3D shape natural pulp mask. These masks contain the benefits to smoothes, wrinkle improvement, provides suppleness, anti-bacterial, healing properties, moisturizes, nourishes and improves elasticity.


4D shape means a mask that not only cover your face but our neck, it contains two ear handles which can be handed onto your ear for a closer touch to your face during the facial process. You no longer have to lie down and worry how the mask will fall off during the mask process and feel free to walk around. 4-dimension sheet with ear hanger provides lifting effect to increase the adhesion and excellent moisture absorption into the skin.

Foodaholic 3D Green Gram Natural Essence Mask $1.50
Green Gram Natural Essence Mask contains the extract of green gram which gives the rich moisture and cares the tired and rough skin to keep the elastic and moist skin. The optimum skin condition is maintained by natural ingredient extract to create elasticity for your skin & moisturize at the same time!!

Foodaholic 3D Red Ginseng Natural Essence Mask $1.50
FOODAHOLIC Red Ginseng Natural Essence Mask Foodaholic Red Ginseng Natural Essence Mask contains red ginseng extract that recovers damaged skin and helps to maintain the skin healthy and glow. Red ginseng to help restore skin strength after being damaged by stress, pollution, debris and weather. If you have experienced harsh weather or environment or would like to relax after a long day of work, this mask will be sure to cure you from your troubles. Also helps maintain firmness and smoothness.

Foodaholic 3D Green Tea Natural Essence Mask $1.50
FOODAHOLIC Green Tea Natural Essence Mask Contains the extract of green tea which soothes the skin and gives the moisture and refreshment to the skin to prevent the roughness and keep the moist skin. Comforts stressed and fatigued skin.

Considering the month of Ramadan, most of us will be fasting and that will leave our skin dehydrated and dull where these masks can come to rescue. I really loved the Foodaholic masks as they are super refreshing, have very nice smell and leave the skin super soft, bright and moisturized. I particularly liked the idea of 4D mask it is so comfortable and convenient to wear. The mask is extra large which covers the area till ear and chin while have four extra holes to hang through ears.

Overall i would highly recommend Foodaholic masks and if you haven't tried any sheet masks, these are the ones you should start with. They have natural essence and we haven't noticed any irritation or other side effects from them.

Foodaholic 3D and 4D masks can be bought easily from Skin18.
comments powered by

Disqus