Eyeliner Stencils for Cat Eyes and Smokey Eyes by Reasonablez.com - Review, Tutorial and Looks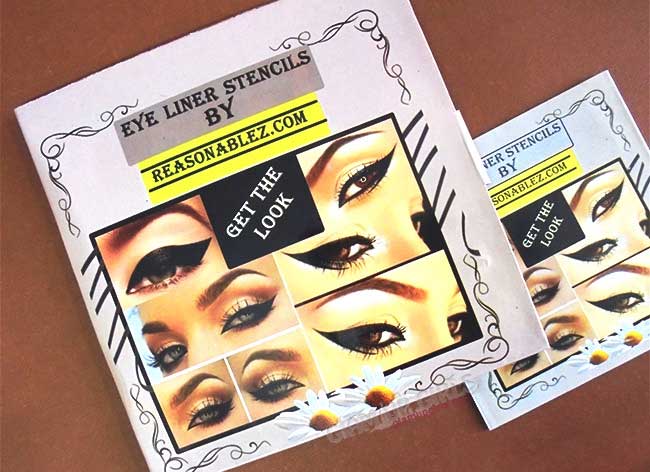 Eyeliner stencils idea was originally introduced by the brand Beth Bender Beauty which got famous around the world quickly but they were extremely expensive to know if you are going to like them or not. Luckily there is one very reasonable option available to try which is locally available and have 6 different eyeliner styles then 2. We had not tried any sort of makeup stencils before and today i am going to share my thoughts and looks on these stencils by Reasonablez.com
My Thoughts
The 6 eyeliner stencils come in compact cardboard book like packaging with a complete guide along with it. The stencils are cut on a plastic sheet which is not very hard or very soft but easy to handle on eyes and there are no harsh edges. The styles are suitable to fit on big eyes but if you have small eyes, draw the liner tail first at outer eye and then move the stencil accordingly and draw the liner line along the lash line. This way you can achieve long wing as much as you want.

How to use eyeliner stencil

Place the edge of eyeliner shape slightly above the lash line and set according to your eye shape.
Hold the stencil with index and middle finger.
Apply black eye shadow with eye shadow brush in the eyeliner shape by pressing and not sweeping the shadow. Follow the black line on the stencil.
You can dampen the brush to get more intense color if you want.
Remove the stencil and apply your favorite gel, liquid or pencil eye liner.
You can lengthen or widen the wings as you want after removing the stencil.
Remember to clean the stencil with tissue before using on second eye.


The eye on which you are using the stencil close it completely and do not press the stencils too tightly on lids. A little pressure on edges with index and middle finger is all we need. This way the makeup you did will remain intact. The brush which comes with it is very useful and is perfect for applying eye shadow through stencils. The Cat eyeliner stencil is mistakenly printed and have written bottom liner where should be the cat liner so you have to use it the other way around.

I have created the eyeliners according to my linking like placing the double wing little lower. You can change the looks as you want. These stencils are only to trace the basic shape and then you can be creative and change them as you like.

Overall these stencils are really amazing once you get hack of placing it at right place, you will get 6 different eyeliner styles and on top of that equally on both eyes which will be great.

Smokey Eyes and Eyeliner Stencils is priced PKR999 and is available at Reasonablez.com

What do you think of these stencils? Have you used some thing similar before?
comments powered by

Disqus