I was not aware of priming lashes prior to applying mascara few days ago and when this concept hit me i was intrigued to use it as soon as possible. When i was searching for some attractive products from Sweet Touch counter i ended up buying their double step volume mascara and in today's post i will be sharing my thoughts on it.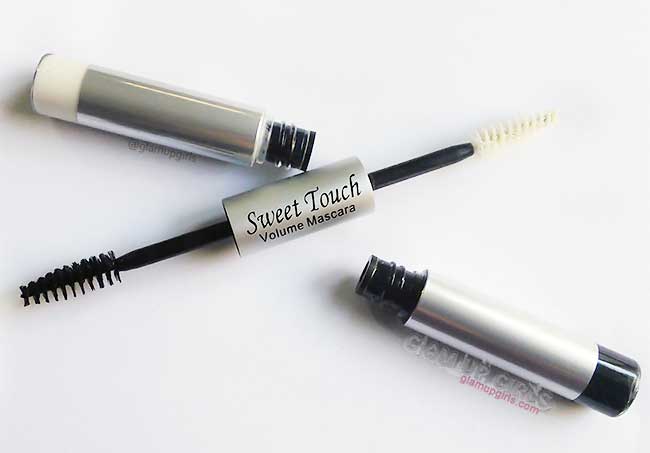 Sweet Touch Double Step Volume Mascara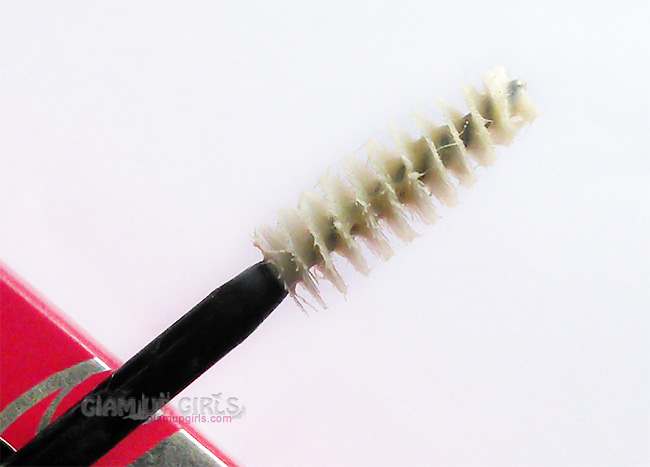 Sweet Touch Double Step Volume Mascara - Primer side
My Thoughts
The packaging of this mascara is quite attractive. It is light weight made of plastic covered with steel layer. Both ends have transparent little tub showing the relative product color. The base side contains the white color formula which is to apply before applying black mascara and the other side contains black mascara. Both ends have large wands with brush applicator similar to spooley brush which is easy to use but can get messy if not used carefully and you can stain the eyelids with mascara.
After applying the white formula it leaves a white shade to end of lashes which needs to be dried before going to next step. This base takes little time to dry and if you are in hurry this duo is not a good choice. So the best way is to use it before applying other eye makeup and then apply black mascara at the end. The white base has little weird plastic y smell which one can notice instantly but as lashes are little far from our nose so we can neglect it however mascara has no strong smell to it but while applying, it feels kind of little stingy to sensitive eyes.
After applying base coat, it defines lashes little bit but doesn't add any volume or length to them. Black mascara have a dark black color and once applied on base coat it covers the white stain left on lashes. This mascara add little bit of length to lashes but does not add any volume to them. It doesn't smudge easily and is quite long lasting once dried. It feels like a water proof mascara because it is little hard to remove. You have to use any good makeup remover to get rid of it.
Overall apart from adding little length i am not really impressed with this duo mascara. It doesn't add volume, stinks to sensitive eyes and is really hard to remove. I do not think i am going to try any other double step mascara any soon.
In Favor
Attractive packaging
Two in one
Adds little length to lashes
Smudge proof
Long lasting
Not in Favor
Doesn't add volume
Stinks to sensitive eyes
White base have weird smell
Brush can be messy
Hard to remove
You do not like water proof mascara
My Rating

2.5/5
Sweet Touch Double Step Volume Mascara is priced
PKR520