ColourPop have released yet another collection and it is quite interesting as well. If you are into more neutrals and are lacking cool tone shades in your collection then this is definitely for you. I am sharing my thoughts about the eyeshadow palette which is called That's Taupe. The snake print and loads of taupe shades are something i would want to have. Let me tell you if it is as exciting as it sounds.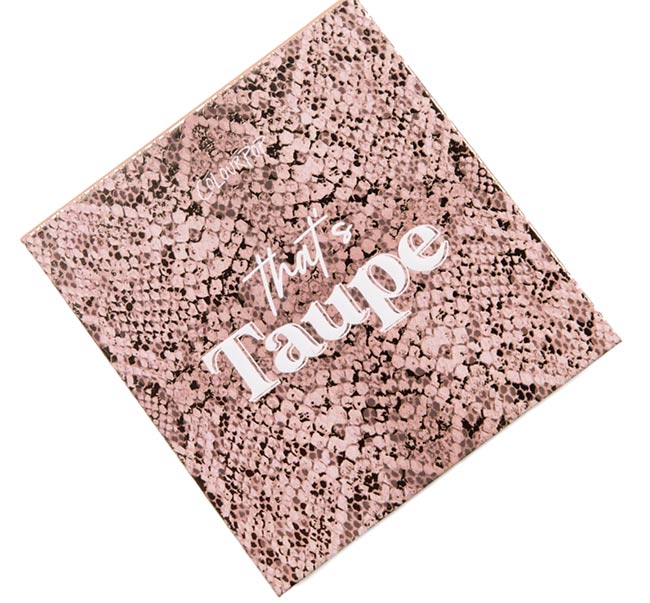 Product description
Brand claims that it is cool-toned and ready palette which is full of cool, neutral taupe shadows in matte and metallic finishes. You can create flattering smokey to every day glamours looks.
My Thoughts
The cardboard palette have snake design printed on top and inside of the palette. there is no mirror in it. The palette contains 9 shades having 5 mattes and 4 shimmery/metallic shades. The color combination is very good having lightest shade to the dark one to experiment lots of possibilities. Overall the formula of all shades is good and there is no issue in applying and blending them. However the shimmery shades are best applied with damp brush.
Boa
is a pinkish beige color with matte finish.
Pebble beach
is a medium taupe shade with matte finish.
Python
is a mauve taupe shade with matte finish.
Slated
is a light golden shimmery shade with glitter specks. It is best applied with glitter glue or primer.
Snake Eyes
is a medium bronze shade with frosted finish.
Cold Blooded
is cool tone light bronze shade with frost finish.
Rock steady
is neutral medium taupe brown shade with matte finish.
Constrictor
is a dark olive green shimmery shade with gold glitter.
Bedrock
is cool toned dark brown shade with matte finish.
The shimmery shades are bit hard to work with and they are not as creamy as they should be. However you can make them work with good primer and proper application. The color range inspired by snake is definitely unique and interesting to work with, specially if you want break form all of your warm tone palettes.
ColourPop That's Taupe Eyeshadow Palette
is priced $14, you can
here