Glycolic exfoliators are much more effective then other grainy scrubs and we have shared our thoughts on famous Pixi glycolic exfoliating toner with you before. Today we are sharing one more glycolic product which is called NIP + FAB Glycolic Fix Scrub. This brand is quite famous for its skin care products and though this is my first pick from them, i have heard good thing about their moisturizer as well. Lets see how this turned out.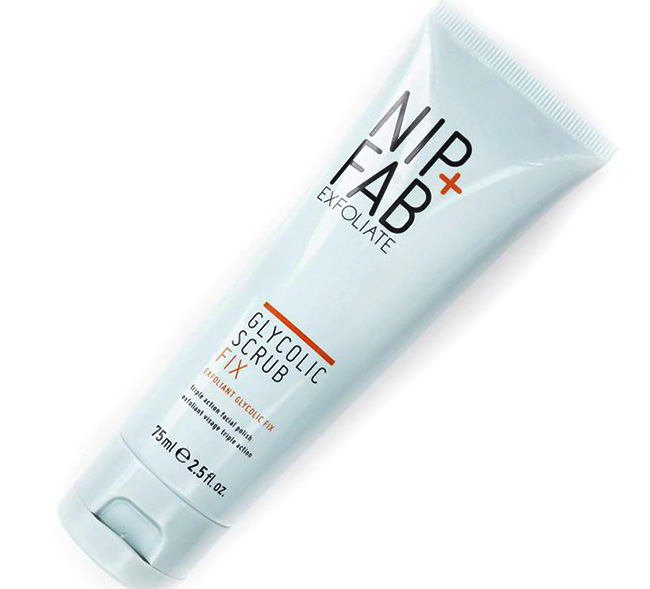 Product description
Brand claims that this scrub your skin to perfection with a new breed of facial exfoliator. it is packed with 3% glycolic acid and salicylic acid to refine, brighten + renew.
My Thoughts
This scrub comes in clean blue tube with flip cap which is common packaging for such products. The product is white colored with creamy texture and has small delicate particles which are not harsh on skin. in fact this is one of the best grainy exfoliator i find might work on sensitive skin too. As it doesn't rub off your skin but work from inside out.
It is suggested to use it on damp skin and rinse with luke warm water. I massage it for a minute or two on skin skin with light hands and wash it off. You do not have to add an extra face wash or cleanser with it but that's my point of view as it cleanse the skin deeply on its own. It brightens the skin and you can see the instant glow on face. As it contain salicylic acid, it cleanse the pores deeply while leaving behind smooth and supple skin. Having combination skin, i didn't notice any irritation while using it but it is still better to do patch test first with acid products.
From the first use, you will notice that skin has become smooth and healthy especially if you have dry skin with dull complexion. It gradually improve discoloration and pigmentation. However it is not just for dry skin, i think all skin types will love this scrub. It is enough to use it 3 times a week in start and the use just once a week to maintain the good skin.
Overall i am really impressed by this scrub and definitely recommend it to every one who want a good exfoliator which not only remove dead cells, cleans deeply, brighten the complexion but also make your skin healthy and glowing.
NIP + FAB Skin Glycolic Scrub Fix
is priced $19