L'Oreal Revitalift Moisturizing Night Cream - Review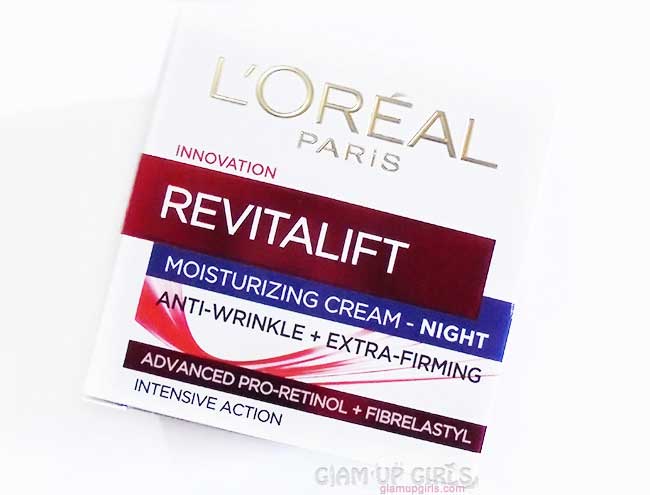 I have mentioned before that my skin is very dry and as much as dry skin have benefits it has some downsides as well. I rarely get any break out and enjoy sweat free skin around most of the year but at the same time dry skin is more prone to sun burn, uneven skin tone and most importantly get fine lines very early. On top of that if you spent more of your time in front of computer in moisture sucking conditioned room, your skin have to pay the price. I was looking for some good night cream which moisturize and at the same time keep my skin in good shape. L'Oreal Revitalift Moisturizing Night Cream seems a good option to me as it targets the skin for age 25 to onward and have recently launched their improved formula. Today i am going to share my thoughts whether it was a good option or not.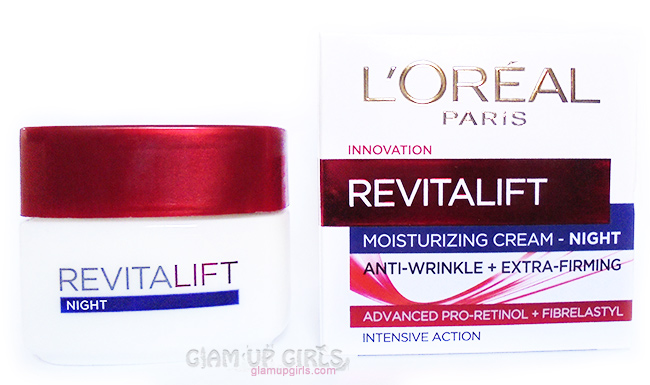 Product desription

Brand claims that it provides anti-wrinkle and firming action when you sleep and skin will appear refreshed, radiant, and younger every morning.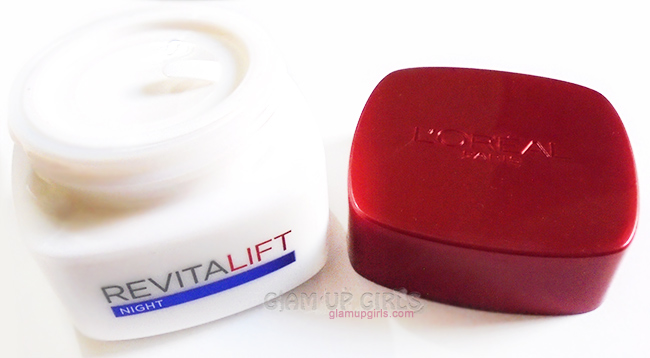 L'Oreal Revitalift Moisturizing Night Cream

My Thoughts

This cream comes in white heavy glass jar with protective lid and red plastic cap. It's texture is thick creamy which absorbs quickly in the skin which was little surprising for me because i thought it would be more oily and will take time to absorb as it is moisturizing night cream. On the contrary it leaves the skin smooth and grease free while it feels little stretching and for the same reason i would suggest to apply it right before sleeping and do not talk much or eat after applying it so the tightening works properly.

It has mild smell which doesn't bother on applying but while removing it in morning with water it smells more like medicated cream or gels. I have not encountered any burning effect or irritation with it but it does feel in the eyes so do not apply too close to eyes and never use it on upper eye lids. It doesn't make my skin dry and i could feel that my skin is hydrated without feeling even slightest oily. The tightening feel remains until i wash it in morning and if i only wash it with plain water i don't need extra moisturizing unless i rinse it with face wash.

I do not have any age signs or deep wrinkles but have laugh lines which i noticed getting deep day by day. The texture of my skin has improved visibly after using it for few days which was incredible. It feels more soft and smooth even though i thought it was already better. However it took more then two weeks after i noticed that the laugh lines have blurred a little bit. So i can safely say that if you want good results, you have to be regular. So far i did not find any side effect like break outs or irritation but some times when skin is too dry it gives little burning sensation immediately after application but fades soon as well.

Overall i love using this cream and have decided to use it for longer. It improves the skin texture, makes skin soft and smooth and continuous use may blur the fine lines. As it is not oily i think it will suit all skin types and would be perfect in summers as well.

L'Oreal Revitalift Moisturizing Night Cream is priced $17.99
comments powered by

Disqus