Facial sheet masks are some thing worth to try and you can never know how amazing they are unless you use them yourself. Luckily first i got the chance to try
Facial Sheet Masks by Mori and SoQ
few days ago which was a great experience. Koreans, The pioneer of best beauty products in the market have introduced these amazing masks to the world. Skin18 is one perfect place to get these masks from almost all Korean brands and on top of that, they have amazing offers, reasonable price and shipping. They kindly sent us 30 masks to try and we were super excited to try them. We sisters distributed these masks among us according to our skin and will be reviewing them in few posts. Today we are going to share our thought on 6 masks from Four Season Facial sheet Masks.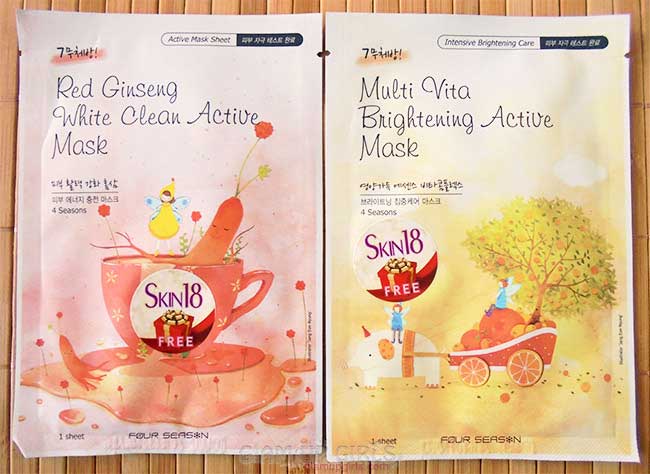 Four Season Multi Vita Brightening Active Mask and Red Ginseng White Clean Active Mask
Four Season Aloe Soothing Waterful Oasis Mask and Collagen Lifting Wrinkle Care Intensive Mask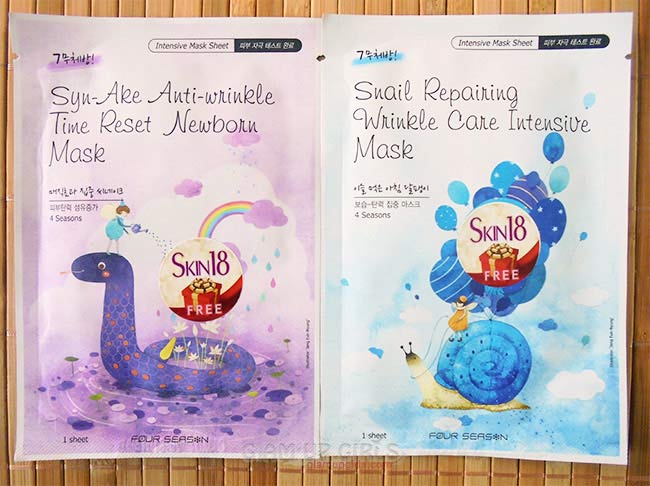 Four Season Snail Repairing Wrinkle Care Intensive Mask and Syn-ake Anti-Wrinkle Time Reset New Born Mask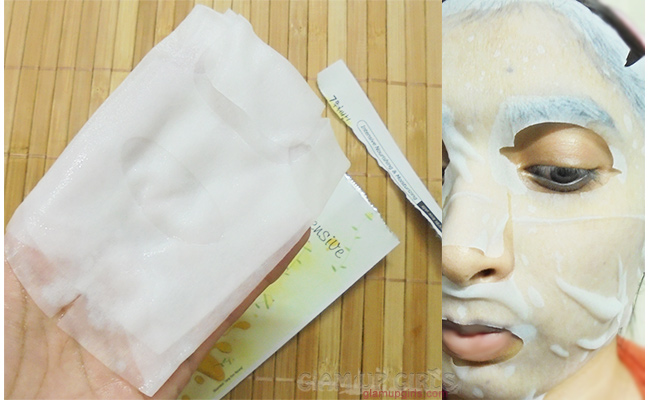 My Thoughts
These fiber made, serum coated masks come in foil packing. After tearing the packing you will find the folded fiber mask with lots of serum dripping from it. All white color masks have nice smelling scent to them which is not strong or bothering but remains for quite long. The sheet is quite wide and large with proper cuts to fit in your face. It can be applied to any size of face, if you have small face simply fold the extra from your face. The serum have sticky texture which helps sheet to stick to your skin.
It is better to cleanse your skin before applying this mask or at least wash with face wash to remove your makeup or other impurities. Leave it for 15 to 30 minutes to get good result. I would suggest to lie down so the serum won't slip in your eyes or mouth. These masks do not dry, except the collagen lifting one which dries, so after 15 minutes simply remove the mask and message the extra serum into skin. there will be no need of washing afterwards. You can also apply the extra serum from packaging on neck and hands.
During application you might feel slight irritation or itching if you have any skin issue like very dry or red skin but don't worry it will go away after few minutes and doesn't effect the skin in any bad way. After removing the mask the skin look brighter and well hydrated which is very impressive. If you have very dry skin you are going to love these masks as they moisturize skin extremely well but at the same time they are perfect for oily skin. They clean skin very well and doesn't make them oily.
Overall these masks are perfect to get instant glow, brightening effect and boost hydration in skin. For continuous results you have to apply them at least twice a week.
My Rating
4.5/5
Four Season Facial sheet Masks are priced
$0.95
each at Skin18.