If you are treating your eyes with same products as you use on your face then you are doing it all wrong. The skin under eyes is very delicate and needed to be treated likewise. The best way to moisturize and nourish them is to use eye masks or patches, specially designed for them. today i am going to talk about Pixi DetoxifEYE Depuffing eye patches which claims to depuff eyes while reducing dark circles and provide hydration.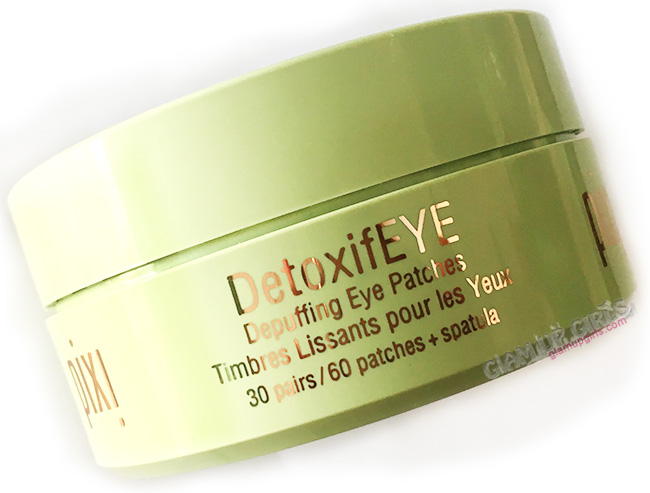 Product description
Brand claims that these patches instantly reduce under-eye puffiness and dark circles while moisturizing and soothing your skin which contains hyaluronic acid and caffeine to help with hydration and dark circles.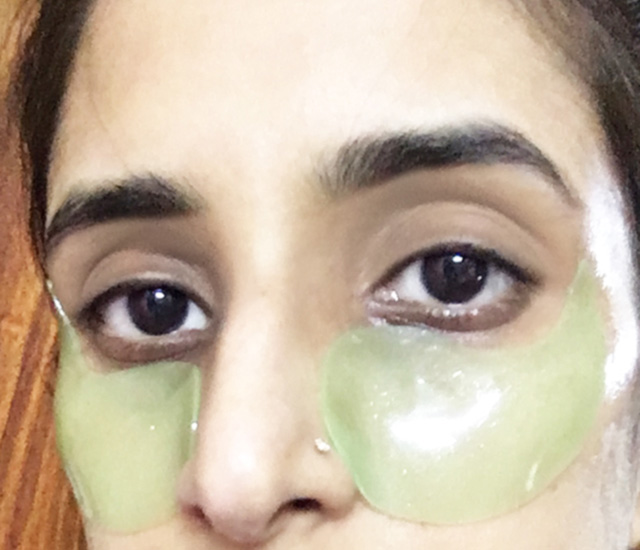 My Thoughts
These patches come in green jar with blue twist able cap. the jar is protected by lid and have spatula in it. The patches themselves are light green sparkly sheets shaped like drops to fit beneath the eye area. They are dripped in thick serum which mainly includes hyaluronic acid for hydration and caffeine to depuff. There is no noticeable smell which is huge plus. The hydrogel patches are not too thick to be uncomfortable on skin and not too thin to easily tear but still be careful to apply them as they are soft and tear-able.
The best time for me to use these patches is in the evening as in the morning my eyes feel more fresh and looks bright and healthy. You can use it in morning as well. With spatula lift separate the one patch and apply on clean and dry under eye area. It can be second last step of your beauty routine, before applying any oil serum on face. Let the patches stay for 10 to 15 minutes and pat the extra serum into skin after removing patches. You can also put them in fridge for extra cooling effect.
After application the first thing i noticed is the so amazing cooling effect. If you have tired eyes after using laptop or mobile or because of remaining too much outside, you are going to feel bliss. Just for that amazing feeling, i have become fan of these patches. After removing, i could feel the freshness it provided to my dry skin. It was hydrated and felt more plump. The instant result was simply remarkable. I pat the extra serum in my skin for more hydration and just to let you know, i didn't throw the patches immediately after using, i rubbed it around my laugh lines to give that area some hydration as well.
Overall these patches are simply amazing, i have used
Petitfee Gold Hydrogel eye patches
before but these were much better. They provide cooling sensation, hydration, refresh your skin and make it look plump and healthy. Definitely recommend them.
In Favor
Nice packaging
Cooling and soothing effect for tired eyes
Depuff the puffiness
Make skin look plump and healthy
Hydrate under eyes
Make makeup application more even
Not in Favor
Effect is not too long lasting
My Rating
4.5/5
Pixi DetoxifEYE Depuffing Eye Patches
is priced $24