Face sheet masks have become a huge trend in recent years even though it has been an integral part of Korean beauty routine for very long. These masks are usually made of cotton or fiber doused in different type of serums which are meant to moisturize, bright and firm the skin. You can say it is a quick go to facial which is easy to use. Sounds interesting, isn't it? The good news is that it has finally landed in Pakistan and you can try and enjoy the benefits of it in very reasonable price. I have got the chance to try 8 masks for Mori and SoQ brand and today i am going to share my thoughts on how they turned out for me.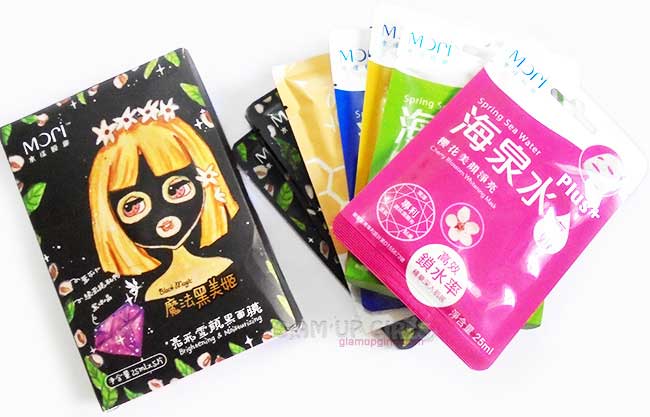 Facial Sheet Masks by Mori and SoQ
Black Magic Facial Sheet Masks by Mori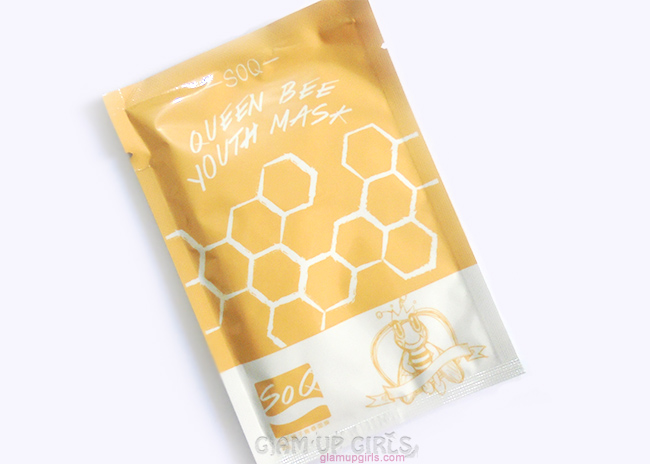 Queen Bee Youth Facial Sheet Masks by SoQ

Facial Sheet Masks by Mori and SoQ opening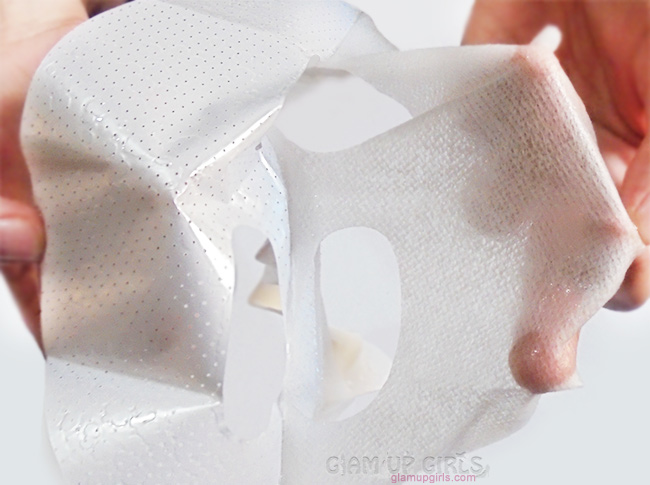 Separating fiber mask from plastic sheet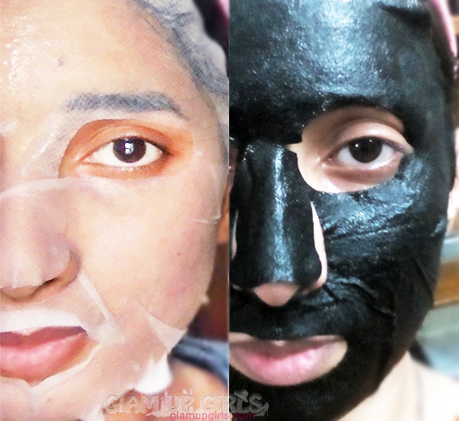 My Thoughts
I have got three types of masks in the pack. First type includes 4 spring sea water masks. The second type includes Black magic masks and the last one was Queen Bee Youth mask from SoQ. All the masks were packed in foiled packing with the indication of tearing from top. Once you tear the packaging, you will find the folded fiber masks where Sea water masks are doubled with another plastic sheet to save it from unnecessary tearing and easy to unfold because they are thin comparing to black ones. There is a lot of sloppy liquid in the pouch dripping through the sheet which is enough to cover the face. These masks do have smell but it is mild and doesn't bother on application.
The sheet size is quite large and can fit to any size of face. The white masks are larger then black ones and i like the cuts in black masks as they give more ease to apply on face. To cover properly start applying from forehead moving down toward the chin lining properly with eyes, nostrils and lips. Pat properly so you do not get an air packet. We sisters tried these masks on our different skins to know how it will work for them. Here is how we tried them and their result.
How to apply sheet mask
Make sure to clean your skin thoroughly to remove any impurities.
Apply the mask on face and try to keep distance from eyes as it has too much serum which can go in eyes. Lie down and relax for 15 minutes.
I used the extra serum in pouch on my hands which could be wasted. How thoughtful of me.
After 15 minutes remove the mask and slowly message the serum into the skin.
There is no need to wash the face and you can apply any thing you want as it is.
Spring Sea Water Chamomile Soften Skin Mask
tried on combination skin with some enhanced dry patches. After using it for 15 minutes the skin felt soft and moisturized. The dry patches were gone and the skin felt hydrated.
Spring Sea Water Hyaluronic Acid Moisturizing Mask
tried on extremely dry skin. It didn't irritate the skin and was soothing. After using the skin was very well moisturized and there was no need of applying extra moisturizer or lotion.
Spring Sea Water Aloe and Citrus Grandis Oil Free Moisturizing Mask
tried on oily skin. After using the skin felt clean and well moisturized without feeling oily or sticky.
Spring Sea Water Cherry Blossom Whitening Mask
tried on combination skin effected by sun. After using the skin was very well moisturized and looked bright and glowing
Black Magic Lift Firming & Moisturizing mask
had smell similar to Freeman Black sugar and Charcoal mask and it was tried on dry skin. After removing there was little stretching feeling to face but not dried. Even though it is not as moisturizing as the spring sea water one but it has more glowing effect and skin felt more smooth.
Black Magic Moisturizing & Softening Mask
was tried on oily skin and after removing it left the skin soft glowing and moisturizing without making it oily.
Black Magic Brightening & Moisturizing mask
tried on combination skin and it left the skin moisturized, glowing without making it oily and there was no need of extra moisturizer.
SoQ Queen Bee Youth Mask
tried on combination skin and it also left the skin glowing, moisturized and super soft.
These masks are very moisturizing and leaves an instant glow on face which lasts for whole day. After absorbing the serum there is no need of an extra moisturizer even on dry skin. The glowing effect it left is amazing and we love the soft and hydrated skin after wards. In my opinion it is best to use these masks before any event where you need to wear heavy makeup, it will provide a smooth skin to apply makeup effortlessely and you will love your glowing face. It has become staple for celebrities during flying because of their clean and easy usage to combat dryness as these masks are best to boost hydration. The glowing and moisturizing effect is not very long lasting though and for continuous effect you have to apply them frequently.
Overall we loved using these masks because of amazing amount of hydration it provides. You can use them twice a week or before any special event to get extra glow and moisturizing.
SoQ Brand one Sachet is priced
PKR170
and Mori Brand one sachet is priced
PKR280