Essential Oils and Carrier Oils by Go Natural - Review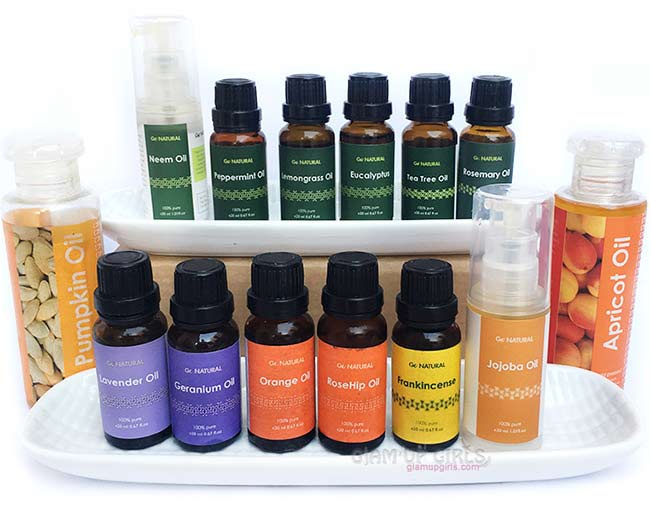 Where we are makeup lover and love to try new makeup and beauty products, i love natural products for beauty and health care. I have shared my favorite skin care routine from natural products and the benefit of oil cleansing method before. However using essential oils was not easy in these DIY products because i couldn't get my hands on them easily until Go Natural introduced them in Pakistan. I have instantly picked some of my most favorite oils without second thought for many DIY projects. Lets talk about in detail what i picked and if they are worth having or not.

Carrier Oils by Go Natural
Apart from essential oils they also have some hard to get carrier oils. As much as they have their own benefits, they are necessary to make your essential oils work better. I have picked the following carrier oils and have shared their benefits and uses individually and will do the rest of them soon as well.
Pumpkin oil - Rs 530
Go Natural's pumpkin seed oil is derived from pressed pumpkin seeds. Our pumpkin seed oil is full of zinc, vitamin A & E, omega 3 and fatty acids.
Apricot oil - Rs 360
Apricot kernel oil is obtained from the kernels (seeds) of Apricots. After eating these delicious fruits, the seeds are used to make this light oil. Apricot kernel oil is great for use as a massage oil as it is very light and makes the skin soft. Apricot kernels themselves are quite healthy and are being researched for a number of health conditions including cancer.
Neem oil - Rs 440
For centuries, Neem oil has been used for therapeutic purposes and beauty care. Find out what you can do for with Go Natural's neem oil.
Jojoba oil - Rs 590
Go Natural's multi-purpose wonder, Jojoba oil! Reduces acne and wrinkles, and fights fungal infections without surrendering to chemical products.
Rosehip oil - Rs 490
Go Natural's rosehip oil is a multivitamin for your skin. It's naturally rich in fatty acids and suffused with lycopene, a powerful antioxidant for a healthy skin routine. Rosehip oil is rich in natural source of vitamin A, therefore reducing sun damage and increasing skin elasticity for ultimate skin rejuvenation.
Essential oil by Go Natural
I have picked nine essential oils and have been using them since. The uses of essential oils are beneficial in many ways but at the same time you have to be careful with their usage. They can react to sensitive skin and using them without carrier oil is not advised. However once you know how to use them according to your skin and body, they can be life saving. I got the following ones.

Peppermint oil - Rs 530

Refresh your body with peppermint oil! This 100% organic oil is made from fresh peppermint leaves that can tone your skin to perfection, reduce acne, sooth aches and what not! Let your body enjoy the natural healing powers and aromatic minty smell of Go Natural's peppermint oil!

Lavender oil - Rs 590

If you are looking for a therapeutic way to relax your body and mind, look no further, lavender oil is all you need. This essential oil will help balance stress, revitalize your skin, and sooth your body from a hard day's work. A miracle in a bottle, all natural, time to Go Natural!


Orange oil - Rs 440

Go Natural's orange oil is obtained from wild orange peels that are cold press. The 100% pure essential oil makes it one of the best oils in aromatherapy. The citrusy zest when diffused in the air uplifts the mood. The oil contains an array of antioxidants that promote overall health. It can be used as a natural scent to keep you fresh throughout the day.

Frankincense oil - Rs 490

The pleasures of frankincense oil has been known for centuries. This oil is the queen of all essential oils used by Egyptians and Babylonians. The spicy and clean whiff promotes feelings of relaxation and harmony when inhaled. Apply this magical oil topically to correct skin imperfections revealing a clear complexion.

Geranium oil - Rs 590

Go Natural's Geranium oil is used as facial cleanser, fights acne, balances skin and aromatherapy.

Tea Tree oil - Rs 900

Australian Tea tree (Melaleuca alternifolia) is one of nature's most impressive Antiseptics and Disinfectant. When crushed and distilled the leaves of Tea tree yields 100% natural oil, called Tea tree oil, which is an Antiseptic, Fungicide, Anti-bacterial, and Anti-infection.


Lemon grass oil - Rs 490

Go Natural's lemongrass oil is obtained via steam distillation from the lemongrass leaves. The herbaceous and smoky scent of this essential oil gives it one of the best aromatic properties to refresh and lighten up mood. The Eucalyptus oil can be used as a massage oil to sooth and ease your pressure points. The lemongrass oil also repels insects naturally without emitting any harmful toxins in the atmosphere.

Rosemary oil - Rs 490

Unlike many other products, Rosemary oil can be used to not only treat your skin, but also heal you psychologically. Go natural's essential oil that works on the outside as well as inside.

Eucalyptus oil - Rs 440
Go Natural's 100% pure eucalyptus oil is obtained from eucalyptus leaves through steam distillation. This natural oil is potent in massage therapy to relieve stress and relax the body and the mind. Eucalyptus has antibacterial properties which help to purify the skin and keep it clear from blemishes and blotches. When diffused in the air the airy and fresh scent of the oil helps to combat tension and strain.


I have been using them for more then 6 months and so far i have found them very useful. I might had my doubts of their performance at start but after using them i can say they are quite good. I had done a lot of research regarding each oil online for their colors and smell and so far each oil is as it is supposed to be. I have only shared my one DIY face serum which was everything i was looking for but i have tried many DIY blends including body oil for muscle relief, hand and foot oil for dry and craked skin, hair oil, used in my DIY tooth paste, lip oil and many other ways. I must say i am very satisfied with their performance and would definitely get them once i am through with my storage. Overall if you are natural product enthusiast and looking for reasonable essential and carrier oils, I would highly recommend them. On the other hand you can just pick any one oil which you required for your skin and hair like Tea tree oil, rose hip oil, jojoba oil etc if you are not sure about making your own oil blends. Let me know if you want to know any blend and i will share with you my recipe.

**

Certain essential oils should be avoided by pregnant women, infants, and young children. Avoid application near eyes. Always do patch test before applying thoroughly.
comments powered by

Disqus