I have used few products from
Tatcha
and i must say they are amazing and buying them is never a regret which some times happen when you buy expensive product and that turn out a failure. Their unique concept, packaging and quality is really good and i couldn't resist buying this cute tinted eye cream which can work as multi-tasker. Let me tell you how it turned out.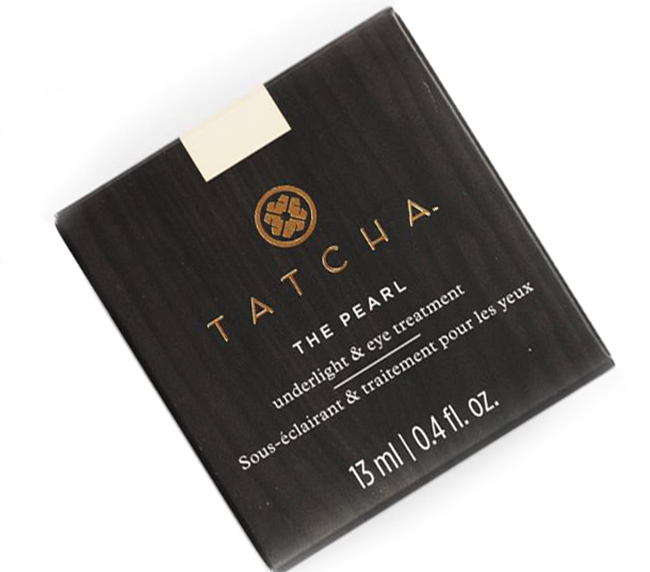 Product description
Brand claims that this tinted treatment awakens eyes with a pearl-like luster. It hydrates and reduces the look of dark circles and wrinkles instantly and over time.
My Thoughts
The packaging is no doubt one of the best in market. I love the purple metallic jar with almost round shape. It is simple, elegant and beautiful. The texture of product is creamy and pigmented which blends very smoothly without being heavy on skin despite being rich formula. Having tinted formula, it can be used instead of foundation for lighter makeup look while it prevent your skin form wrinkles and improves skin elasticity.
They have three shades available including moonlight, a warm glow for fair to medium skin, softlight, a neutral glow for medium to tan skin and candlelight, a peachy glow for tan to dark skin. The shade i am sharing is moonlight which is light beige color with warm undertones, perfect for my skin and gives it an amazing luminous glow and i won't need any highlighter after using it.
It is very hydrating and is bliss for dry and delicate skin of under eyes. Despite being moisturizing it is not oily if you are wondering that it will make your skin greasy during day time wear. In fact you will not need to powder it, if you are wearing no makeup makeup look and want a natural glowing skin. As it is a treatment formula, the skin feels very plump, hydrated and healthy after application while also hiding the imperfections with its coverage.
It is really an eye cream plus concealer which is amazing in my opinion as having dry skin, i have to use eye creams under the makeup to protect it form creasing and for saving my under eye skin. You might notice little bit of creasing during the day but you can just blend it again with patting fingers on it.
Tatcha The Pearl Tinted Eye Iluminating Treatment
is priced $48