Dermacos Facial and Manicure Kit - Review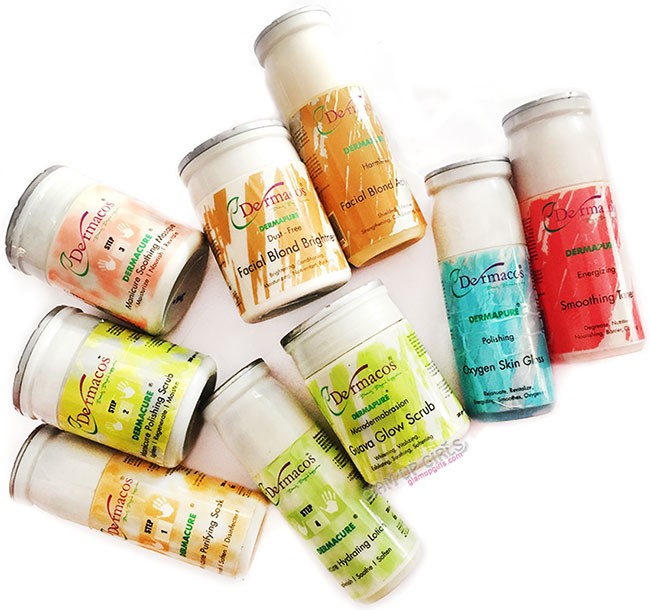 On my readers request i am sharing more of local makeup and beauty products on my blog and adding to this list today i am going to review the most famous local beauty products by Dermacos which are widely used by beauty parlors for different type of facial treatments. I decided to pick some products to incorporate in my beauty routine to decide if these products are really good or not. The first thing i noticed about this brand is that it includes wide range of products and you can either pick them separately or choose any kit for particular issue. I have picked few face products and one 4 step manicure kit. Let me tell you how they turned out.

Dermacos brand description
Dermacos skincare products are free of synthetic solvents, thickeners and emulsifiers, contain no petroleum-based ingredients, artificial dyes or fragrances, and are fortified with premium botanical ingredients from as whereas basis from all over the world. The purity of these preparations makes them ideally suited for sensitive skin.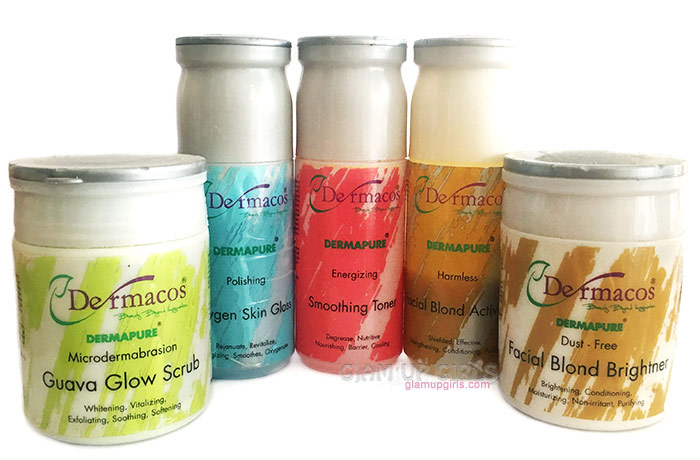 Dermacos Facial ProductsProduct description of Dermacos Detoxifying Hexagonal Cleanser
A thick cleansing balm for all type of skin, uniquely different as its foaming action softens, cleanses and balances the skin without dryness, it penetrate deep into the skin for deep pore cleansing effects. Triclosan is added to assist in retarding the spread of acne-causing bacteria and infection on the surface of the skin. Highly recommended as a daily cleanser for skin prone to breakouts.
Unique Features & Benefits:
Improve skin firmness, toning & radiance.
Incredibly boosts natural functions of cell regenerating.
Deep pore cleansing with deep penetration enhancers.
Peeling-effect action for instant & long lasting radiance.
Ultra fresh texture, skin softening.
Help protect bacterial / fungal infection and reduce acne growth.
Product description of Dermacos Energizing Smoothing Toner:
This is more than a toner with its therapeutic AHA and BHA. Containing ingredients will exfoliate, degrease, decongest and lighten to give skin a more even tone and smoother feel. This highly nutritive toner provides excellent soothing, nourishing, and cooling effects. With deep skin penetration enhancers it drops in deep pore to prevent skin moisture loss. Just as diet rich in nourishing berries helps maintain flawlessly smooth skin. This alcohol free formula returns the complexion to its ideal pH, priming skin for nourishment and hydration.
Product description of Dermacos Dermapure Polishing Oxygen Skin Gloss:
oxygen skin gloss contains Oxylastil, a new bio-technologically derived agent which stimulates cell turnover and repairs and restructure the skin Oxylastil is a known oxygen carrier and it provides essential energy to the skin cells and excellent anti bacterial properties. If your skin is sensitive, you can still use Oxygen skin gloss. This gentle skin gloss effectively smooths and revitalize the skin leaving it polished, revitalized and rejuvenated.

Unique features and benefits
Removs toxins & reduces dryness
Leaves skin radiant & glowing
Anti-becterial properties
Enhance moisture absorption
Improves skin texture
Minimizes large pores & improve blood circulation

Product description of Dermacos Dermapure Dust Free Facial Blond Brightener: Facial Blond Brightener Powder works extra-fast lightening, extra moisturizing formula. Lets you create lustrous highlights and special effects in no time at all. Takes blondes to paler-than-pale...reveals up redheads brightens-up brunettes. Dust free, denser powder minimizes ruff & fly-away to makes your applications neater and cleanser. Contain a moisture sealing humectants to start every application with easy mixing and a creamy-smooth consistency that stays. Perfect for longer brightening and even skin tone.

Product description of Dermacos Dermapure Harmless Facial Blond Activator: It is a gentle blond activator formulated with Squalane a moisture binding component that works will all skin type. It is extremely gentle on skin. It repair damage skin during process, with quick lightening effect. Its wheat protein for silky smooth results. Don't use on wounded or porn skin. Always wash your hands before use. If its causing irritation stop use.


Product description of Dermacos Gauva Glow Scrub: Nourishing, natural guava scrub mildly exfoliates skin and activates cell turnover, helping to reduce the appearance of fine lines and wrinkles. It provides antioxidants and brighteners and leaves skin clean, smooth and energized. The new "Microdermabrasion" system remove dead cells and dribs from face without itching and pain like ordinary scrubs and help skin to regenerates new cells also vitalize the skin without dryness.

Unique Features & Benefits:
Guava Fruit Puree: Antioxidant, Exfoliates
Kojic Acid, Azelaic acid, Arbutin, Morus Alba Bark Extract: Skin Whitening
L-Ascorbic acid: Antioxidant and natural brightener
Raspberry seed, jojoba beds, Fruit enzymes: polishes, exfoliates

Product description Dermacos Balancing Refining Enzymatic Mask: This unique and highly effective refining enzymatic mask is specially formulated to liquefy and remove harsh chemical effects and impurities that accumulate on the surface of the skin. The mask's gentle, natural blend activates cellular function, increases circulation and leaves the skin feeling and looking fresh, smooth and healthy. Reduces hydrates and restores moisture.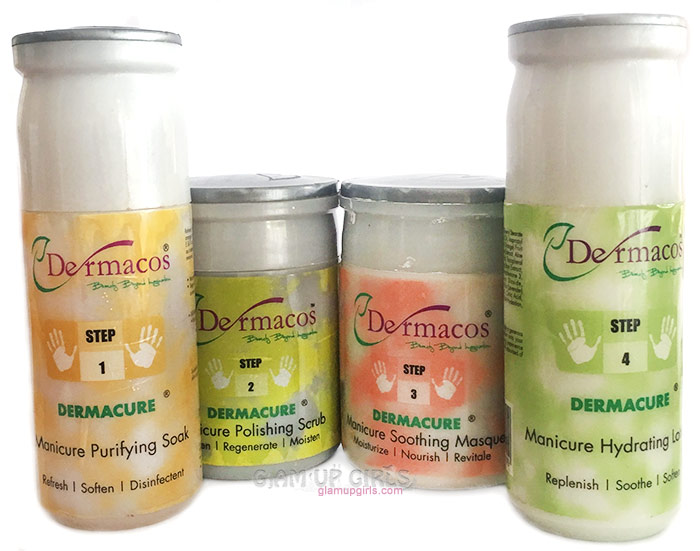 Dermacos Manicure Products

Product description of Dermacos Dermacure Manicure Purifying Soak
Refresh, purify and hydrate hands with natural orange, tangerine and grapefruit with vitamin E, E & K and aloe vera extracts. Naturally cleanses as it deeply moisturized and softens cuticles for easy removal.

Product description of Dermacos Dermacure Manicure Polishing Scrub
Dermacos Dermacure Manicure Polishing Scrub is a specially designed formula for a better and glowing clean skin. Also considered salon skin treatment alternative, Dermacos Dermacure Manicure Polishing Scrub is an excellent exfoliant and effective formula for a silky smooth skin.

Product description of Dermacos Dermacure Manicure Soothing Masque
Dermacos Dermacure Manicure Soothing Masque is a special formula for a more soothing and soft skin sensation. This exclusive and extremely effective purifying enzymatic mask is particularly formulated to liquefy and eliminate severe organic effects and contaminations that gather on the surface of the skin.

Product description of Dermacos Dermacure Manicure Hydrating Lotion
Replenish and nourish with the intensive moisturizing properties of natural aloe vera and natural fruit extracts. This anti-aging, non-greasy lotion both deeply hydrates and close surface pores. The perfect finish to every manicure - skin is left tighter, softer and noticeably younger - looking.

My Thoughts
Talking about packaging, i would say that i am not very impressed. The toner and other liquid products have hole in their caps which can lead to dust build up. So you have to put them in secure place where dust and environment will not harm the products. However the creamy products have secure lids and even plastic spatulas to dispense out the products. All the products have detailed description and guidance on the jars which is a huge plus. They also have ingredient list mentioned on the jars.

The scent in all products is not very strong or bothering and overall i love their natural fruity scents. None of the product have chemical y smell to them and they do represent most of the ingredients inside formula. Like Guava scrub do have amazing smell of guava inside it, toner have amazing refreshing smell, hand soak have citrus y smell etc.

As i have selected product myself instead of buying any particular kit, which are available if you don't know which products to choose, i have been using them instead of my regular cleanser, toner and mask. Unfortunately i have missed the cleanser and mask pictures. The cleanser is my most favorite among them and it literally clean all the impurities leaving your skin clean and brighten. I was also surprised to know that the toner have AHA and BHA for exfoliation, which is getting really popular because of their effect. It is hydrating toner and if i have to recommend only two products from dermacos, i will suggest the cleanser and toner.

The guava scrub is one very effective product. If you do incorporate physical exfoliators in your beauty routine then you will love it. It has very small exfoliating particles for scrubbing. It leaves the skin super soft, smooth and clean which are instant results. If you have very dry skin then the oxygen skin gloss is one great addition as it hydrates the skin and make it little plump. I don't think it effects on pores as it claims but i do find it making skin look even toned. Apart from that i tried their blond brightener and activator which are basically the facial hair lightening products and i found them non irritating and better then harsh bleaches available in market. The enzyme mask is also very effective and is perfect for the weekly beauty routine. It is not drying and make skin look more brighten and refreshed.

Overall Dermacos facial products products definitely works and give you good results as they are raved around the country. I loved the cleanser and toner the most but the mask is also very effective for weekly beauty rituals.

Coming towards the dermacos manicure products, i think they are equally effective as their facial products. I loved their scrub and hydrating lotion the most. The lotion is perfect for dry hands and in winters, it can be your savior. Apart from that, their soak and mask works great as well. If you are some one who enjoy once or twice month the good hand soak and thorough hand scrubbing then these products are perfect for you and you definitely wont need to spend a lot of money in parlors and have good spa day at home.

All in all, i really liked the products i tried both facial and mani. None of them are harsh or drying for skin. They did helped me get through this winter and i used them as i liked instead of just using them in facial routine. For facial i regularly used cleanser and toner and once a week, used scrub and masks. From manicure kit i loved hand lotion for daily use and occasionally tried their other products. So if you are looking for good beauty products in local market, i definitely recommend Dermacos. However make sure to do thorough research on products about which will suit your skin type and issues.
comments powered by

Disqus