I love to try organic, natural products and often use them for hair and skin care. Specially
carrier and essential oils
are part of my vanity and i have created
DIY face serum
which i have been using continuously. Few months ago i was suffering from dandruff and hair fall a lot. It was not only my issue but also for other family members. After reading good reviews of Pure Ayurvedic Hair Therapy, i decided to try their hair products. Ayurvedic products are made from purely natural oils and herbs, so i was really interested in trying these products. Let me tell you how good i found their hair oil, shampoo and protein hair food.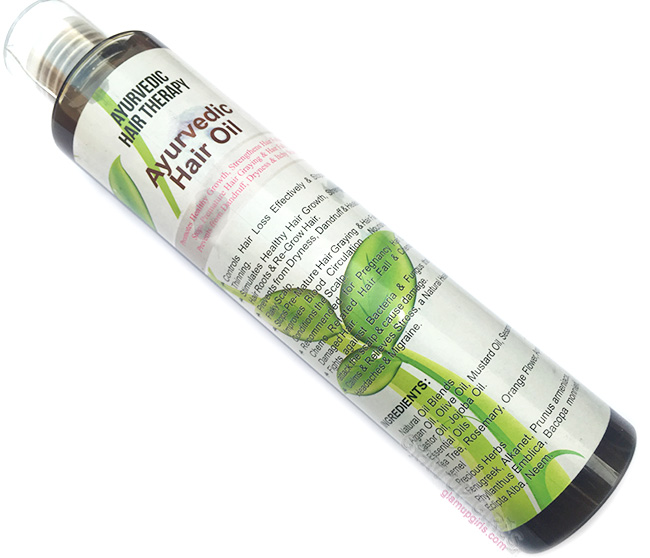 Description of Ayurvedic Hair Oil with Argan Oil Blend
Brand claims that it promotes healthy growth of hairs while strengthens hair follicles.
My Thoughts
The oil and shampoo comes in large transparent plastic bottles with screw cap. The bottles are quite convenient to use. The protein hair food comes in large plastic tub which have little spatula to apply products on hairs. I had also received small bottle of healing oil free with these products which i haven't tried much so will not be talking about it.
The hair oil have dark color and very very strong smell of herbs which you have to bear while wearing it. I do not mind it much as i am used to herbal smells but you might find it little bothering. The smell doesn't fade till you wash the oil off but lightens a little bit. I prefer to apply it overnight and sometime in morning and wash it in the evening. I comb hairs before and after applying oil as it is suggested. As during oiling, hair tends to fall. If i want to wash my hairs soon, i steam them with hot towel and wash them after few minutes.
Shampoo have light brown, thick texture and smells lovely. I find it smells like sugarcane which is not very strong. Usually organic shampoos do not leather well but fortunately it created very good leather and washed the hairs according to my liking. I dilute little amount of shampoo in water and pour it on hairs and message for few minutes. It washes of the oil completely in single rinse and make hairs soft and clean. It is not as conditioning as other chemical shampoos but when apply a little amount of
L'Oreal Mythic oil
or
Keune treatment satin oil
, i can easily comb hairs without any tangles. I actually loved this shampoo compared to others. I have noticed less fallout during hair wash even if i am not using hair oil.
Protein hair food have pale green color and thick creamy texture. It smells really good which is very strong and remain almost for whole day after wash. You can apply it similar to any conditioner and wash hairs after few minutes. It instantly make hairs soft, shiny and manageable. However during application and wash, i noticed a lot of hair fall compared to if skip it. I don't know what might be reason but for me it didn't work out.
Now coming back towards the performance of oil, i used it thrice a week with shampoo and without protein mask. After few uses, i noticed that my dandruff was completely gone and the hair fall has become noticeably less. The texture of my bleached and colored hairs have also improved. So it has worked so far for me. However when i suggested it my brother who had terrible dandruff and hair fall last month, It didn't work out for him. Dandruff was in control for one day and then will return on next with no control on hair fall. So he have to consult a doctor for his problem.
Overall i can say that it will work for you, if you have hair fall and dandruff due to using other products or colored hairs but if you are not noticing any change then it might be the lake of nutrition or other medical issue. So far i think these products are really good and are worth trying. I would love to try their skin products next.
Pure Ayurvedic
hair oil is priced PKR1500, protein mask is priced PKR1500 and shampoo is priced PKR500