Natural Handmade Flower and Hush Parfum Pur by Call of Vialed - Review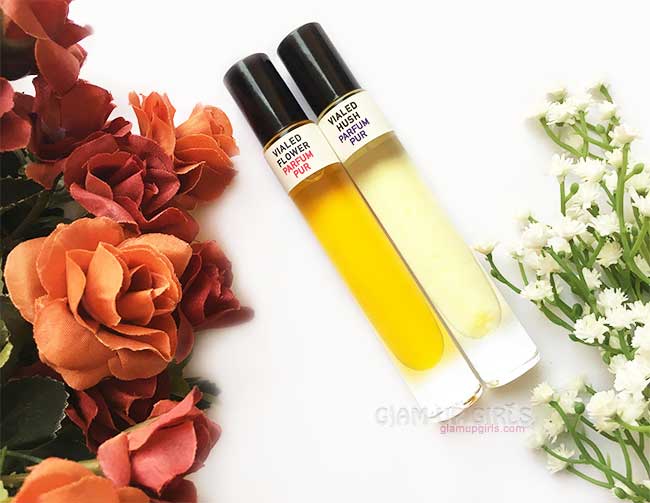 A good fragrance can not only lift your spirit but also leaves a good long lasting impression on others and if these scents are aromatherapeutic and made of 100% organic ingredients then you are also absorbing the goodness of nature which will bring calmness, fixation, relief, enhance mental stamina and open doors for creativity as well. Call of Vialed is such creation of Lauren Blevins who believes in the powerful mind/body/beauty benefits of plants. Each vial represents the sense of well-being conjured by caring for the self and the planet. Every last drop is hand-blended, and all launches are highly edited. I have received the Flower and Hush Parfum Pur from their four parfum range and today i am sharing the goodness in these vials.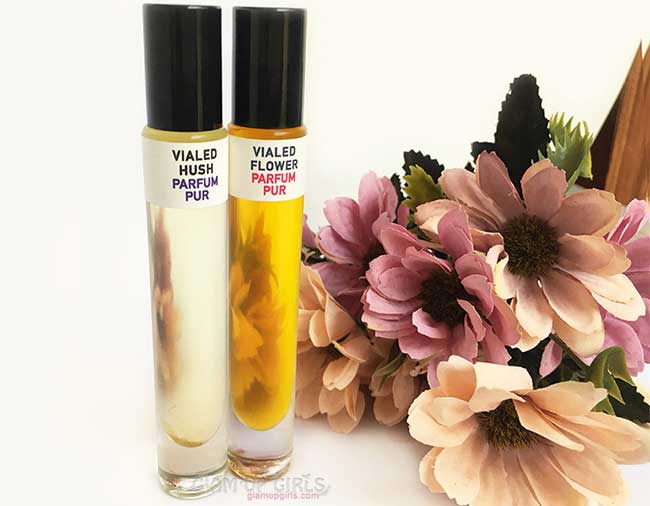 Description
The brand claims that these blends are hand-poured into vials and are packed when ordered.
Materials:
essential oils, meadowfoam seed oil, carrier oil, CO2 extracts, absolutes, fragrance, glass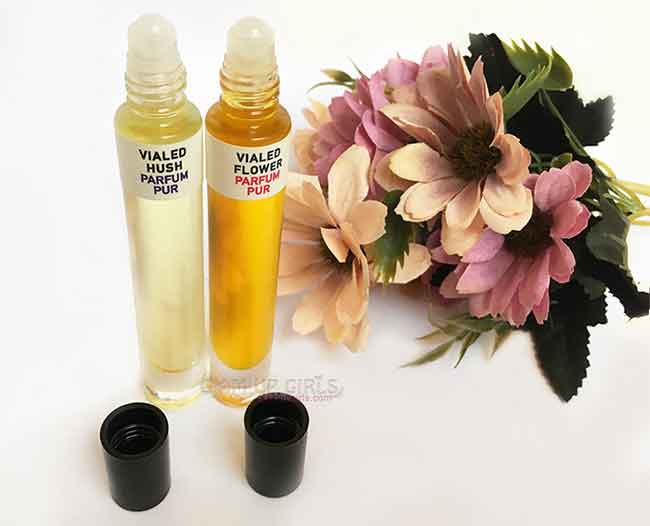 Vialed Flower Perfum Pur

Stripped down, jeweled, but in control. At first, vulnerable niaouli is supported by a hypnotically fresh chord of grapefruit, lavender stalks, and rosewood. But then night-blooming tuberose surfaces, and its cognac floralcy lets out an undeniably sultry sigh. And like your favorite friend with benefits, this leathery oud does not mess around. Unisex. Wear day and night. Each application lasts up to three hours on the skin.

Aspects: Dashing, full-bodied, flushed, fresh, glowing, smooth, rich, rubeous
Aromapsychology: Celebration, fixation, hedonism, sybaritism

Vialed Hush Perfum Pur
The Be Cool blend. Two distinct strains of lavender—French and Bulgarian—provide a fresh, approachable foreground to clarifying nuances of thyme, pine, and celery seed. See into a fleeting chrysalis of juniper to find a neroli blossom resting within. Soft bark of sandalwood, ruled by the moon, is a reminder to stay centered until you're out of the woods. Unisex. Wear day and night. Each application lasts up to two hours on the skin.

Aspects: Cashmeren, coniferous, cool, glinting, herbaceous, polished, sleek, aerial, whimsical, fresh, delicate
Aromapsychology: Calmness, balance, stillness, stress relief, mending, patience, quietus

My Thoughts
These scents come in long transparent glass vials with roller ball to apply the perfume easily. The color of liquid depends on the natural ingredient used in the particular scent and there is no artificial color present in them and instead of alcohol the concentrates are suspended in meadowfoam seed oil. They have four scents called flower, hush, momentum and dream specifying their own aromapsycology depending on their ingredients. As i have flower and hush to try so lets explore them in detail.

Flower perfume is made from mainly lavender oil, cedarwood oil, rose flower oil, grapefruit peel oil, rosewood oil, niaouli leave oil, patchouli oil and sunflower seed oil. At first i can smell the tangy and spicy scent, particularly because of the top notes of grape fruit peel and lavender oil which is little sharp and mood boosting which later turns into more floral and earthy with the middle notes of cedarwood oil, rose wood oil and niaouli leaf oil. The base note of patchouli and rose flower oil keeps the scent earthy and floral till 3 hours.

Hush perfume is made from mainly sandalwood oil, jojoba seed oil, juniper fruit oil, lavender oil, scotch pine leaf oil, celery extract, geranium flower oil and orange flower oil. The top note of lavender and orange essential oil is citrus-y, floral and woody which is calming. It turns to earthy and woody because of pine, thyme, celery and juniper berry essential oil which is really refreshing and cooling while keeping the herbaceous aroma. The bottom notes of sandalwood keeps the delicate floral and woody aroma upto three hours which is calming and helps to instill a sense of inner peace.

The best way is to shake the vials well and apply them on pulse and neck and inhale deeply. These oils penetrate into skin leaving the fragrance which last upto three hours.

Overall i loved both perfumes as i love types of scents which are not too strong and are subtle for every day plus they have an aromatherapy benefits to it. The idea behind these perfumes and the effort of owner to keep check on every ingredient is some thing to cherish for plus the natural oil perfumes have beauty to adopt different smell on different skins because of their body chemistry so these are perfect to smell different then others.

Parfum Pur by Call of Vialed are priced $65 - 7ml and $80 - 10ml. Set of 4 Specimens is priced $16
comments powered by

Disqus