The Face Shop Chia Seed Watery Toner - Review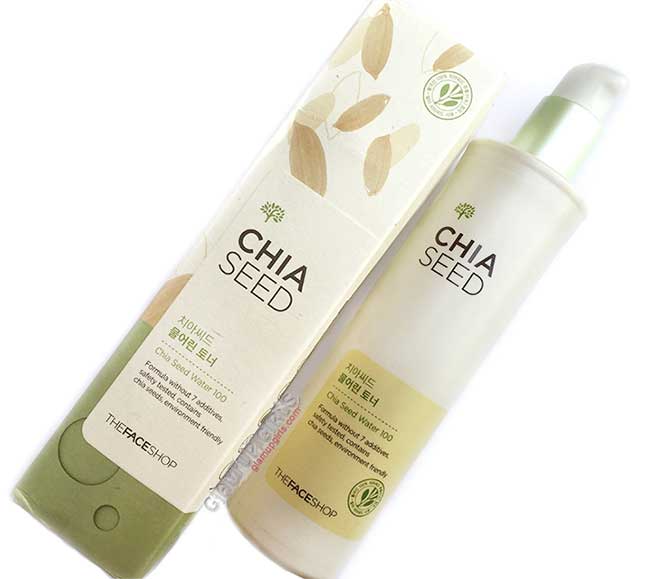 Today i am going to talk about another Korean product by The Face Shop called Chia Seed Watery Toner. I have mentioned it in my 10 step Korean skin care routine and have been using it for more then 4 weeks. Most of us neglect using toner in their skin care regime considering it an extra step but as i mentioned in detail, how layering help you get your skin properly moisturized, in my skin care routine, it is not an extra step but help your other products to absorb more efficiently. Coming back to this toner, let me tell you how good this turn out for us.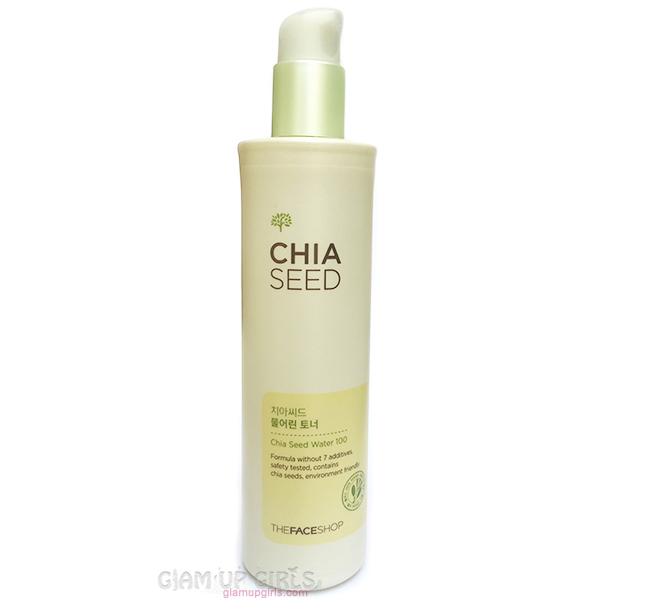 Product description

- $13.40

The Chia Seed Hydrating Toner ensures superb hydration and refreshed skin upon application. It is formulated with organically farmed Chia seeds, which can obtain 10x more moisture than its own weight, to provide ample, long-lasting hydration and comfort. This gentle toner also contains citrus extracts to purify your pores, while toning dry and dead skin cells with moisture for healthy, revitalized skin.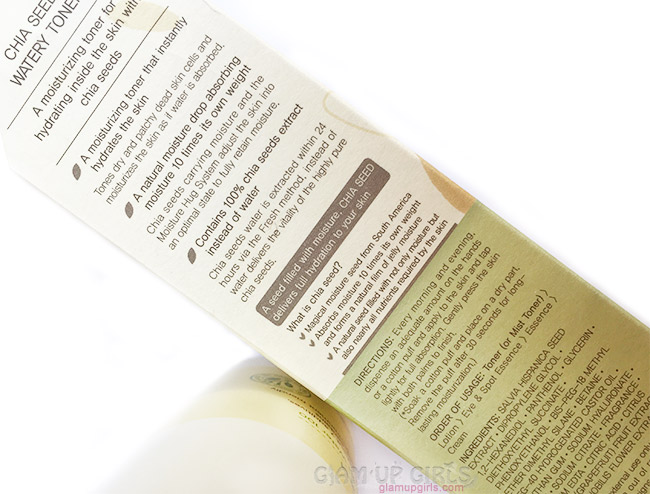 My Thoughts

This product comes in pale green glass bottle with pump dispenser. The product itself is color less and have typical refreshing floral smell of most Korean products. It is not strong and will fade quickly. The bottle is quite large and will last for many weeks if used twice a day. It is hydrating toner and is suitable for all skin type.

After cleansing with any face wash or cleanser, pour some product on cotton pad and gently swipe on whole face. You can also apply it directly on face for more moisturizing effect. Just pour some in your palm, apply on your face and pat gently. Leave for some time to dry before applying moisturizer. Apart from chia seed water for hydrating, this product also have citrus extracts to clean pores and minimize their look.

You will notice the instant glow after application and give hydrating feeling to your skin unlike other toners who just absorbs quickly and you have to apply moisturizer to avoid stretchy feeling. It is like hydrating mist which soothes dry patches and feels very comfortable. If you have oily or combination skin, you can simply use this toner as moisturizer in extreme summers. For dry skin, you will need half the amount of moisturizer with this toner then without it. It help absorb the other layers and keep the moisture lock for longer.

We have tried it on dry, combination and oily skin and it didn't sting, irritate or break out any skin. It is light weight and works for all type of skin with different products. If you have very dry patches on skin, sock cotton pad in this toner and apply it on patch for 30 seconds. It will sooth your skin and get you rid of dry patch. However it doesn't provide any exfoliating or brightening effect like Pixi glow toner which they do not claim as well.

Overall it is good toner which hydrates, and clean pores. If you have very dry skin with dry patches then this toner is perfect for you. It can also be light weight hydrating mist for oily and combination skin when you don't like to apply lotions or creams.

In Favor

Very good packging
Refreshing light floral smell
Provide instant glow
Hydrate skin
Clean pores and impurities
Get rid of dry patches
Can be light weight moisturizer for all skin
For all skin type
Not in Favor
You don't need moisturizing toner
My Rating

4/5

The Face Shop Chia Seed Watery Toner is priced $13 currently at Skin18
comments powered by

Disqus