Moisturizing oil or serums with 24k Gold have become quite popular with all the raving of Farsali Rose Gold Elixir. There are quite few options available apart from Farsali with very high price tag. The most inspiring aspect of Farsali was that it contains all natural ingredients which are more beneficial for skin in long terms. Recently the Pakistani brand Spa in Bottle introduced their version of this serum with almost same main ingredients apart from carrier oils like sweet almond oil and jojoba oil. I have been using it for more then month and quite ready to share my thoughts with you.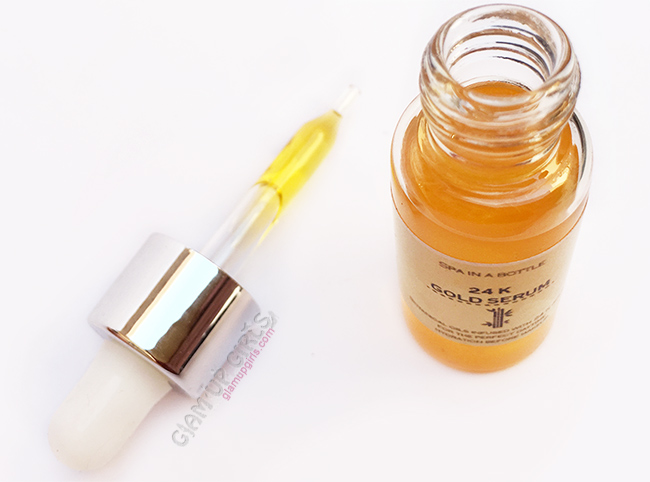 Product description
An organic and chemical free blend of light essential oils infused with real 24K gold dust and gold flecks for daytime hydration. This oil blend absorbs right into your skin and gives you a radiant and dewy glow. This may be used as a daily moisturizer or makeup primer or may be mixed with your foundation for smoother application. It's also an amazing lip hydrator; apply before the application of liquid matte lipsticks.
Ingredients details
Rosehip Seed oil
,
Lemongrass Oil
,
Pumpkin Seed Oil
, Apricot Oil, Sweet Almond oil and Jojoba Oil.
These oil blends help in tissue regeneration, maintaining skin elasticity, evens out skin tone, fights pigmentation and reduces the appearance of fine lines.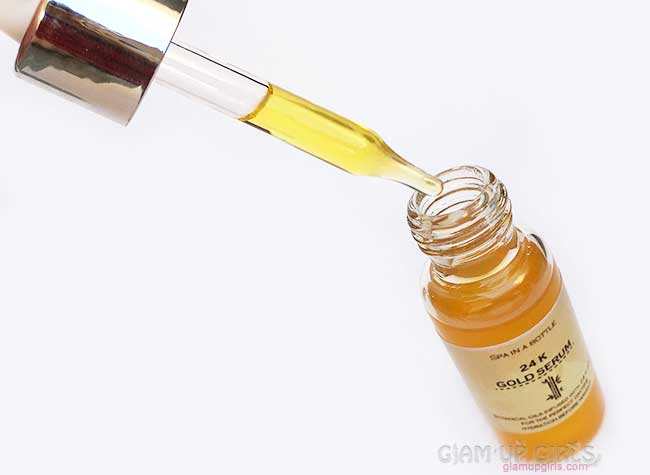 My Thoughts
This 10ml bottle is consist of transparent glass jar with dropper. The transparent bottles are not ideal for essential oils in long term as they can effect their performance. However considering small amount, this fact can be ignored for few weeks if kept in dark cool place. The serum have dark yellow color with gold shimmer and the consistency is same as any oil not very thick or very thin. The scent have citrus aroma which instantly refresh and uplift your mood.
The fact that it is oil based might put your thoughts that it is not meant for day time or for oily skin but on the contrary it is perfect moisturizer in current season for all skin. It absorbs in the skin without leaving any oily residue. We have tested it on extreme dry skin, combination skin and normal skin and it worked really good for every one. The best way to use face serum is to apply it on slightly damp skin which helps it absorb into the skin in better way. 3 to 4 drops are enough for whole face in the morning and 10g quantity can last for more then month if used only once a day.
The golden sheen in the oil does leave skin little glowing and make it look smooth and fresh and is not glittery or shiny at all. The fact that it leaves the skin smooth makes it perfect canvas to apply foundation easily. I am mixing it with thick foundations like
Holika Holika BB Cream
and one of my current favorite
Dermacol Make-up Cover foundation
and the results are remarkable. It can also be used for hydrating lips or make the dried makeup products use able. It is best to shake it before applying and start with less quantity.
Overall we are really loving this serum as moisturizer and foundation mixer in current season. I hope they make it in large quantity and with dark bottle to preserve the effectiveness of essential oils. I highly recommend it to every one.
You can also create your own blend with our
recipe of DIY face serum
.
My Rating
4.5/5
Spa in a Bottle 24k Gold Serum is priced
530PKR
for 10ml
Caution: Essential oils can cause irritation/redness on sensitive or allergic skins and should be discontinued.