Pixi Glow Tonic Exfoliating Toner 5% Glycolic Acid Formula - Review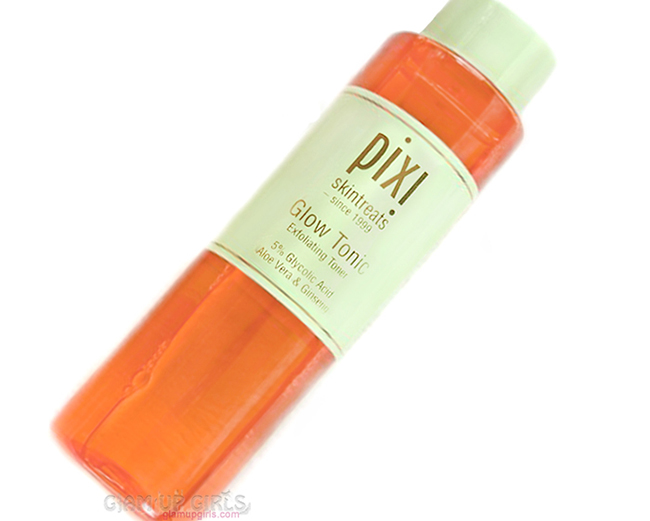 Pixi Glow Tonic is exfoliating toner with 5% Glycolic Acid formula and is quite raved among beauty gurus around the world. If you don't know about Glycol acid benefits for skin, it is a smaller molecule in the group of active compounds known as AHA's (alpha hydroxy acids) which penetrated into skin easily and deeply, working wonders for damaged skin like acne, dullness, blackheads and helps in collagen production. Let me tell you what i think about this toner.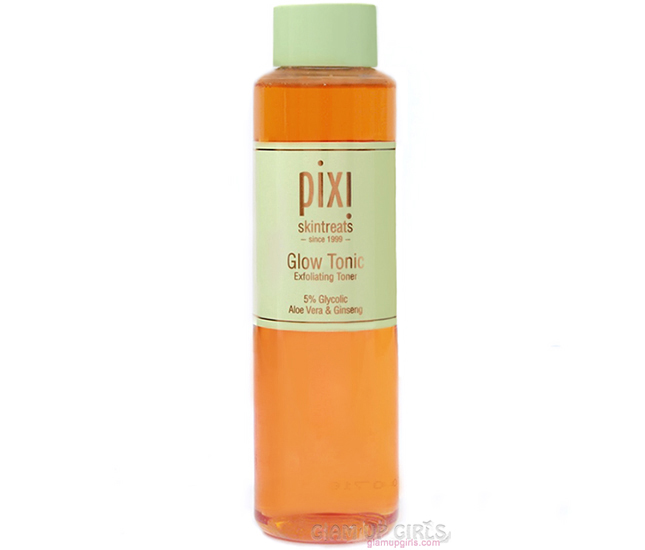 Product description

This exfoliating toner improves blood circulation and soothes the skin while minimize the pores, giving you glowing complexion.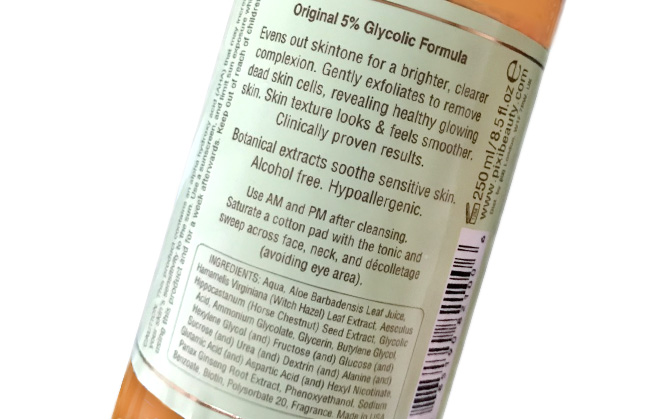 My Thoughts

This toner comes in orange color bottle with light green screw cap and you can see the usage of product through this bottle. The product itself is transparent with no color. It has little floral smell which is quite pleasant and soothing. There are different size available to buy in less quantity to try first before getting the full size bottle.

As it is toner so you have to apply it after cleansing and before moisturizer. Spill some product on cotton pad and swipe across face gently. I would suggest to not rub it to get any exfoliation benefit. Simply swiping and dabbing across the face will do its job. There are three main ingredients i noticed which are helpful in exfoliating, toning and soothing. The glycolic acid in this toner gently exfoliate the dead skin and reveal new healthy skin. The aloe soothes irritating or any broken skin from breakouts and provide hydration. Witch hazel tones and firm your skin.

It is suggested to use it day and night time routine but if you have more exposure of sun i would suggest to not use it in day time. As glycolic acid works its way in skin to exfoliate and reveal new skin, your skin can become sensitive for short time and sun rays will not be kind to your skin. So it is better to use it in night time beauty routine. With few uses, you will notice the benefits of this tonic. It instantly makes skin feel smooth and if you have dry dull skin, you will notice your skin more bright and healthy. Having tried it on dry, combination and oily skin, i would say it is suitable to all skin and works great for both oily skin or skin with dry patches. If you have oily skin this toner will give you clean and refreshing feeling. It is definitely a product worth trying as it is effective and works great for all skin.

Overall it will be a good product if you want clean, smooth and fresh skin every morning. If you want to start using glycolic acid products for chemical peeling or any other cure this toner can be nice start.

In Favor

Good exfoliating toner
Skin feel clear and smooth
Not irritating or stinging to any skin
For all skin types
Make dull and dry skin healthy looking
Soothing for breakouts, blemishes or dry patches
Give clean and refreshing feeling to oily skin
Not in Favor
My Rating
4.5/5


Pixi Glow Tonic is priced £18 for 250ml
comments powered by

Disqus