Irresistible Me Jade Hair Straightening Ceramic Brush - Review
Hair styling tools are important for every girls vanity who likes to style specially on daily basis whether they are drying, curling or straightening. As much as curling hairs have been popular for like forever, straightening them have become a desired trait and to achieve this style so many tools are available on market now. Before you had to go for straightening irons but using them on regular basis can cause damage to hairs and to cope up with this problem straightening brushes have been introduced. Today i am going to share my opinion on Irresistible Me Jade Hair Straightening Ceramic Brush.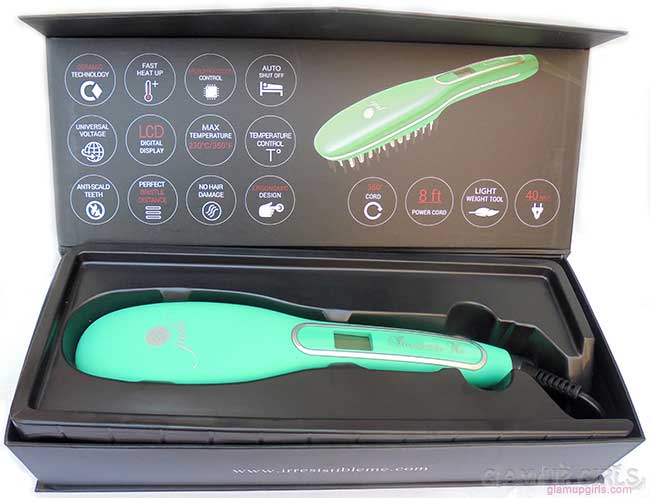 Product description

This revolutionary ceramic straightening brush is the hottest hair tool right now. The Irresistible Me Jade with 3D technology for multiple contact points and special ceramic tourmaline heating surface will give you quick and effortless straight hair without heat damage.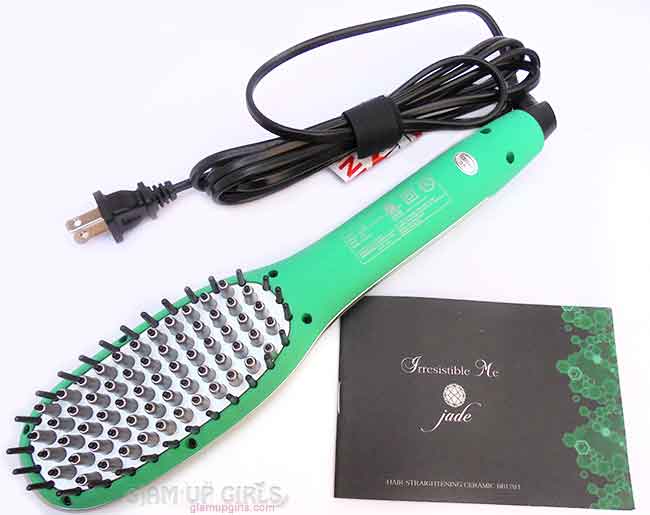 Irresistible Me Jade Hair Straightening Ceramic Brush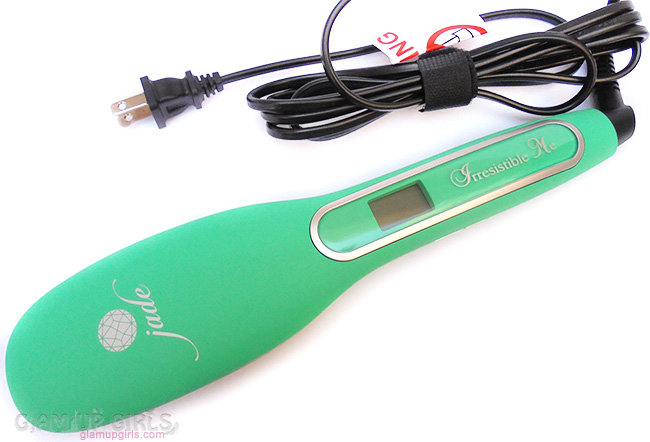 Irresistible Me Jade Hair Straightening Ceramic Brush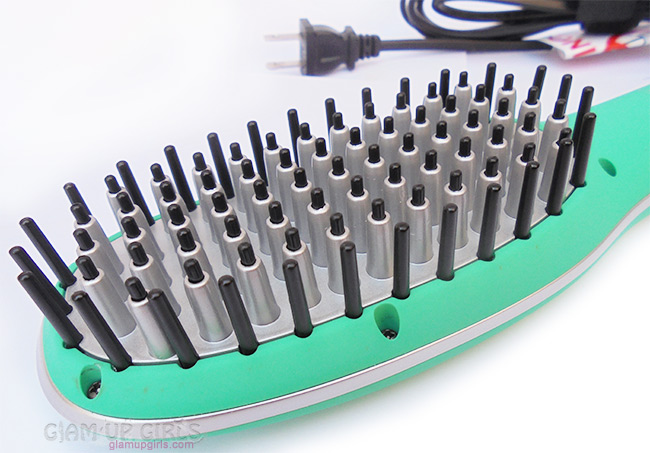 Irresistible Me Jade Hair Straightening Ceramic Brush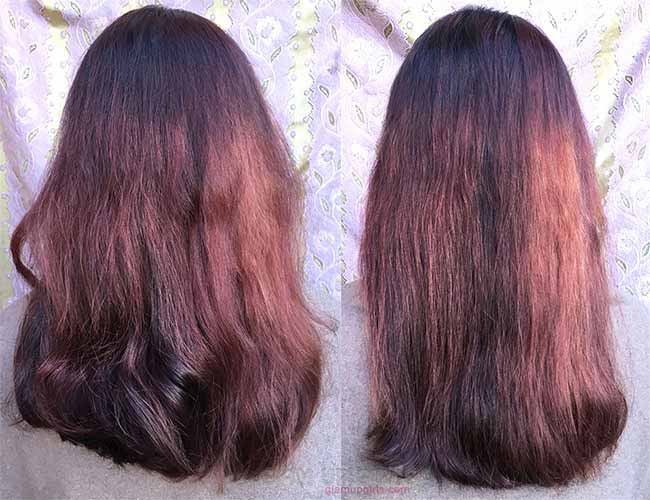 Before and After using Hair Straightening Ceramic Brush (without any hair product)


My Thoughts
This brush comes in really good cardboard with magnetic closure outer and plastic inner packaging which holds the brush and wire in place properly. The brush is made of very good quality of aqua green color smooth materiel which makes using and holding the tool easily. Heating surface consist of ceramic and tourmaline with thick bristles at distance to ensure proper reach and avoid hair snags.

The good thing is that it has swivel cord which makes it easy working on your hairs by your self. Because of its universal voltage it can easily be used in any where in the world and if the pug is not suitable for your boards you can put adapter to make use of it however i didn't need to get one. It provides 2 temperature settings ranging from 270℉ (130℃) to 450℉ (230℃) which is visible on LCD screen display and Microprocessor control present on the handle.

The usage is very easy and fast comparing to iron straighteners. First of all brush your dry hairs, then taking small portions slowly brush them with this tool. It is almost same procedure like any other tool but surprisingly it provides fast results. The immediate results is not flat straight hairs like above picture but instead it tame frizz and maintain the healthy and shiny look which looks more natural. If you are used to keeping your style with multiple tools like blow dry and straightening iron then this will cut your time and can be used for both purpose on the run. It gives the lovely effect on braids after using it.

The good thing is that it keeps the style for longer and tame the fly-aways on check even without any hair product but if you want more straight and fine look then you can use your favorite hair serum or other products to achieve perfect straightening look. Having seen some cheap versions of this brush, i can safely say that the quality of this brush is really good and worth having.

Overall this brush is perfect for every day use for straightening and taming hairs with or without any hair product and the timing of styling is minimum comparing other tools while chances of damaging hair or burning is even less.

Irresistible Me Jade Hair Straightening Ceramic-Tourmaline Brush is priced $69 but is available for $41 currently.
comments powered by

Disqus