ColourPop Chasing Rainbows Pressed Powder Shadow Palette, Review and Swatches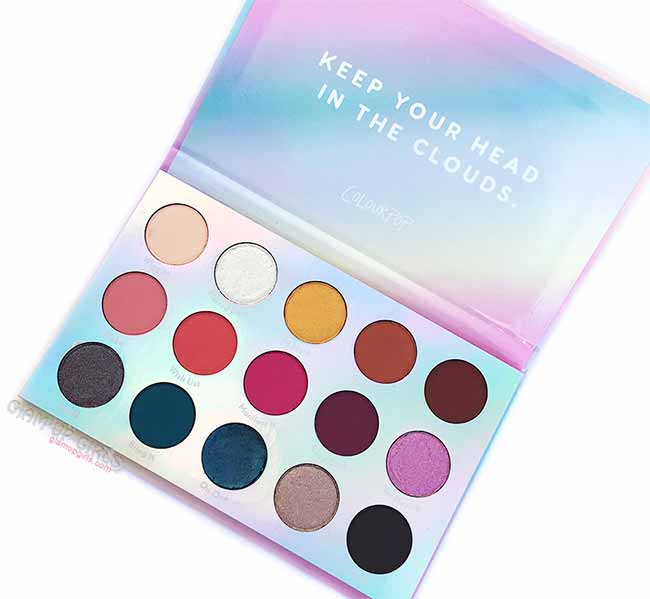 In the season of sales i have picked a lot of products from ColourPop and have been using them a lot. However because of my busy schedule the reviews are coming little late. I have reviewed the one palette called Perception and today i am going to share my thoughts on one beautiful palette called Chasing Rainbows Pressed Powder Shadow Palette. Let me tell you all about its shades and performance.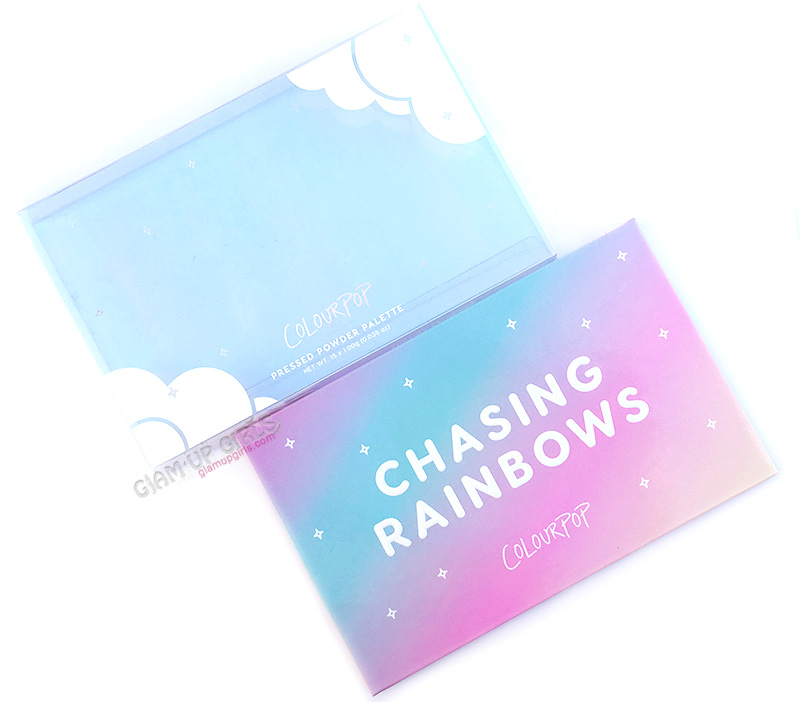 Product description

Don't quit your daydream! We brought our wildest fantasy to life, this 15-pan palette is the perfect mix of bold, daring, and wearable. Sky's the limit with the amount of looks you'll create with matte, satin, and metallic finishes. Let the prism of colour inspire your next trendsetting looks.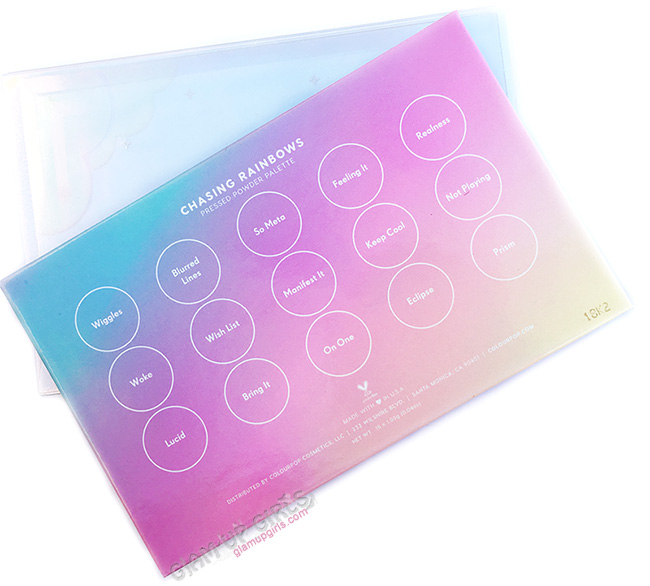 ColourPop Chasing Rainbows Pressed Powder Shadow Palette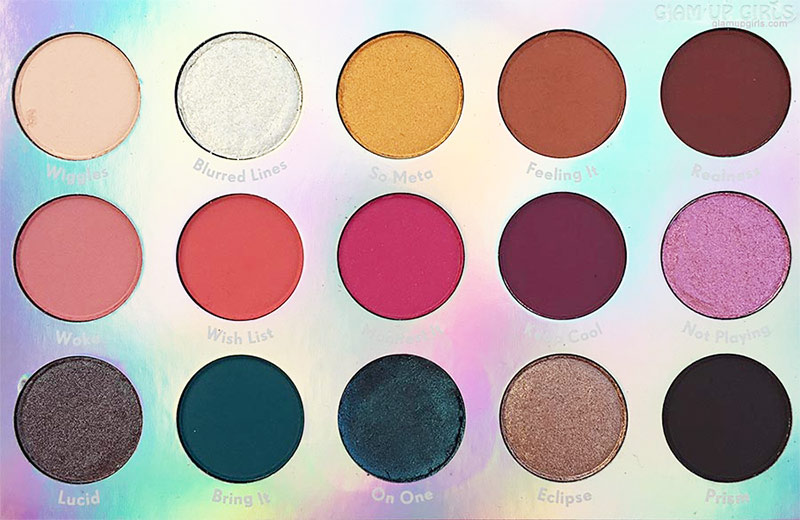 ColourPop Chasing Rainbows Pressed Powder Shadow Palette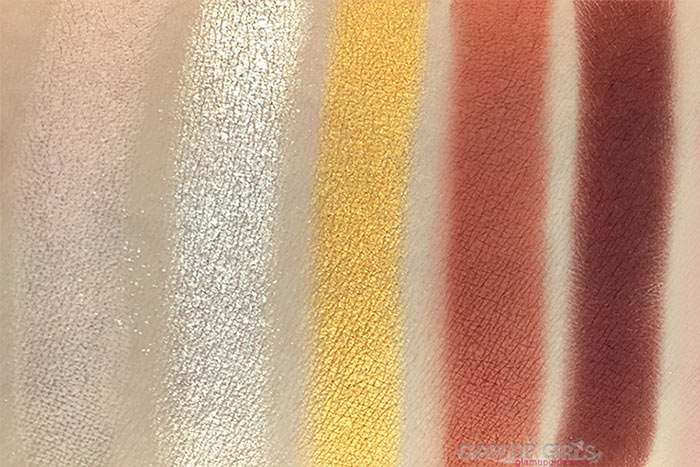 Swatches of Wiggles, Blurred Lines, So Meta, Feeling It and Realness
Swatches of Woke, Wish List, Menifest It, Keep Cool and Not Playing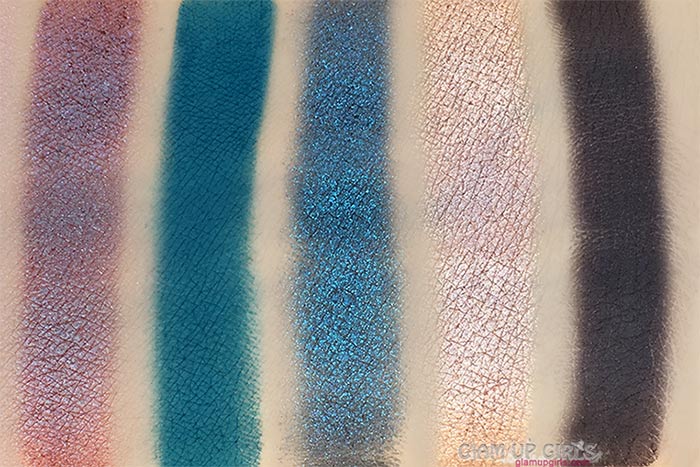 My Thoughts
This palette comes in usual cardboard packaging of multi shades reflecting the rainbow colors as the name of this palette suggests. the outer packaging is a simple plastic cover from where the palette slides in and out. It contains 15 shades ranging from some every day to vibrant colors with different finishes. I liked that there are many matte shades to mix and match with the shimmery ones. However i miss the mirror in this palette and would have loved it more wit it.

The quality of shades is similar as could expect from ColourPop meaning they are very pigmented and have soft texture to easily blend. I have noticed some fallout from dark shades though but nothing too bad to hate this palette. Coming towards shade selection, i really liked that you can easily create a good eye look for everyday or for any event just with this one palette as there are good amount of light to dark and transition shades. Lets talk about all shades separately.

Wiggles defined as matte pastel peach and it is a beige matte color perfect to use as base color. The texture and pigmentation is very good.
Blurred Lines defined as metallic opal with a gold flip and is a duochrome shade with white silvery base and gold sparkles. The texture and pigmentation is very good. It is similar to ColourPop Now and Zen pressed powder shadow.
So Meta defined as metallic marigold and is bright yellow gold shade with frost finish. The pigmentation is very good with slight dry formula.
Feeling It defined as matte red brown with copper flecks and is a burnt orange shade perfect to use as transition color. It is highly pigmented and have very good texture.
Realness defined as matte deep red brown and is dark reddish brown matte color. It is highly pigmented with very good formula.
Woke defined as matte mid-tone salmon pink and is a medium pastel pink color with matte finish. It is highly pigmented with good formula.
Wish List defined as matte vibrant coral and is dark pinkish coral matte color with intense pigmentation with good texture but slight dry formula.
Manifest It defined as matte fuchsia with pink flecks and is a bright medium fuchsia color with matte finish. It is highly pigmented with very good texture.
Keep Cool defined as matte deep orchid and is a dark purple shade with matte finish. It is highly pigmented with very good texture.
Not Playing defined as metallic lavender with a pink flip and is a shimmery lilac color. It is highly pigmented with little fallout and dry texture. It is better used when applied in glue primer or dampened.
Lucid defined as metallic eggplant with a blue flip and is a duochrome shade with reddish base and grayish purple metallic shift. It is highly pigmented with very good soft texture.
Bring It defined as matte teal and is a dark teal matte color with intense pigmentation and very good texture.
On One defined as metallic blackened turquoise and is a dark turquoise shimmery shade. It is highly pigmented and have soft texture.
Eclipse defined as metallic taupe and is a beige gold color with metallic finish. It is highly pigmented with soft texture. It is one of my favorite color is this palette.
Prism defined as matte blackened aubergine and is a very dark brown matte shade. It is also intensely pigmented and have little dry but blendable texture.

Overall this palette is great combination of shades and finishes. You can create any sort of look solely from this palette as you can find light and dark shades to mix and match easily. There is very little fallout in shimmery and very dark shades and some of the mattes and little dry texture. However none of the shade is difficult to blend. Some shimmery shades are better applied with damp brush or fingers.

ColourPop Chasing Rainbows Pressed Powder Shadow Palette is priced $20
comments powered by

Disqus