BeauBeaute and Mirum Facial Sheet Masks from Skin18 - Review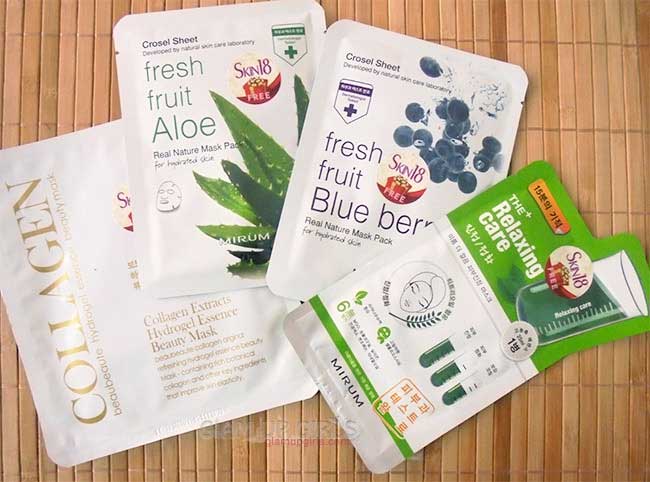 Skin18 is a heaven for facial sheet mask lovers which provides wide range of Korean brands on very reasonable price and shipping. I have reviewed many Sheet masks from Skin18 before from different brands and today i am going to share my review from BeauBeaute and Mirum. These masks are source of hydration and provides instant glow and freshness. In current weather these masks are more helpful considering the dry weather which leaves the skin dull.

Beaubeaute Hydrogel Essence Beauty Facial Mask (Collagen) $4.50
Beaubeaute hydrogel Essence beauty mask is an effective and therapeutic way to revive the health of your skin. Made from high quality natural materials, the pure hydrogel mask improves skin tone, reduces wrinkles, firms skin cells, and moisturizes.
-One of the few transparent gel face mask products on the market.

Mirum Fresh Fruit Aloe Real Natural Mask Pack (Moisturizing & Skin Calming) US$0.95
Aloe extract is proficient in calming your skin down, it can help your dull and dark skin become fresh and vital. It solves all kinds of skin problem for you and allows your skin to stay comfortable.
-Cotton sheet mask: Improves absorption and attach efficiently

Mirum Fresh Fruit Blue Berry Real Natural Mask Pack (Activating & Revitalizing) US$0.95
Blueberry contains various mineral and vitamins which will supply sufficient nutrition for your skin to restore its glow and health. High density and compact mask to provide skin with luster and softness.

Mirum THE+ 6 System Mask – Relaxing Care (Relaxing System) US$1.70
The green tea ingredients in this product can effectively relieve your skin of excess oil secretion problems which originate from the unbalance of oil and hydration. Various herb extracts work by calming down your skin and taking care of your sensitive and damaged skin, improving the skin's own protection ability. It is the best choice for those with skin which need special care

Beaubeaute mask is transparent mask made of pure hydrogel mask for dry and dull skin and makes the skin fresh and firm instantly which is really good. Mirum aloe mask is hydrating and keeps the moisture lock for long while blue berry makes the skin soft and firm while providing instant glow. 6 system mask is relaxing masks which is suitable for the skin which is sensitive and need the balance of oils. So if you are looking for masks to help you with your sensitive and damaged skin this is best option.

Overall these masks are every thing a girl need who love their skin. With festive season around, continuous use of make up and dry weather make your skin in need of proper pampering and these masks provide all the benefits skin needs to become fresh and glowing.

BeauBeaute and Mirum Facial Sheet Masks can be brought from Skin18.
comments powered by

Disqus