Wearing the appropriate footwear at work is a must, whether it's worn in a corporate setting or on construction projects. Considering your entire weight is supported by your feet, it'll be taxing to keep moving around with little to no support for them. Because of the constant abuse they experience, you're bound to be afflicted with feet-related injury while working. That's what work boots are designed for.
Even though there are different types of work boots, they all have a similar purpose: to protect the wearer's feet while ensuring they stay comfortable as long as possible. Despite it, some dislike wearing them due to the notion that work boots are only designed for practicality and aren't stylish. But with a little creative flare, you can make work footwear fashionable, especially
women's work boots
. Keep on reading to learn more.
Play With Colors
Although work boots are meant for the work environment, that doesn't mean manufacturers deprive consumers of having options. Choosing among different colors is one freedom you have when shopping for work boots. Granted, not all of them have the most aesthetically pleasing colors. That's why you must be careful when picking your next pair.
Ideally, the color you choose must go well with your style, whether you're the type to wear dresses or pants. To play it safe, choose dark colors. Regardless of style, dark colors go well with any attire, be it for summertime or as part of your
winter gear
. Because they're not picky with their attire, black or brown boots are perfectly suitable for prolonged use.
For those who don't like those colors, choose a pair of work boots that you'd consider your favorite. After all, having a favorite color encourages you to include your work boots in your outfits. Furthermore, you're bound to have a closet that lets you pull off a monochromatic look.
Be Mindful Of What Materials They're Made Of
Footwear manufacturers utilize all sorts of materials in production. Yet considering work boots are designed for comfort and security, the materials used on them are limited to leather, suede, or rubber. Most of them hold style higher than functionality since leather and suede are preferable for their rich texture and glossy finish. In contrast, rubber is ideal for wet environments, considering it has better traction.
You can have the best of both worlds once you consider the materials used for soles and toe protection. Fortunately, there are only two options for each. Thermo-polyurethane (TPU) and ethylene vinyl acetate (EVA) for soles, while steel and composite are used for toe protection. Either part of the boot isn't as obvious as the main body, so you can be as practical as you want.
Know The Different Types Of Work Boots
While there are various types of boots, only a few are suitable for heavy-duty work environments. And not all of them might be as fashionable as you'd hoped.
Slip-on and Chelsea work boots are perfect for those fond of minimalism with little to no design variations. On top of that, convenience is right at your fingertips with how easy it is to put them on and take them off. Nonetheless, some might feel they have little ankle support, so they're more equipped for environments that are not too demanding.
Meanwhile, lace-up boots possess a classic aesthetic that vintage lovers might be interested in. With their tall profile and tight security, lace-up boots offer generous ankle support for heavy-duty construction or other physically straining projects. Although, those laces might be tedious for some, especially when they frequently leave the work environment.
Add Accessories To Your Wardrobe
Adding accessories has a way of bringing any outfit together. Even if you're in a work environment, don't be afraid to wear socks or leg warmers to boost your style and comfort simultaneously. For those wearing lace-up boots, look up different types and colors of laces to change up your boots, even for a little. Keep in mind: only do this once you're certain they won't affect your workplace safety.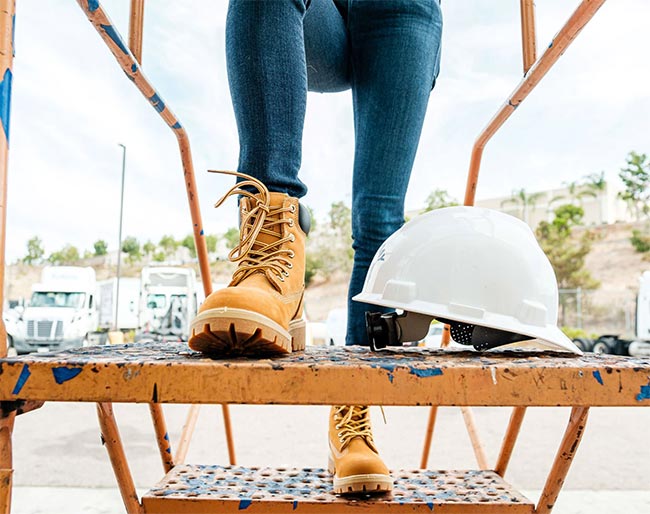 Use Your Work Boots Everyday
Think of your work boots as part of your wardrobe from now on. Only wearing them at work might hinder you from thinking outside the box when styling them. Now that they're included in your day-to-day lineup of outfits, you're much more invested in making them work with your usual aesthetic.
Takeaway
Considering how many safety hazards are found in any work environment, it's only appropriate to wear the right safety gear. Otherwise, you might end up getting injured—or worse.
Work boots are irreplaceable
when handling demanding work. Fortunately, there are ways to ensure you still look fashionable while having them on, regardless of whether you're at work or doing your day-to-day.