The lip tint pack is one amazing idea which instantly caught my attention when i saw it. The concept leaving a lovely lip color on your lips which is smudge proof, long lasting and non transferable was some thing to try. Berrisom the Korean brand introduced this concept and i was just searching some place to get one for me. When i just decided to buy it from WishTrend.com, i saw a Facebook page Bia's Cosmetics selling pack of 6 lip tints in very reasonable price who claimed it to be 100% original. So i bought this pack of 6 for me and today i am going to share my thoughts on it.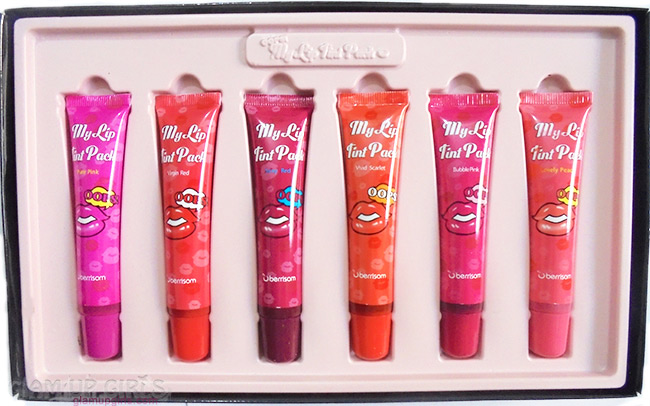 Berrisom My Lip Tint Pack
My Thoughts
Berrisom My Lip Tint Pack comes in soft squeezable tube having angled applicator with small hole to squeeze the product out. It has very noticeable candy like smell and the taste is little bitter. The texture is sticky thick gel like and while applying you have to be care full as it starts to dry if you take a lot of time. I wouldn't say that application is easy because it is not. You can easily get out of your lip lines and it can stain it. However i noticed if you remove it quickly where you made mistake it will not leave the stain.
This pack contains 6 lip tints which have 3 light shades and 3 dark. First time i used this product i applied thin layer of peach shade on my lips and when i peeled the dried layer from my lips there was not enough color to wow me. I was kind of disappointed at this product. Well then i tried the dark shade and applied a generous amount and let it dry for more then 10 minutes and when i peeled the layer the tint was quite good which lasted for more then 6 hours and was smudge proof and non transferable.
Pure Pink:
Very light barbie pink which is not pigmented and doesn't show on my lips.
Bubble Pink:
Bright pink shade which is better then Pure Pink but still not very pigmented.
Lovely Peach:
Light orange shade with not so good pigmentation.
Vivid Scarlet
: Light Red shade with very less color payoff.
Virgin Red
: Dark pure red shade with very good pigmentation.
Sexy Red
: Berry shade with good pigmentation
How to apply Lip Tint or Lip Tattoo
Carefully apply the product on lip without going outside of lip lines, if did any mistake remove it quickly.
Wait for product to dry an keep your mouth still. It take at least 10 to 15 minutes.
Once dried peel the layer from one side of lips moving towards other
Follow with lip balm
As i said application is not easy and need a good practice but on the other hand the peeling was very smooth and easy. Wait till the product is completely dry and then peel from one side of lips. It will come out very smooth and easier then your peeling face mask. The result is however not very even. It will leave dark stain on the inside of lips then outer pigmented areas and if you have very pigmented lips then even darkest shade might not give you a good stain. Even on little pigmented lips the light shades doesn't show. So i would suggest do not buy light shades unless you have very light pink color lips like the Koreans.
Overall if the pack i got is 100% original as store claimed then i would suggest it is not worth buying this pack of six. Only go for Virgin Red and Sexy Red if you have pigmented lips. I loved the stain of Sexy Red and Virgin Red on my lips and i am going to use them every bit.
In Favor
Dark shades are pigmented
Very long lasting
Smudge proof
Non Transferable
Not in Favor
Light shades doesn't show on pigmented lips
Application is bit tricky
Uneven Finish
Bit expensive
My Rating

3/5
Berrisom My Lip Tint Pack is available at yesstyle.com