Sigma Beauty Eye Brow Expert Kit - Review and Swatches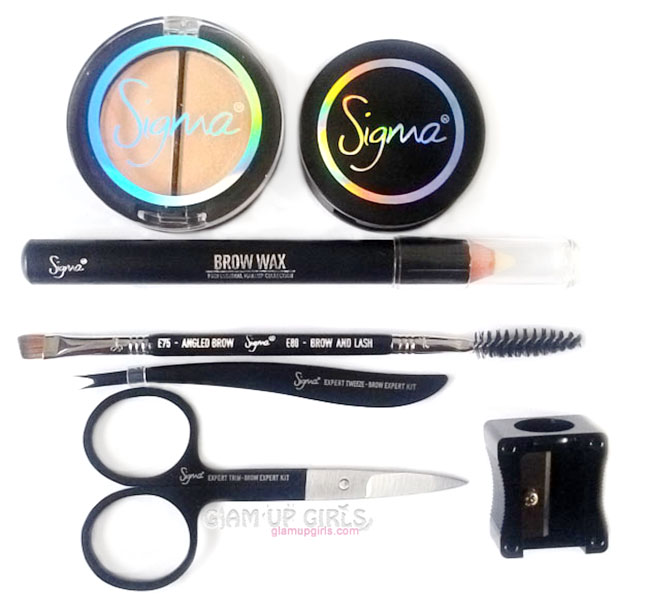 Product description (Discontinued but product links to individual buy)
The Sigma Beauty Brow Expert Kit contains a collection of seven fundamental tools and tints needed to arch, shape and groom the brows. Add this kit to your essential beauty routine to completely enhance your overall makeup look.

Included in Kit:

I prefer to shape my eye brows myself with thread and tweezer. When i received this kit i was really happy because it has every thing to groom and shape your eyebrows at home. Lets explore everything separately.

Brow Highlight Duo - Bring To Light
This duo contains matte and shimmer powder. The texture is soft, silky, pigmented and can be applied very smoothly. The matte shade is soft creamy nude and the frost shade is neutral sandy shimmer.

Brow Powder Duo - Dark
This duo is very soft textured and well pigmented and blends effortlessly. It has two dark brown shades one is little lighter then other.

E75 - Angled Brow & E80 Brow & Lash dual-ended brush
Angled brush with firm edge is used to define brows and can be used for powder or gel products. The spool shaped brush is used for separating and taming. Both brushes are really great and i really enjoyed using them.

Expert Tweezer and Expert Trim
The slant tweezer is perfect to pluck brow hairs it even pick the tiny hairs which other tweezers fails to do. The scissor is also perfect for brows hair. The size of both tools is perfect and can be used easily.

Brow wax and sharpener
The kit also includes brow wax and sharpener. I have never used pencil brow wax before and was surprised to see how greatly it worked to keep my brow hairs in place. Just use it with light hand and it will be enough, using too much can make brow hairs stiff.

Here is a look before and after with little tweezing and filling the eyebrows.

Overall i am really impressed with Sigma Brow Expert kit. Everything included in this kit is very much usable and perfect to groom and shape your eyebrows.

You can get Sigma Brow Expert Kit is priced $49 you can even buy products from this kit separately from there site here.
comments powered by

Disqus