Anastasia Beverly Hills Prism Eye Shadow Palette, Review and Swatches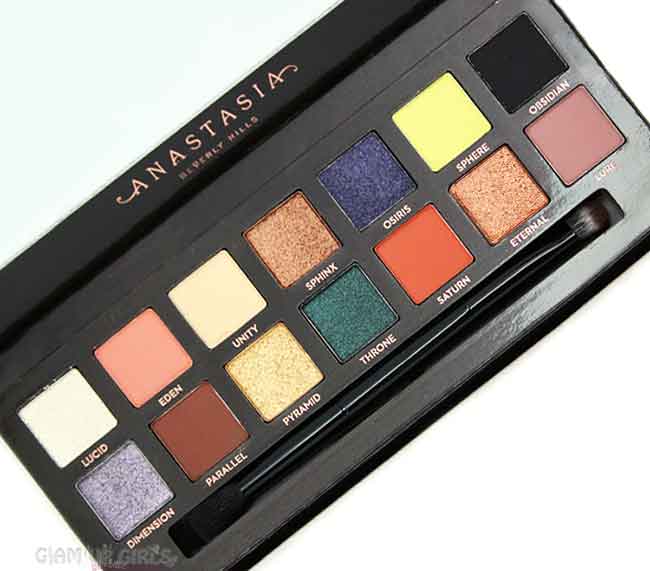 Today i am going to share holiday collection palette by Anastasia Beverly Hills called prism eye shadow palette. ABH modern renaissance palette is quite famous for its beautiful collection of red, burgundy and gold shades while their subculture palette was not considered up to mark. Prism palette seems to have a good collection of shades from light to dark and the possibility of creating different eye looks are unlimited. Lets get in the details of this palette.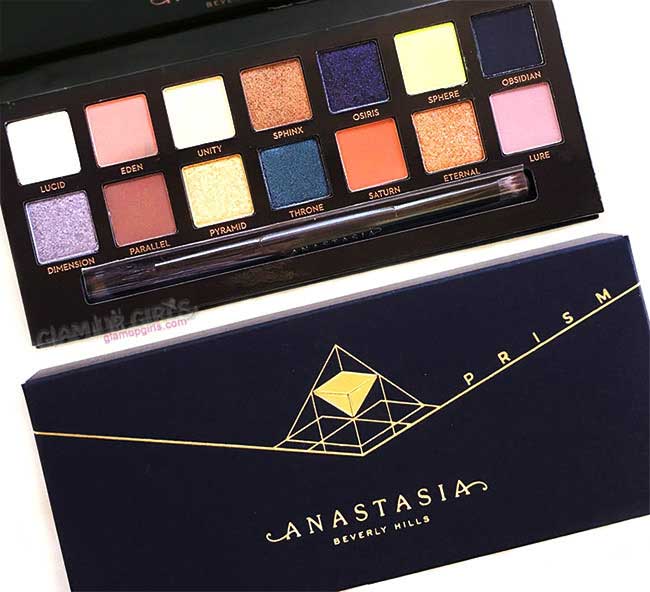 Product description

A luxe holiday eye shadow collection, Anastasia Beverly Hills Prism Palette features 14 shades that range from universal neutrals to prismatic metallics.

Anastasia Beverly Hills Prism Eye Shadow Palette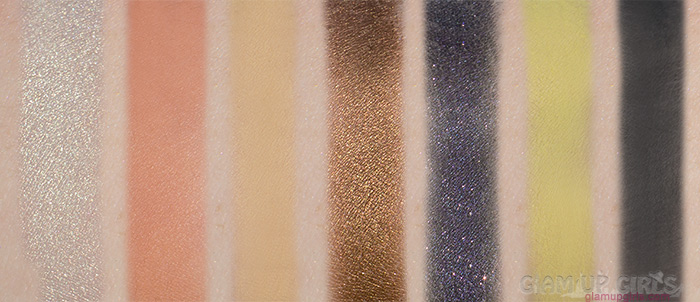 ABH Prism Swatches L to R: Lucid, Eden, Unity, Sphinx, Osiris, Sphere, Obsidian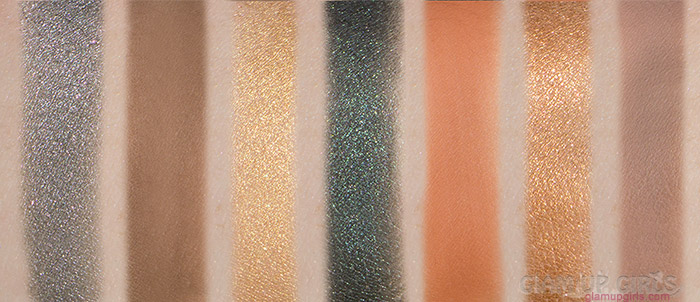 ABH Prism Swatches L to R: Dimension, Parallel, Pyramid, Throne, Saturn, Eternal, Lure

My Thoughts
This palette comes in black cardboard packaging with a handy mirror and dual eye shadow brush. The brush is really good and usable for quick makeup. It contains 14 different shades which are all different and quite wearable for every day to glamorous look. Most of the shades have buttery smooth texture and are easily blend able but few shades are little tricky to apply

Let me explain each shade separately.

Lucid is explained duo chrome white gold with pink reflect and is one of beautiful shades in this palette. However it has little chunky texture which have tendency to fall a lot. The pigmentation is OK.
Eden is defined as ultra-matte coral pink and is a light orange shade. It has very good pigmentation and nice texture
Unity is defined as ultra-matte nude ochre and is very light mustard color. Its pigmentation is good with nice texture.
Sphinx defined as metallic warm bronze and it has very intense pigmentation. The texture is buttery smooth and easily blendable.
Osiris defined as metallic midnight violet with red reflect. It is blackened purple with red glitter and shimmery finish. The pigmentation of this shade is also intense and have nice texture.
Sphere defined as ultra-matte electric green-yellow is neon yellow color. Its texture is little hard and have medium pigmentation.
Obsidian explained as ultra-matte deep black and also have hard texture with not so good pigmentation but you can make it work with wet brush.
Dimension defined as duo chrome silver-grey with pink reflect and is a lovely light lilac-y silver shade. The pigmentation is intense and have nice texture.
Parallel defined as ultra-matte truffle and is a lovely dark brown shade. Its pigmentation and texture is very good.
Pyramid explained as metallic yellow gold with green reflect is medium shimmery gold shade. Its texture is little loose and have medium pigmentation.
Throne defined as metallic blackened blue-green with multicolor reflect. It is blackened green shade with shimmery finish. The pigmentation and texture is really good.
Saturn defined as ultra-matte terracotta is medium orange shade. the texture and pigmentation of this shade is really good.
Eternal defined as metallic violet copper and is a medium copper shade with intense pigmentation. The texture is on chunkier side.
Lure defined as ultra-matte ashy lilac is medium mauve shade with intense pigmentation and good texture.

Overall the matte shades have good texture except sphere and obsidian which have little hard texture and with not so great pigmentation. Some of shimmery shades have little chunky texture which is prone to fall. These shades can work great if applied with wet brush as well. It is not highly desirable palette for its price but not really bad either. The duo chrome shades are particularly really beautiful and different.

Anastasia Beverly Hills Prism Eye Shadow Palette is priced $42
comments powered by

Disqus