Eye creams and eye serums are very important part of beauty care. The regular moisturizers doesn't provides the necessary nourishment to eye area as the skin there is thin and more delicate which react to your environment more quickly. As i have started Korean skin care for few weeks i have been using only Korean products. Today i am going to talk about eye serum by Etude House called Pink Vital Water Eye Serum. Let me tell you all about this product.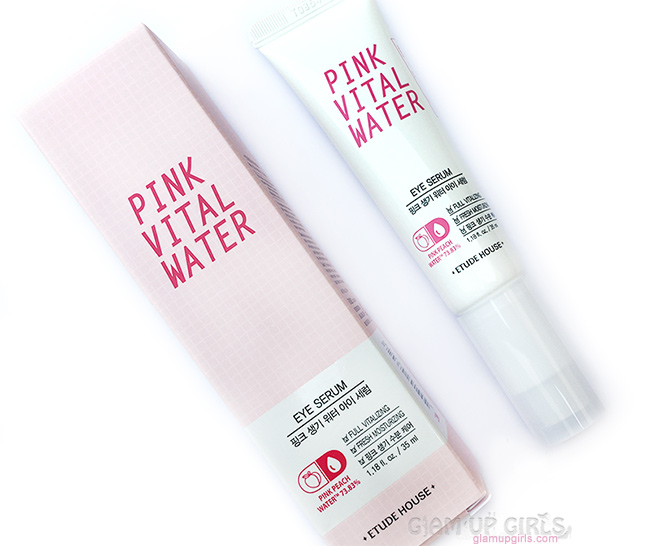 Etude House Pink Vital Water Eye Serum
My Thoughts
The packaging of this product is really good. It comes in squeezable tube with pump dispenser which is perfect for such products. The texture of this serum is like thin lotion which is not runny but not creamy as well. The smell of this serum is amazing which is typical smell of
Etude House
products, a light floral and refreshing.
Only little amount is needed for both eyes similar to shown in above picture. I pick this amount on ring finger and apply it around eye area avoiding water line. Focus on the outwards stokes and always use your ring finger as it apply light pressure then index finger which can be little forced. It takes little time to absorb like Korean serums and essence. After massaging for little time tap the remaining amount into skin.
The instant effect of this serum is very cooling and if you have tired, puffy eyes it will soothe and cool down the warming area around eyes. As serums are light weight then eye creams so they are suitable for morning routines when you need your fresh eyes. It is hydrating but doesn't make skin oily or sticky and you can apply your makeup without worrying about melting. The soothing effect is quite lasting and you will feel the effect for few hours.
Overall this serum is perfect for puffy, dehydrating eyes. It instantly soothes and hydrate the skin without making it oily or sticky. It is great for morning routines when you need light weight products to follow up with makeup.
In Favor
Light weight
Cooling and soothing
For puffy eyes
Hydrating
Great packaging
Very little amount is needed for both eyes
Not in favor
If you are looking for heavy duty eye cream
You think it is pricey
My Rating

4/5
Etude House Pink Vital Water Eye Serum is priced $16.90 and you can buy at
Yesstyle.com