White crayons or pencils were not part of my vanity until i discovered they look amazing on water line and as eyeliners. Different brands have introduced these pencils in their product range with different prices costing $7 to $1.75. While my search for good white pencil i learned that LA Colors Jumbo Pencil in sea shell is almost dupe for NYX jumbo pencil in Milk and for price it is a lot cheaper then NYX. In today's post i will share my thoughts how it turned out for me.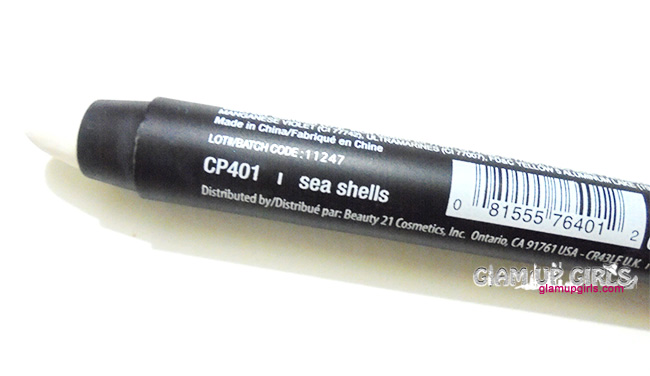 Product description
Defined as long lasting with vibrant shades, this creamy pencil can be used as eyeshadow or liner.
My Thoughts
It is a Chubby pencil comes in black plastic cover. The bottom of pencil indicates the shade pencil have and have transparent plastic cap. The texture of this pencil is soft and creamy because of this texture it is hard to apply it as eye liner. If you want them as eyeliner i would suggest to keep it in fridge to make its texture little hard however it works perfect as eye shadow base which help eyeshadow to pop and last longer then usual.
The shade Sea Shells is pure white color with matte finish and is very pigmented. With one swipe you can get good color payoff. It blends more easily with fingers then any brush. If you want to apply it as eyeshadow base try to put it over lid only as it have tendency to crease which is understandable and i think most of the eye pencils would do. To prevent creasing use it with any good eye primer and it would work amazingly. You will notice an amazing difference in your eye makeup while using this pencil as eyeshadow base. It makes the color more pigmented, less powdery and long lasting. You can see the difference in above swatches how different one eyeshadow look.
It is very easy to apply on water line as well. If you are not allergic to crayons then this one is perfect for you. It applies smoothly and looks very opaque on water line but doesn't last too long because of its creamy formula. It stayed less then 2 hours on my waterline. Staying power as eyeshadow base is quite good and it lasts whole day though lasting power as stand alone is not very good and it melts soon without any setting power. I have read a lot of reviews that it is exact dupe of NYX jumbo pencil in Milk but as i have not used it so i can not comment on it but it is definitely worth having for its price and performance.
Overall i totally loved this pencil it works beautifully as eyeshadow base, it is very pigmented, blends smoothly and is quite long lasting plus nothing can beat its price.I would highly recommend this eye pencil.
In Favor
Creamy formula
Matte pure white color
Highly pigmented
Blends easily
Perfect eyeshadow base
Make eyeshadow last longer then usual
Can be applied on water line
Very budget friendly
Not in Favor
Can crease without primer
Too creamy to use as eyeliner
Not long lasting as stand alone product
My Rating
4.5/5
L.A. Colors Jumbo Pencil in Sea Shells
is priced
$1.75