Today i am going to share my thoughts on one more raving foundation which was introduced by Milani last year called Conceal + Perfect 2-In-1 Foundation + Concealer. The name for this range is quite intriguing if you are one who love to reduce makeup steps and still want to keep good look. I think i have become foundation hoarder and need to work on that issue but the love of trying new products is hard to resist. Well let me tell you why this product is so raved and fussed over.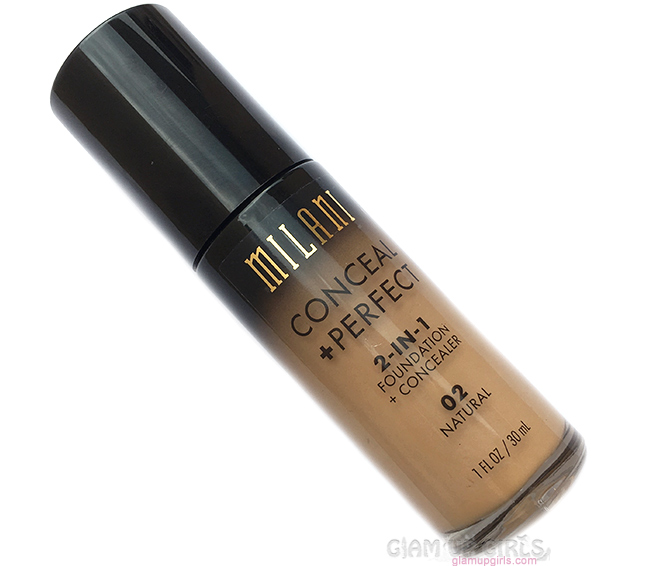 Product description
This is a full coverage formula which is water resistant and can be used as foundation or concealer for spot hiding.
My Thoughts
The packaging is quite attractive and is a good break from plain glass bottle to black gradient bottle. This 30ml product comes in slim bottle with pump dispenser. As the name suggest it is foundation + concealer the formula is quite thick with very good pigmentation, although the thick creamy texture doesn't feel heavy on skin and let your skin breath from underneath. Before i talk about its texture and performance let me tell you that shade selection will make you scratch your head.
The 14 shades of this range are numbered in odd way and the first shade is quite darker then others. Having said that the very light skin will not be happy as there is no shade for them in my opinion. Most shades are yellow tones which are treat for Asian skin or olive skin tones. I picked the shade natural which upon receiving almost made me regret the choice but upon application it was perfect for our skin which lies in between NC25 to NC30 depending on season and pigmentation. This shade have strong yellow undertones and where the swatch looks dark, upon blending it adjust to your skin tone and looks lighter.
As i said that texture is thick creamy with good pigmentation. You need very little for medium coverage but it does provide full coverage with little build up. I don't have acne marks or blemishes to hide but do have dark circles and pigmentation around mouth. Without any other concealer it hides any pigmentation and make your skin look even tone. On dark circles it works great as well compare to any other foundation. It doesn't make them look grey which is issue with every other foundation if applied directly on them without concealer or color corrector. It gives the most natural look with its semi matte finish and good coverage.
As i was loving
Wet n Wild Photo Focus foundation
for its good coverage and lasting power but that was bit drying and do emphasis the lines around mouth. This foundation however doesn't do that despite having thick formula. I am sure in winters for dry skin it will need good moisturizing like Wet n Wild photo finish but in this hot summers this foundation is good for all skin. The lasting power is very impressive and it stays more then 6 hours and doesn't fade, oxidize or transfer in mean time. On very oily patches on face you might need to blot or powder after few hours.
Overall this foundation is my new found love with its good coverage, natural finish and long lasting power. In current season it is suitable for all skin type but in winters too dry skin will need to moisturize and prime properly. You might debate over rating but for me it is currently perfect.
In Favor
Medium to full coverage
Little amount is needed for full face
Semi matte finish
Light weight and breathable
very good lasting power
Doesn't oxidize or transfer
Fades evenly
Not in favor
Shade selection is not very good
Thick texture needs quick blending
My Rating
5/5
MILANI Conceal + Perfect 2-In-1 Foundation + Concealer is priced $10.50