The importance of cleaning makeup brushes is something every makeup addict must know or they will have to suffer the skin issues sooner or later because of using dirty makeup brushes containing a lot of dirt and bacteria. Most of us had always washed the brushes in conventional way using hand and liquid soap and has been satisfied with the results which can only take hour and some hard labor to clean the few brushes and then you are too tired to notice that whether they are completely clean or not. Well to cut down the time and hard work you can also use very cheap
Brushegg
which was i using before 2X Sigma Spa Brush Cleaning Glove. If you are thinking the results for both would be same then you seriously need to read further.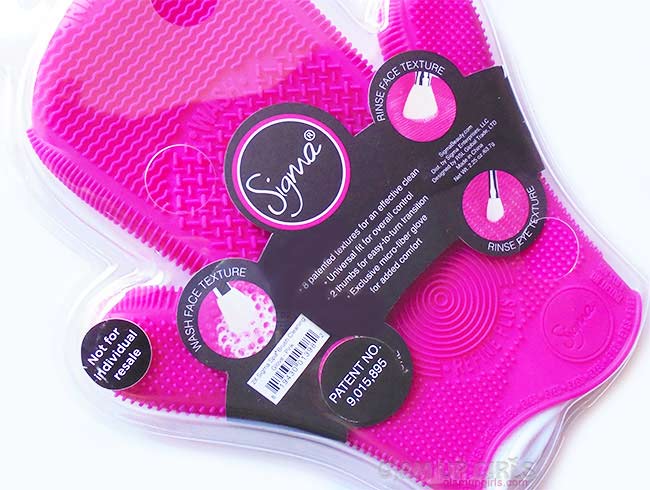 Product description
With upgraded textures this glove have high performance, raised silicone for a more effective and deeper clean.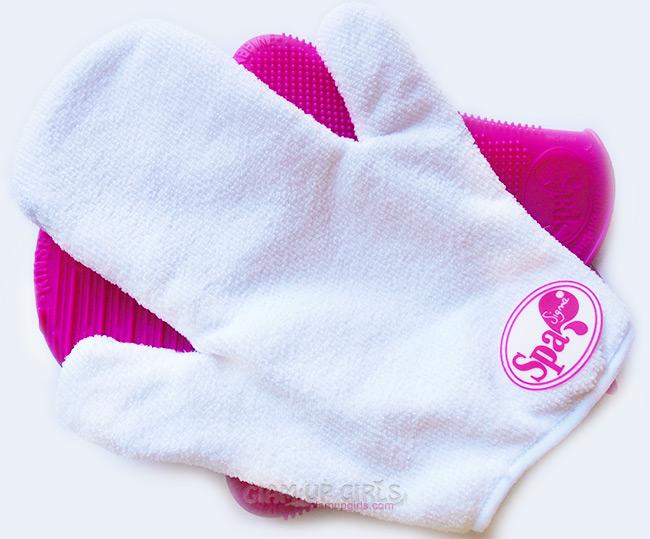 2X Sigma Spa Brush Cleaning Glove - Inner Glove
My Thoughts
Sigma Spa brush cleaning glove is made of hot pink high grade raised silicon. There is another glove inside which is made of white fabric and feels like soft towel. You can use it if you are not comfortable in using silicon glove directly on your hand or keep it out and use it to dry the cleaned brushes or pat dry the silicon glove.
This glove have 8 separate textures for face and eye brushes. The one side with large round knobs in center mentioned as wash texture is for face brushes which create leather efficiently. The linear structure beneath wash area is to refine which cleans the bristles of brush in a minute. I was surprised how quickly it cleaned my
Sigma 3dhd kabuki brush
which was stained by
Masarrat Misbah foundation
. This is the fact that got me thinking i needed this glove so much. Who ever uses this foundation know that it is amazing but stains the brushes badly which was really hard to remove with other methods i was using already and then i stopped using my kabuki brush to apply this foundation but when i cleaned it with this glove the stains were totally gone in instant and my brush was as good as new.
The other side of glove is for eye brushes which have small criss cross knobs to wash and leather for eye brushes. The refine area consist of round lines texture to clean brushes efficiently. The small knobs on both sides are perfect for small brushes and the time it takes to clean comparing to hand wash is remarkably less. As fast it helps creating leather, it washes it quickly as well so you do not have to spend too much time in cleaning. The dense brushes takes few more minutes then other brushes. The thumb area is perfect to squeeze the excessive water and reshape your brush. It is recommended to clean this gadgets with oil based make up remover and tooth brush to protect it in long run and to never use in a dishwasher.
Overall it really is worth its price as i have used other methods and the cheaper version of this gadget but the time factor for this glove is amazing. It clean more quickly and diffidently more efficiently. If you have some good amount of makeup brushes which you love, then you should have this glove.
2X Sigma Spa Brush Cleaning Glove
is priced
$39