Etude House Precious Mineral Any Cushion Foundation - Review and Swatches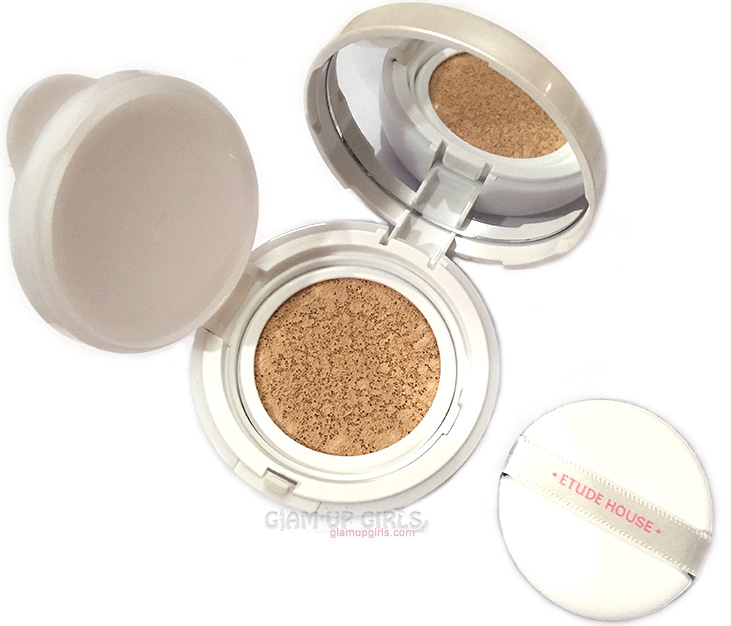 I wanted to try cushion foundation for very long but doesn't want to pick other then any Korean brand and Etude House is one of the famous and reliable brand to choose which provides reasonable products with cute and girly packaging. In my haul through MyMallBox i got the chance to pick their famous Precious Mineral Any Cushion and have been using it since and i am so excited to share my thoughts with you today as it certainly made me impress with its quality.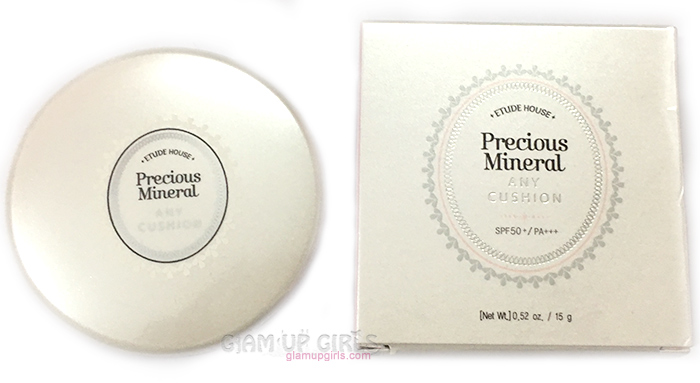 Product description

This flawless cushion foundation creates beautiful pearly bright skin with its full coverage and smoothing effects.

How to apply
Apply by pressing the puff into the sponge and pat the puff onto the face. For touch-ups, reapply as desired.

Etude House Precious Mineral Any Cushion

My Thoughts
It comes in a lovely silver plastic container which is sturdy, travel friendly and beautiful. The pieces of container is same as in any cushion foundation containing foundation filled sponge, application sponge, protecting lid for cushion and mirror. This foundation comes in 4 shades and the one i bought called natural beige which have warm undertones and is suitable to fair-medium skin. The scent is very light to almost none and doesn't linger after application.

Although the shade selection is very minimal but thankfully natural beige was my perfect match. It feels light on first application but sets with the skin tone very quickly and become like a second skin. The best way to apply is by patting a sponge lightly on skin to absorb the foundation in skin. This way you get bit more coverage then medium but for light natural look you can go for bit blending after patting and that will give you light coverage. The good thing is that it also contains SPF50 which is perfect for every day and you do not have to apply extra sunscreen.

Coming to the results i must say i am most impressed with this cushion foundation. Me and my sisters fell in love with it who have different skin including normal, dry and combination. The application is very easy and makes your skin look even toned hiding any discoloration or pigmentation. It instantly sets and looks most natural while giving medium coverage. The amazing thing is, it looks semi matte on skin but feels like matte, sounds strange but it is the fact. The slight sheen gives a healthy glow to dull skin but it doesn't feel oily or make your skin dry. However it is good to moisturize very dry skin. The lasting power is pretty amazing too which is almost 6 to 7 hours and at the end of the day your skin still looks good as it doesn't crease or set in lines. To make it work for oily parts of your skin just pat little powder and it will last long for you.

I have not found a single bad thing about this foundation. It is easy to apply, gives semi matte finish, looks natural, give medium coverage which is buildable and last very long and your skin still looks good at the end of day. I am ready to restock it but unfortunately it is out of stock now. I would highly recommend this foundation who are curious to try Korean cushion foundation.

In Favor

Lovely and travel friendly packaging
Easy application
Semi matte finish
Medium to buildable coverage
Comes with Spf 50
Skin looks naturally glowing and even toned
Lasts more then 5 to 6 hours
For all skin types
Not in Favor
My Rating
5/5

Etude House Precious Mineral Any Cushion is priced $21.60
comments powered by

Disqus