Charcoal masks have become very popular these days for their unique benefits, even though it is used for centuries for different purposes but now you can get not only charcoal masks but also washes, cleansers and soaps as well from different brands. Basically Charcoal acts like a magnet to draw out impurities like dirt, bacteria, toxins etc from pores and leave the skin clarified and refreshed which in turn helps fighting acne and occasional break outs. The most famous form of charcoal use in beauty products is activated charcoal.
Activated charcoal is a form of carbon processed to have small, low-volume pores that increase the surface area available for chemical reactions. Activated charcoal is administered in hospitals as emergency treatment for poisoning; as chemicals bind to it, it can help remove them from the body. These days, people are using food grade activated charcoal internally to detox, in supplements and juices; it's even being used to whiten teeth. For the same reason it acts as deep cleanser and detoxifier for skin. It is a natural process and do not have any negative reaction to your skin or hairs.
Activated Charcoal for Skin
The main benefit for activated charcoal in beauty care is that it deep cleanse the skin and rid of the impurities from pores. If you have
oily skin
then this is a perfect remedy for you. You can use it as face wash, cleanser or mask which will remove excessive oil and leave the skin smooth and clean. It is best to have proper understating of using your product or excessive use can dry your skin. If you have
large pores
it can be because of dirt and other impurities making them look bigger. Once you use Activated charcoal, it will clean the pores and make them look less visible.
It also helps you to
treat acne
and blemishes. Using it as soap, exfoliater or masks regularly will help you to keep your skin clean from bacteria and toxins causing acne. It is also good to use it as spot treatment instead of applying on whole face. Activated charcoal exfoliater will also help you get rid of black heads.
If you have
dry or combination skin
then it is better to use it as deep cleanser or mask once in while then on regular basis because you do not want to get rid of necessary face oils and make your skin more dry. On combination skin you can use it on oily patches more then on dry patches by applying mini masks.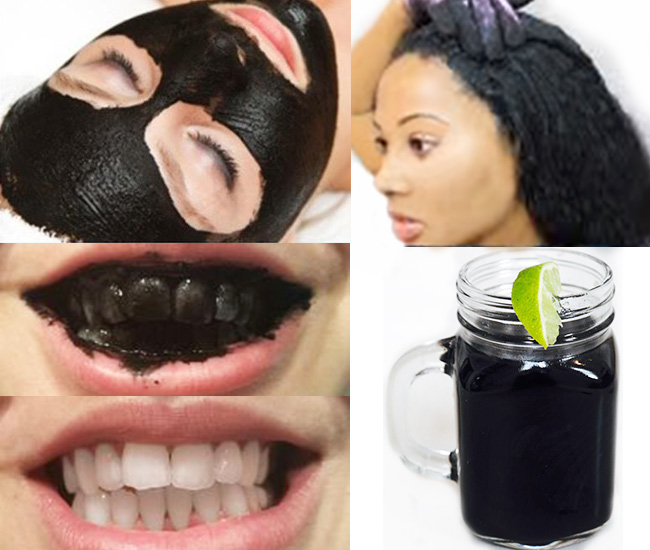 Activated Charcoal for hairs
Activated Charcoal can also be used on hairs to rid of toxins, oil and dirt. There are dry shampoo available with activated charcoal or you can make a hair mask with charcoal capsule in shampoo or in other hair masks. Once the dirt and oil is removed from your hair, it also adds volume to your hairs which normal shampoos fail to achieve. At the same time it relive the itchy scalp by deep cleansing which other shampoos fail to do.
Activated Charcoal for Teeth
Activated Charcoal is famous for teeth whitening as well. You can use toothpastes or
tooth powder made of charcoal
or can try the powder form. Dip a clean, wet toothbrush into the powdered charcoal or can use your index finger. Put the charcoal covered toothbrush in the mouth and brush in small, gentle circles for 2 minutes, spit carefully and rinse really well. Do not use it too often as it can effect the natural layer of teeth and make them sensitive.
Activated Charcoal for health
You can also use activated charcoal for health benefits. Charcoal lemonade is used for cleansing and detox your body from inside. Their are also many charcoal drinks are available but you can make your own drink with couple of charcoal capsule or crushed powder, water and juice of lime with sweetener of your preference. It is also be used to cure food poisoning for adults or children.
You can buy Activated charcoal mask in powder form to use in DIY or buy products like face washes, cleanser, masks or soaps. Following are the few brands which produce quality charcoal products.
Active Charcoal
Mask helps flush out environmental toxins, dirt, and debris that can clog pores and cause skin to look dull—leaving the complexion clarified, refreshed, and healthier-looking. Bamboo charcoal acts like a magnet to draw out deep-dwelling pore-cloggers, white China clay absorbs environmental toxins, and lecithin dissolves impurities. For normal, oily and combination skin
GlamGlow Supermud Clearing Treatment $54.99
The SUPERMUD Clearing Treatment was clinically developed to address common skin concerns, which include blemishes, redness, scars, razor bumps, and in-grown hair. The potent mud formula supports skin's natural oil balance, while a proprietary blend of six acids works to dramatically brighten and soften the complexion.
Activated-X charcoal
lifts away dirt and other skin congestions, resulting in a refined, healthy-looking complexion.
Clinique Pore Refining Solutions Charcoal Mask $35.22
Pore Refining Solutions Charcoal Mask absorbs oil, impurities, and environmental pollutants for a clear, refreshed complexion.
Charcoal powder
draws out deep-seated debris to purify pores, while mineral clays soak up excess oil. Recommended for dry combination to oily skin types, the oil-free formula leaves skin feeling renewed and smooth with noticeably refined pores.
unique mask and scrub
works double time to detox skin. First, naturally purifying Activated Charcoal helps absorb oil and impurities without over-drying. Then, Black Sugar helps exfoliate away dulling skin cells for softness and clarity. Perfect for all skin types.
Lush Cosmetics Coalface Cleanser $14.95
Ideal for combination or oily skin, mildly
exfoliating charcoal
facial soap makes quick work of excess oil to leave your skin matte and super clean. We counteract charcoal's deep-cleansing action with soothing rosewood and sandalwood oils to reduce redness and keep your skin nicely balanced. The formula is rounded out with a cleansing liquorice decoction, giving our black complexion bar a subtle anise scent.
Garnier Clean+ Blackhead Eliminating Scrub $8.49
Oily skin has specific cleansing needs. To look and feel its best, it needs the right clean and specific care. Our gel exfoliator with microbeads deeply cleanses, tightens pores and smooths skin. The formula with
charcoal
draws out blackhead-causing dirt, oil and impurities like a magnet.
activated charcoal
will absorb all the toxins and oils, your skin won't reabsorb the bad stuff while the mask is on. This masque fights to absorb impurities to deep clean skin and pores, reduce the look of large pores, absorb excess oils, reduce blemishes and soften skin.
Aura Crafts Activated Charcoal Soap
Activated Charcoal is the best skin purifier one could ask for. It removes grime and dirt from clogged pores, leaving the skin squeaky clean and acne-free. Recommended for oily skin.
Spa in a Bottle Activated Charcoal Powder PKR1400
This amazing 100% activated charcoal that is an excellent detox and may be used in a variety of ways.
Do you use Activated charcoal products or DIY? What is your favorite?