From celebs and fashion icons, hoodies are gaining ground as a popular trend. Hoodies are a streetwear fashion staple that can work with almost every outfit and are worn by everyone. Thanks to their versatile designs and trends, they can be worn on most occasions where the theme is casual. The key is styling them for an outstanding look. They come in three major designs; a full zip-up, a half zip-up, and a pullover. Most fashion brands prefer making them from polyester and cotton brands or blending them.
So, if you're wondering how to wear and rock your hoodie, read below for seven easy ways to style it:
1. By Layering It
During the cold season, all that matters is staying warm. You can brave this weather by layering your clothes. One of the best ways to look stylish is by layering your hoodie. The perfect way to balance the outfit is by going for a stylish design that makes a fashion statement.
You wouldn't want to dim your hoodie's light by covering it completely. In other words, don't zip your outer garment. Your hoodie must be noticed. For this style, pullover designs look better than zipper hoodies if you plan on wearing the hoodie inside your jacket. For a hoodie on the outside layered look, the zipper hoodies carry the day. Below are excellent choices for an inside hoodie layered look:
Leather jacket
Bomber jacket
A coat
Puffer jacket
Blazer
Parka jacket
Shearling jacket
Denim jacket
With all these stylish ways to layer your hoodie, you can be confident to look the part for your evening night with your boys or girls. On that note, check out some trendy designs from
the collection of playboy hoodies
or other similar designs.
2. With Jeans
The hoodie-jeans combination is one of the surefire ways to look chic on weekends. If you want a laid-back look, you need this outfit in your wardrobe. You should choose colors that blend well instead of contrasting hues for this look—for instance, bold colors like blue and black look great. You can also go for subtle colors like brown and black jeans. Complete the look by rocking your knee-high boots or ankle boots. For this outfit, consider hoodies with some graphics or pictorial elements. They help elevate your look.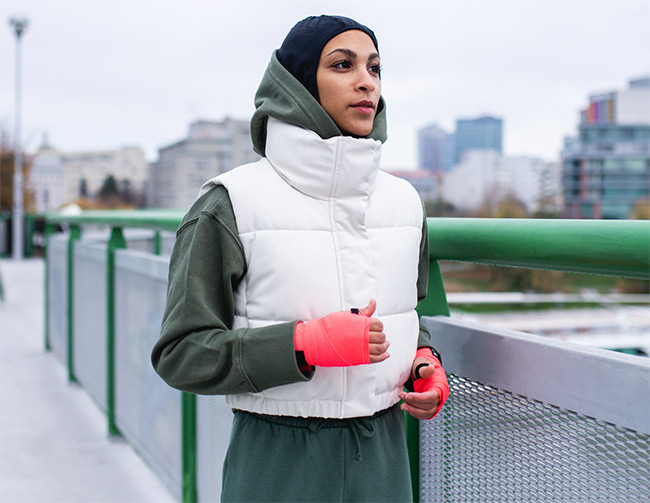 3. As An Athleisure Look
For most people, a hoodie is a quick way to dress down. They're comfortable clothing to stay in the house and run errands like shopping. As such, you can use them for loungewear since the casual vibe looks chic when styled well.
Again, hoodies are taking athleisure designs by storm. Their sleek designs are giving designers a run for their money on workout gear. You can work your abs out in a hoodie or change into one after your workout sessions without looking lazy. As such, hoodies are a force to reckon with for
trendy active wear
. Try this style for your next workout.
4. With Tailored Trousers
The hoodie and tailored pants combination is a unique way to look stylish for a high-low outfit. It's a unique way to mix smart and casual. Give it a try, and you'll certainly turn heads. For a polished look, choose a neutral color for your hoodie. It's easier to wear the popular white on top and black on your trousers to avoid making a fashion faux pas. You'd rather look put together than questionable with your hoodie.
Ditch your everyday straight trousers for a wider design, pinstripes, or checked trousers. Finish it up with sneakers or your sports shoes collection.
5. As An Oversized Fit
With hoodies, there's no harm in going for a baggy fit. An oversized hoodie can be worn with biker shorts, leggings, or tights for the bottom. It's similar to wearing a sweatshirt. The oversized hoodie outfit is an excellent style for expecting moms or when you want to keep prying eyes from your bundle of joy. The buggy fit covers everything well. You must have seen celebs and fashion icons don this look before they announce their pregnancies.
It's also a nice outfit when you want to wear less and have everything covered. You can complete the look by wearing sandals or sneakers.
6. With Punk-Inspired Outfits
You can go for perfect-fit or cropped hoodies if you don't fancy the oversized hoodie style. Thanks to technology, designers can now navigate into the new digital space. With the
design software
, they can customize your hoodie to accommodate any punk style.
You can do much with your punk-inspired hoodie, like pairing it with your skater skirt or Ankara shorts. For this outfit, accessorize with anklets, hats, or sunglasses.
With a comfortable and practical clothing piece in your wardrobe, styling becomes a walkover. You can use most of your existing clothes to make a unique combination by putting together two unique styles. Keep up with the trends, and you can be sure to get the hoodie outfit right.