Are you planning a party? which can be birthdays, get-togethers, graduation parties, or any other event. The biggest question will always be about how to make it the best time for everyone attending. Parties are meant to be fun and enjoyable for everyone, and what better way to achieve this than by incorporating unique and exciting activities and games that your guests will love? Today I am going to share a few ideas which can add a new level of fun and excitement to your party that everyone will remember for a very long.
Inflatable Bubble House
If you are looking for a unique way to entertain your guests and add a futuristic touch to your party, an inflatable bubble house may be just what you need. These inflatable structures are made of durable materials and are designed to provide a comfortable and safe space for your guests to relax, chat, and enjoy the party atmosphere.
Inflatable bubble houses come in different sizes and styles, but most feature clear walls and a domed roof, which creates a beautiful panoramic view of the surrounding environment. Guests can relax inside the bubble house, enjoy the music and refreshments, and take in the sights and sounds of the party.
White Bounce House
Bounce houses are a classic party attraction that both kids and adults love. However, if you want to add a touch of elegance and sophistication to your party, consider a white bounce house. White bounce houses are a popular choice for weddings, corporate events, and other formal occasions.
White bounce houses come in different shapes and sizes, but most are designed with a sleek, minimalist aesthetic that complements any event's theme. Guests can bounce, jump, and play games inside the white bounce house, enjoying the party while feeling like they are in a stylish, upscale venue.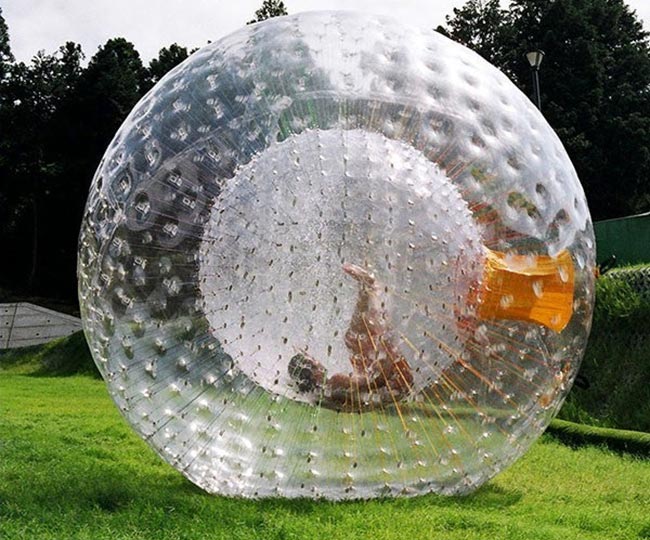 Zorb Ball
If you are looking for a high-energy, adrenaline-pumping activity that your guests will never forget, get a zorb ball. Zorb balls are large, inflatable balls that people can climb into and roll around inside. The sensation is similar to being inside a giant hamster ball, with guests able to walk, run, and tumble around safely.
Zorb balls come in different sizes and colors, but most are designed to be transparent, allowing guests to see each other inside the ball as they roll around. Zorb balls are perfect for outdoor parties, festivals, and team-building events, as they are both fun and physically challenging.
Inflatable bubble houses, white bounce houses, and zorb balls are just a few examples of the many unique and exciting activities that you can incorporate into your party. These inflatable items are easy to set up and customize, allowing you to create a memorable and enjoyable experience for your guests. So, whether you are planning a birthday party, corporate event, or family gathering, consider adding one or more of these inflatable items to your party items list, and watch as your guests have the time of their lives!