Dermacol Makeup Cover Foundation - Review, Swatches and Tips to Use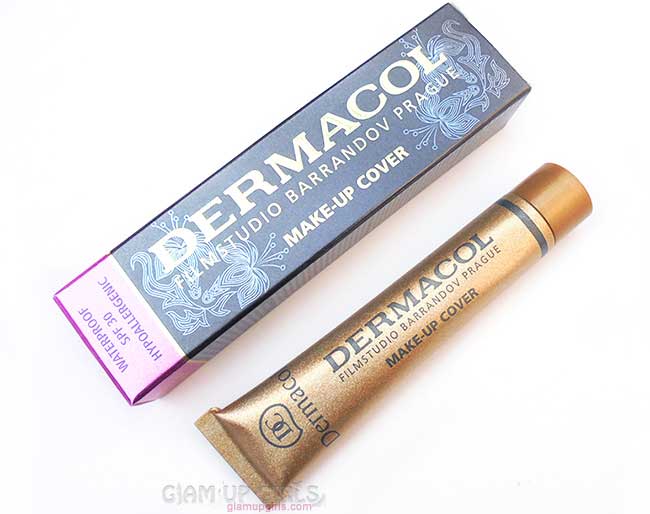 Today i am going to review another foundation called Make-up Cover by Dermacol which is famous for professional makeup by film studio experts like Kryolan. Dermacol is a European brand, started in a film studio in Prague and since then has remained under Czech ownership. With the success of the efforts of film studio experts combined with medical-cosmetics specialists they have created Make-up Cover line. The extreme coverage and long lasting claims led me to try this product which are most sort out issues in festive season. Lets explore it in detail.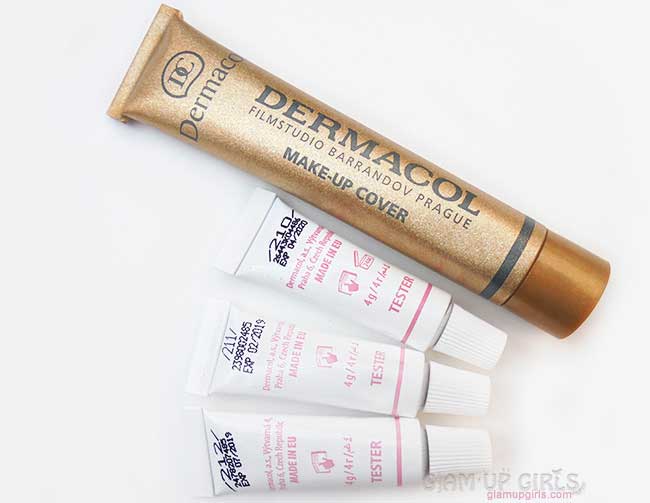 Product description
Benefits:
Waterproof
Hypoallergenic
For all skin types
SPF 30
Preservative free
Coverage: Full (extreme)
The clinically tested, extreme covering Make up Cover was created as the first of its kind in Europe and one of the first in the world. The license for this foundation was eventually sold to Hollywood. It contains 50% pigments, which makes it a weapon against skin imperfections. DERMACOL MAKE-UP COVER provides PERFECT COVERAGE even in thin layers and is the perfect corrector for dark under-eye, unpleasant spots and skin blemishes. It completely covers acne, loss of pigmentation, post surgical bruising, tattoos etc. It may be used on the entire face or body for color correction, darkening or lightening the skin tones, and ensuring ideal balance. It is widely used as a professional make-up for photo or film shoots, modeling and for festive occasions.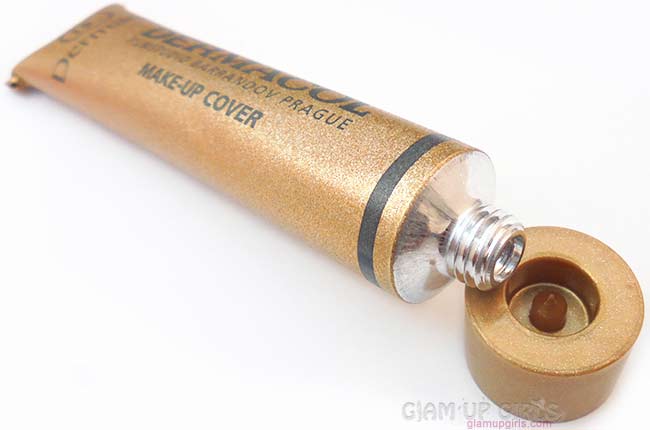 Dermacol Make-up Cover Foundation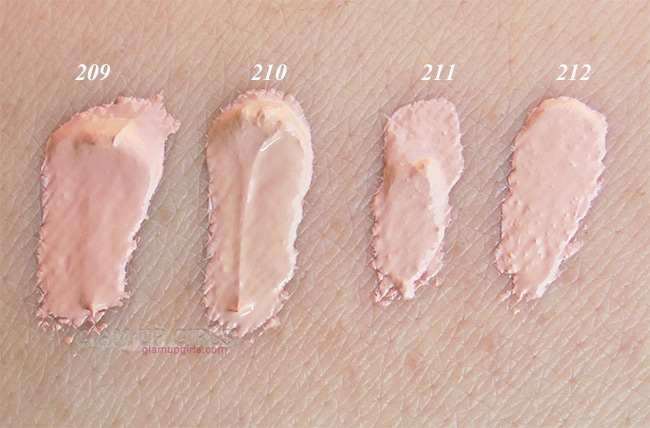 Dermacol Make-up Cover Foundation Swatches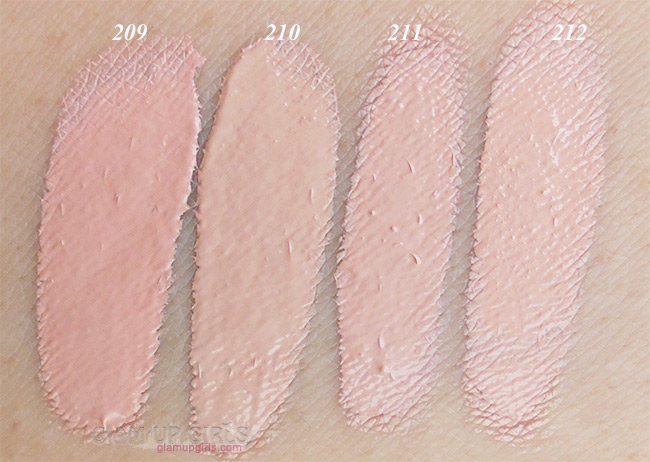 Dermacol Make-up Cover Foundation Swatches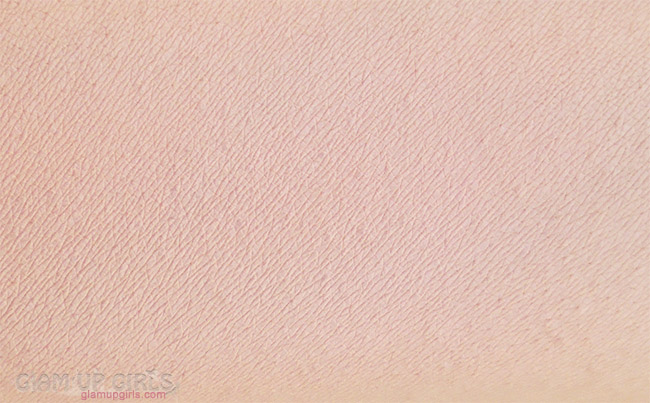 My Thoughts
This product comes in sparkly golden sealed tube which can be opened by the back side of cap. The texture is creamy like whipped cream or mousse making it easy to spread and apply. It has floral fragrance which is not strong and fades after application. The pigmentation is very intense and only pea size is enough for whole face which is remarkable.

The velvety texture spreads easily on skin and blends like any mousse cream. The ideal texture can be blended with face brush, Beauty blender, Rt sponge or even with fingers as you find them easy. However with sponge or fingers the finish is more flawless. You can see the details of suitable tools for different foundations. As i have said before the pigmentation is extreme so it gives full coverage and you do not have to apply any concealer for dark circles, acne marks, blemishes or any marks on the skin. If you like medium coverage you can dilute it with lotion or face oil specially in winters. The finish is not very matte but instead gives a satin touch and sits well with the skin.

The shades i have swatched above includes 209, 210, 211 and 212. The shade range starts with very light shades with most of peach pigments considering it is European brand. The only shade with strong yellow tone is 218 which is latest addition. 209 is light peach shade, 210 is light natural beige shade, 211 is beige with cool undertones and 212 is similar like 211 with warm tones. These shades are suitable for fair to medium skin. 209 shade is perfect for ones who have dark circles and discolored skin due to sun, acne or other issues. With this shade i do not have to apply my color corrector for dark circles and i can use it as concealer for regular use. To neutralize the peach tone and set this foundation i use my favorite Kryolan yellow loose powder.

The creamy formula have tendency to crease and sets into lines and dry patches like Kryolan TV paint stick so i strongly suggest to moisturize your skin properly. Even though the finish is velvety smooth but to avoid setting it in lines primer can be good option. This issue is not disappointing as most high coverage foundations behave all the same whether they are drugstore or high end. As i have very dry skin but apart from dark circles i do not have any spots on my face, i mix this foundation with face serum and the result is quite good. The lasting power is really good as well and in current weather i did not have any issue of fading but i cannot comment on how well it will work in summers.

Extreme coverage products have tendency to clog pores if not removed thoroughly, So i would suggest to cleanse your skin properly at the end of the day to avoid any break outs or clogged pores.

Overall Dermacol Make-up Cover is remarkable foundation if you are looking for extreme coverage with velvety smooth application, semi matte finish and long lasting power. For formal events i will highly recommend this product. If you want to apply this foundation more efficiently then apply Dermacol satin makeup base before which protects this foundation from creasing.

In Favor

Highly pigmented, only pea size is required for whole face
Extreme coverage, no concealer required
Smooth velvety application
Semi matte finish
SPF 30
Very long lasting
Budget friendly
Not in favor
Skin prep is needed to avoid setting it in lines and dry patches
Deep cleansing needed after each use
Shade selection can be tricky
My Rating

4.5/5

Dermacol Make-up Cover is priced between $10 to $15
comments powered by

Disqus