Lip tints have risen in popularity in the cosmetics industry as a longer-lasting alternative to traditional lip treatments. Lip tints are a popular beauty product among Pakistani women. They provide a subtle wash of color that complements the natural lip color. However, picking the best color for your lips can be challenging due to the abundance of possibilities. The best lip tints in Pakistan will be discussed and ranked based on a variety of criteria, including formulation, color selection, and pricing.
Benefits of Lip Tints
When compared to the two most used lip cosmetics, lipstick and lip gloss, lip tints have many advantages. They are not bulky and can be applied quickly and easily. Because of how long-lasting it is, you won't have to reapply your lip tint as often throughout the day.
For a bolder statement, apply more color, while a softer touch creates a subtler impression. Most lip tints also contain hydrating ingredients that protect against dry, chapped lips.
Trending Lip Tints in Pakistan
Here is a quick list of the top and trending lip tints in Pakistan.
1. MK Cosmetics
MK Cosmetics
is the business you should seek no further if you are searching for a high-quality cosmetics brand that will assist you in expressing yourself and appearing your absolute best. MK Cosmetics has created a collection of cosmetics that are designed to satisfy the diverse preferences of ladies all around the world.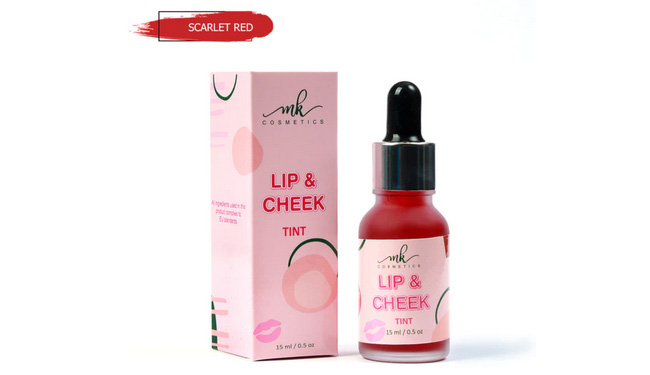 All of their products are crafted with the greatest attention and accuracy, which ensures the products are of the highest quality and provide the best possible results. Because makeup by MK is luxurious and gentle on the skin, you can feel good about embracing your natural beauty and showcasing your unique personality. Taking your beauty routine to the next level and bringing out your natural shine may be accomplished with the help of MK Cosmetics.
2. Luscious Cosmetics
Because it keeps the skin hydrated and its color for a long time, the
Luscious Cosmetics
Heartbreaker Water Tint is a favorite among Pakistani beauty fans. Since it's available in so many different tones, from pink to red and everywhere in between, it's great for people of all different complexions. The Luscious Cosmetics Heartbreaker Water Tint is a long-wearing lip stain with intense color. The coloring is uniform and deep.
3. Maybelline
It's more like a lip tint than a lipstick because of its feathery texture and long-lasting matte finish. The Superstay Matte Ink Liquid Lipstick from Maybelline New York comes in several different hues. Its wide range of colors—which includes neutrals, bright reds, and dark plums—has made it a hit in Pakistan. Maybelline's Superstay Matte Ink Liquid Lipstick is a great option for long days or special occasions because of its rich color pigmentation and 16-hour wear time.
4. Huda Beauty
There is a good reason why Huda Beauty's lip tints, which are sold under several different brand names, are so popular in Pakistan. Huda Beauty's lip tints are suitable for a wide range of consumers because of their extensive color range. The formula is soothing and pleasant to apply, and it leaves behind a subtle tint on the lips. The lip tints can be applied sheerly for a natural look or layered for a more intense color payoff. Your lips' natural moisture and suppleness will be preserved because the formula has no drying agents.
The Huda Beauty Lip Tints are renowned for their durability since they can go several hours without needing to be reapplied. They come in a wide range of shades, from subtle to striking, allowing you to find the perfect shade for any event or mood.
5. The Body Shop
This multitasking Lip & Cheek Stain may be used to give your lips and cheeks a natural, rosy glow. You can get your hands on this item at The Body Shop. It's easy to use because of its gel-like consistency and provides a sheer, buildable tint to the lips. This stain isn't particularly thick, but it hydrates and makes you look younger while you wear it. The Body Shop's Lip and Cheek Stain is a great option for women who prefer not to spend too much time applying makeup.
Finding Your Perfect Color Scheme
Consider your natural hues, skin tone, and personal preference when shopping for a lip tint. If you're looking for the perfect lip color, use these tips as a starting point:
Baby pink, peach, and soft coral look absolutely gorgeous on someone with a fair complexion. Avoid choosing very dark or flashy hues since they can accentuate any flaws in your skin tone
Choose pinks, mauves, and berry tones for your makeup if your skin tone is medium. These hues look fantastic when paired with medium skin tones, drawing out the best in those complexions.
Warm reds, plums, and bricks look fantastic on folks with olive complexion tones. These shades enhance the skin's inherent radiance.
We have seen that people with darker skin tones benefit greatly from the use of wine reds, dark purples, and berry-toned reds and purples. One should never be scared to try out new, bold color combinations to see how they complement your beautiful features.
Options That Won't Break the Bank
Even while pricier lip tints typically provide better quality and function, you may find a wide range of alternatives in Pakistan that won't break the bank.
Medora, Sweet Touch, and Miss Rose are just a few of the local companies that provide lip tints that may be purchased for a fair price. You may choose a lip tint that works with your style and budget thanks to these companies' wide range of colors and formulations.
It's important to think about the formula, available colors, and price range while shopping for the best lip tint in Pakistan. Popular items in Pakistan include The Body Shop Lip & Cheek Stain, Maybelline New York Superstay Matte Ink Liquid Lipstick, and the Luscious Cosmetics Heartbreaker Water Tint.
Use a color that contrasts with your skin's undertones to draw attention to your best features. You can add color and confidence to your beauty routine with the appropriate lip tint, whether striving for a natural, everyday look or making a major fashion statement. Whether you're aiming for a subtler style or a bolder statement, this holds true. After you've looked over the country's large variety, you can have fun playing with the various lip tints that are offered.
In Pakistan, each offers unique benefits. Remember to select a shade that complements your skin tone and undertones to enhance your natural beauty. Whether you prefer a subtle everyday look or a bold statement, the right lip tint can add a touch of color and confidence to your makeup routine. Explore different options and experiment with the wonderful world of lip tints in Pakistan!