Faces Canada Hydro Face Moisturizer SPF 15 - Review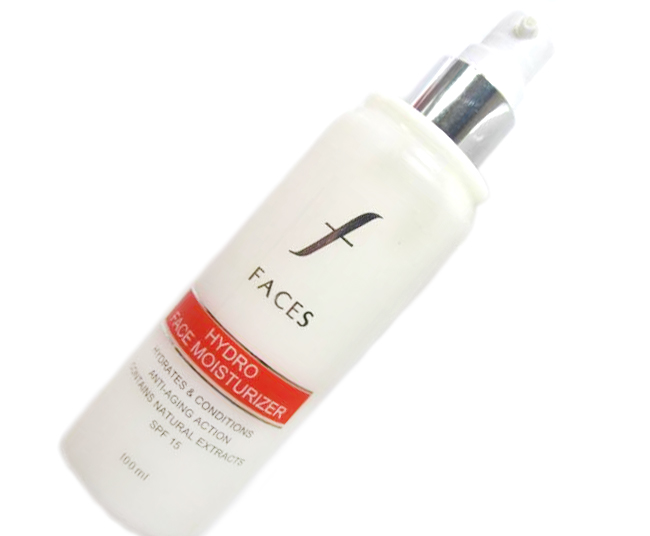 A good moisturizer is one of the most necessary thing to keep your skin healthy and good looking. You can find tons of options in market but not all are suitable for every skin type and you have to be very careful while buying them. Today i am going to review Faces Hydro Face Moisturizer SPF 15 which is now available as Faces Canada. It claims to be light weight yet very hydrating and is suitable for all skin types.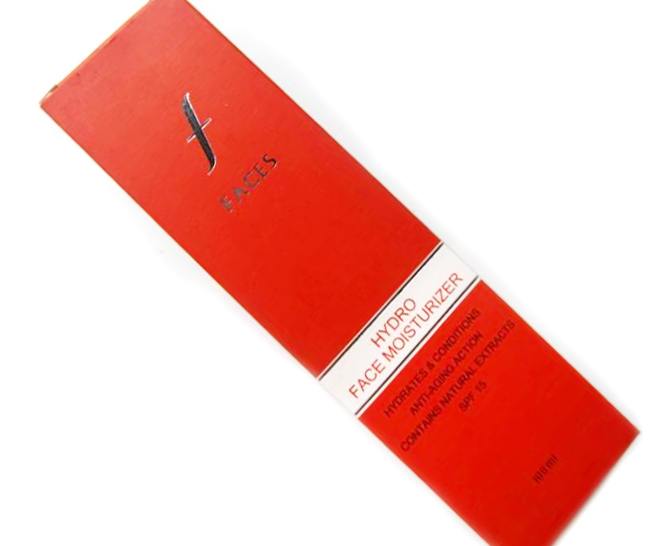 Product Description:

Brand claims that this moisturizer increase skin hydration, treat dry and sensitive skin, improve skin tone and texture, and reduce imperfections. It also includes SPF 15 with anti aging properties.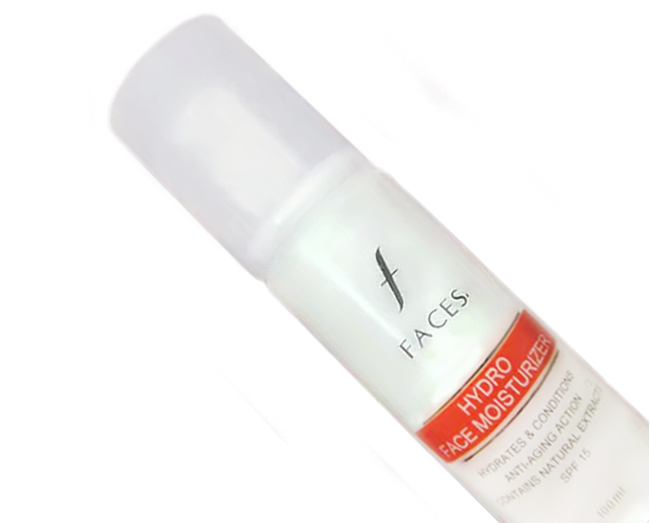 My Thoughts
This moisturizer comes in white sturdy plastic bottle with pump dispenser. It is a large bottle containing 100ml of product but it is quite travel friendly and you will not any issue of spilling as the cap also shuts tightly. The product is like thick lotion which is quite good and you need only little amount for face application. However it still is very light weight and absorbs into skin quickly without leaving any sticky feeling. It contains a very noticeable smell which might bother some.

In spite of being light weight creamy formula which absorbs completely but still leave a hydrating barrier on skin to keep the skin moisturized for longer. The texture makes it perfect for all skin types. It is very hydrating and suitable for dry, sensitive skin and the light weight formula makes it great option for oily and combination skin which will not suffocate under this moisturizer. The trick is to start application with light hand and see if your skin needs more or not. Once it is absorbed, the skin feel very soft and smooth and you can easily apply other products on top of it. It makes great option to be applied under makeup

The natural ingredients included in this Faces Hydro Face Moisturizer are claimed to improve skin elasticity over time making it great option as anti-aging plus it contains added SPF. The continuous use can improve skin texture and its overall health by preventing pigmentation and age lines. The nice texture and hydrating formula makes it to be used both in day time or night time routine. Also as it is not sticky or feel heavy on skin, it can be used in hot and humid weather when other moisturizing products some time fails.

Overall Faces Hydro Face Moisturizer is quite amazing for its performance and if you are looking for lightweight yet hydrating moisturizer then this one you need to try which also leave the skin soft supple and healthy looking. Plus the added benefits of SPF and anti-aging ingredients makes it more appealing.

In Favor
Good packaging
Very hydrating
Light weight and have non greasy formula
Absorbs quickly and good option under the makeup
Suitable for all skin
Have SPF
Contains natural ingredients
Improve skin texture and tone
Travel friendly
Not in Favor
Availability
Smell may be off putting for some
My Rating
4.5/5
comments powered by

Disqus