Aren't you tired of washing your hair every day? Or super annoyed that you can't wash them? All that dirt and pollution setting on your hair has damaged them. But, every time you decide to shampoo on an alternate day, the whole list of horrors comes to mind.
'My scalp will become dry!' Or probably, 'my oily hair will become uber greasy with over-shampooing.' There's just so many questions... You might be afraid to open your oily-shiny hair in public or in office because people can't imagine to see you on the same hair style - Five days a week!
But, as we say, there is always a solution to every problem. So how about you gift yourself a miracle product for your hair - A Dry Shampoo.
Dry Shampoo — A Breakthrough!
You might have heard about the dry shampoo a few times but never cared to know the details. So if you're here to find a middle ground for your hair, you must be wondering, what is Dry Shampoo? How to use it? Why is it called dry shampoo and your mind dabbles and babbles!
Relax! You may also give a few minutes rest to your bun-hair for a while because we won't judge you! And top of all that, we have a solution for you!
So, coming to the question, what is Dry Shampoo? It is very different from your regular shampoo. It comes in a powder and spray form and is applied, or probably sprinkled, in your dry hair! Hence the name, dry shampoo!
Your scalp produces sebum that is actually good for your hair, but your post-gym hair has different plans for you! The extra oil sweaty part on your scalp ruins your shampoo routine. The reason is that now your hair demands to be free of all stinky sweat that your workout has invited!
But, what about all those 'don't wash your hair everyday slogans? Here comes the dry shampoo as your savior!
How Can I Say Bye to My Bun-Hair With a Dry Shampoo?
Now, we have told you that you have got an excellent alternative for your regular shampoo. You should know a few things about applying it and relieving your hair from the messy bun from 5 days to 3 days!
Let's get started!
⦁ De-tangle your hair to clear the air!
⦁ Apply the shampoo on roots to give your hair a hoot!
⦁ Massage your scalp gently to let the shampoo settle correctly!
⦁ Pick up your hairbrush to hush the shampoo fluff!
⦁ Bounce your hair till you trounce the bad hair nightmare!
Remember, the dry shampoos should be sprayed 8 inches away from your face, and it's advised not to inhale them. Dry shampoo also comes as
Sulfate-free
. Using a Sulfate-free shampoo is the best deal you make for your precious hair!
Benefits of Dry Shampoo:
So now you have an idea how to use dry shampoo. You must be thinking, what difference will it make to your hair? Is it like a secret weapon that could just abracadabra your oily hair to make it look bouncy and all set to be open in public?
It is kind of like that. You'll have a perfect flare in your hair in between your washes. You won't also have to stay hours in the shower to shampoo and condition like it's your only mission!
So, let's answer your question 'what are the benefits of Dry Shampoo' and make it your secret hair weapon!
⦁ Adds Volume:
Are you that person who has really thin fine hair with little or absolutely no volume? You've been getting tons of blow drys to give your hair a taste of volume that it can never have on its own. The oil produced by your scalp is weighing down your fine hair, and you keep washing them again and again till they feel better. Let's try a dry shampoo as it adds volume and body to your hair and make them all bouncy and fluffy!
⦁ Removes Extra Oil:
The purpose of dry shampoo is to remove that extra oil your hair is producing. If you are too lazy to wash your hair or just don't want to ruin it by getting under the shower every day, then dry shampoo can become your new obsession! It absorbs all the excess oil to let you shine without giving them any wet pep talk!
⦁ Saves Your Blow Dry:
So, if you have felt great after having a blow-dry and now dread the day, it'll just vanish into thin air, don't worry! Dry Shampoo can stretch your gorgeous blow-dry! So rather than throwing your hard-earned money into your greasy hair, you can save that blow-dry by spraying dry shampoo to make it last longer.
⦁ Stretches Your Hair Color Longer:
If you have just dyed your hair and do not want to make a part of it go away down the drain, dry shampoo can cling to your hair color. When we use a regular shampoo and water, naturally, your hair color will shed off slowly. Dry Shampoos don't let it happen. Dry Shampoos also come in different colors to cater to your hair dye needs.
⦁ Hush Away, Bad Odor!
Just like your body, your hair also starts emitting an odor when you don't wash it frequently. So to save your colleagues from weird smells coming from your hair, you can use dry shampoo to hush all the bad odor away!
Do I Go Shopping to Get a Dry Shampoo?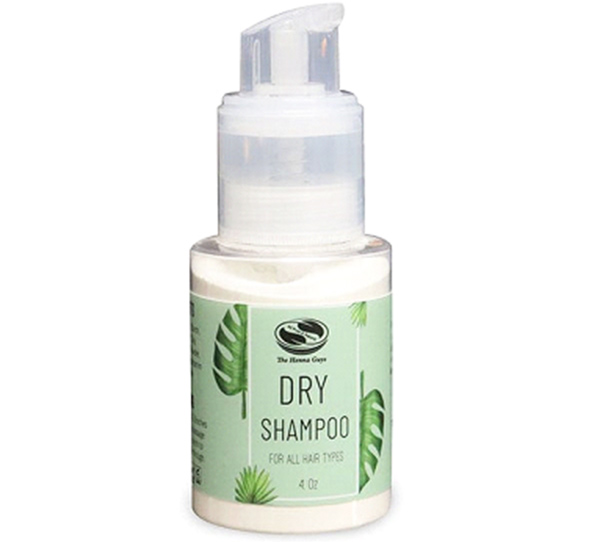 We have discussed the benefits and important pointers about dry shampoo. Now it's time to get that money out of your pocket and splurge on
The Henna Guys Dry Shampoo!
This vegan shampoo absorbs all that extra oil that your stubborn scalp creates and makes your hair healthy. But why choose this? Because it has harmless ingredients and checks all 3Fs!
⦁ Gluten-Free
⦁ Cruelty-Free
⦁ Sulfate-free
The plus is that it will not strip away the color from your newly dyed hair and keep the pH and moisture balanced. So, what are you waiting for?
Just put in some dry shampoo and flaunt your bouncy hair like the first wash day!