Avoid these common mistakes while using a toner!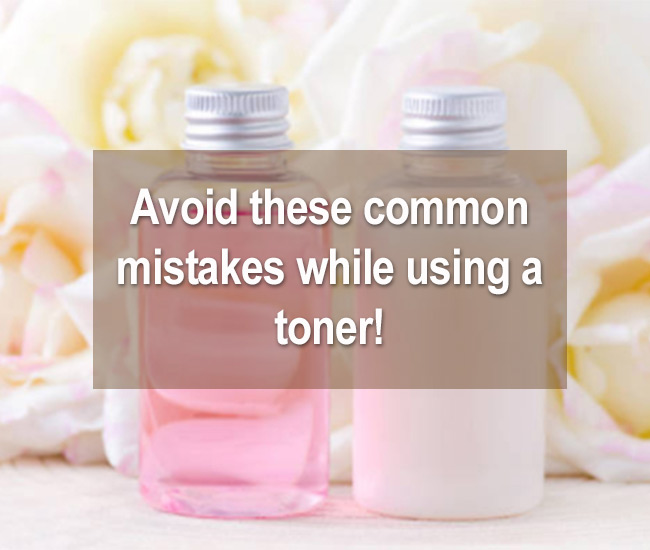 Toners are a big part of a skincare routine. Cleanse. Tone. Moisturize!
These are the three golden rules every girl who loves her skin follows. Now, these steps might seem troublesome, especially when you return home after a long day. However, following it every day ensures your skin stays beautiful and healthy!

Why do we add toner in the skincare?
Depending on your skin type & goals, toner will either hydrate or exfoliate your skin. Both of which are crucial properties for younger-looking skin.

Hydrating toner has micro particles that activate hydration in your skin and control the oils. It is great for the skins that are combination, dry and normal.

Astringent toners exfoliate the dead skin cells and also dry up your pores. So, this is never ideal for sensitive or dry skin types. You can balance it out by using the right moisturizer, though we'd recommend you get advice from a professional.


How do I find the best professional?
The world has gone virtual more than ever before. Due to the pandemic, people now prefer to get assistance virtually than visiting the office physically. They choose to go to the location only when it is absolutely necessary! So, this gives you a wide range of options to choose from.

Email search engines such as GetEmail.io helps in finding the right email contact and validating them in no time. This email finder tool comes with a chrome extension to your Linkedin account as well as your Gmail! The Gmail feature lets you open a draft email once the address gets validated. Use this freemium tool to find as many contacts as possible.

The common mistakes everyone makes while using the toner!

Not the right one
A specific brand might be doing wonders for your friend's skin. That doesn't mean it will be great for you too! Every skin is different and, so are its needs. You need to figure out your skin type and choose a toner accordingly.

Another common mistake is blindly following the beauty influencers advice. Sure, they might be the best in the industry but, they don't know what products you are allergic to. So, it is ideal to gain knowledge about the skincare regime before investing unintentionally.

Over exfoliation
Certain parts of your face don't require as much pressure as you need in others. Exfoliant tools ask you to use it for 5 to 10 minutes at least to get the product absorbed into the skin. However, that is never the case. When you're using the harsh surface on your skin, you create minuscule skin tears.

It might not show instant results but will affect you in the long run. Likewise, if you're trying to hydrate the skin, then put the toner drops on your hand and dab all over. And, for exfoliating, use a cotton pad to dab the product on the skin lest too much concentration can leave the skin chapped and dry.

Final thoughts
So, here are some points that helped in understanding how toners work. Are there any other points you'd like? Let us know, we'd be happy to add!
comments powered by

Disqus