Makeup Revolution Conceal and Hydrate Foundation and Concealer - Review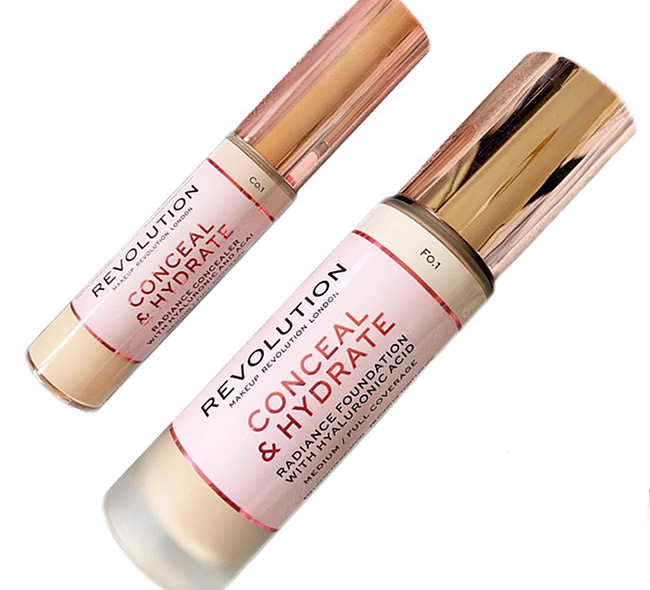 Makeup Revolution have come up with amazing products which are though mostly reflected as dupe of high end or other famous products but they do offer quite amazing quality with affordable price. Their Conceal & Define Foundation and Concealer become instant hit with every one comparing them to famous foundations and concealer from Tarte etc. Now they have introduced the hydrating version of their foundation and concealer which is getting praise as well. Let me tell you how it turned out for me.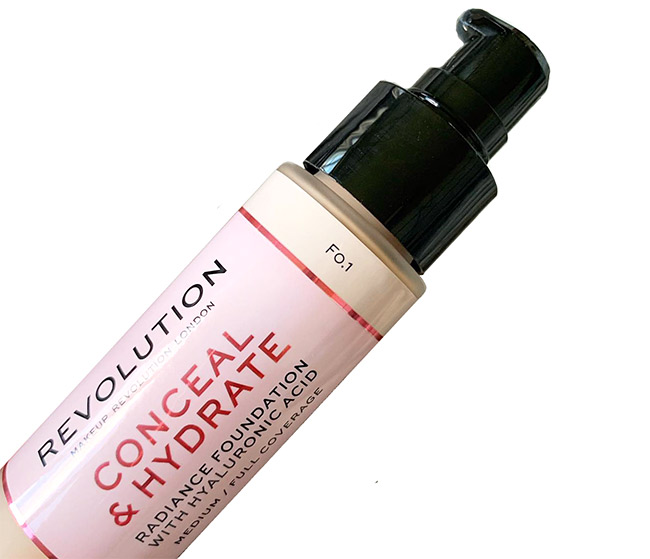 Product description of Makeup Revolution Conceal & Hydrate Foundation

Thirsty for a sheer texture & a more hydrating foundation formula? Conceal & Hydrate Foundation has a 50-shade range infused with hyaluronic acid to hydrate the complexion, provide a plumping effect and create a smoother, satin glow finish to the skin.

Conceal & Hydrate Foundation has been specially formulated to suit every skin type and tone, but is particularly beneficial for dry skin. With hyaluronic acid, it offers all-day-long radiance and glow without settling into fine lines or clinging to dry patches. Housed in a luxe glass bottle with a new pump applicator for added control, this foundation offers medium to full coverage.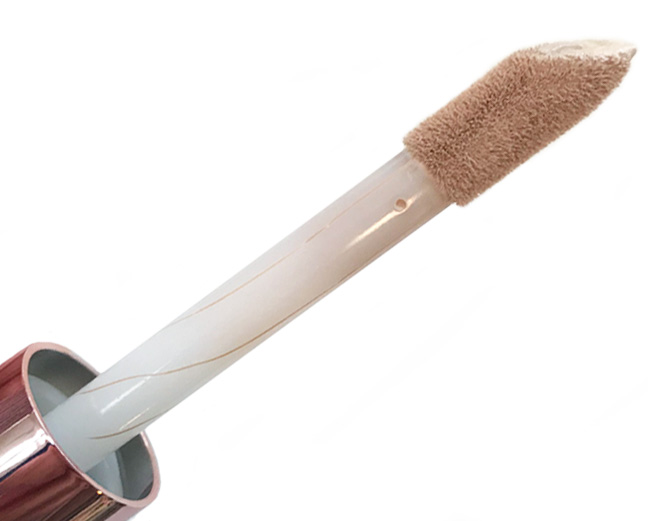 Product description of Makeup Revolution Conceal & Hydrate Concealer
This concealer is suitable for everyone looking for a lightweight finish with a boost of moisture. Offering all-day hydration thanks to an infusion of hyaluronic acid, it covers blemishes, evens skin tone and counteracts dark circles, while drenching skin with moisture. Designed for drier skin, the sheer, satin finish won't settle into fine lines, and the doe foot applicator allows for a smooth, delicate application.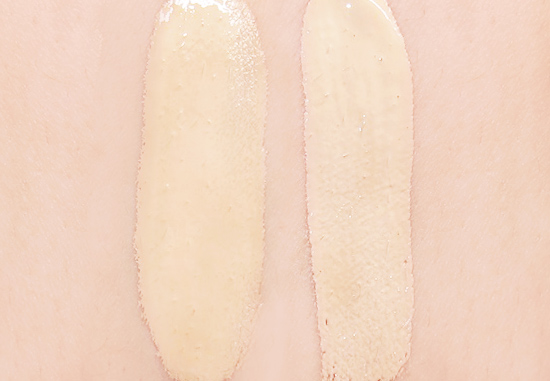 My Thoughts

Starting from the packaging, i liked the sleek glass bottle of both products and appreciate that the foundation now comes with pump dispenser for better application. Though i don't mind the doe foot applicator of concealer as well. The pump works really good and you can get the right amount out from it by pressing it lightly. The doe foot applicator of concealer works great as well and obviously what can go wrong with a plan applicator which helps in applying product more easily.

The foundation contain hydrating ingredient Hyaluronic Acid and is specifically designed for dry skin but is suitable for all skins. Considering the dry winter season a head, i think this foundation is perfect for every one. It is very pigmented with creamy texture which is not very thick or too runny. It can give you medium to high coverage depending on your choice and way of applying. You need very little amount to start with and then can decide on building it up. For medium coverage, i prefer to blend it with 3DHD beauty blender while for full coverage, i use my favorite Sigma 3DHD Max Kabuki brush.

It blends flawlessly either way because of its light weight, breathable texture and doesn't feel heavy on skin. It absorbs into the dry areas or lines which is a great help for dry skin. If you have dull skin, you will notice that it smooths and brighten up the complexion and keeps the skin hydrated without being oily or greasy. On top of that it is long lasting as well, it stays whole day without making your skin dry which is my biggest issue with almost all the foundations which after few hours make my skin dry. I must say that this foundation is perfect for the ones who want hydrating makeup without being oily.

Now i have similar opinion about concealer as well. It is highly pigmented with hydrating formula. I have been struggling with dry skin while wearing makeup as no matter what it start making lines prominent on skin after few hours and the i have to apply moisturizer on top of my makeup. This concealer however is best option i have found so far which also contains Hyaluronic Acid and with being highly pigmented and having creamy texture, still keeps the skin hydrated and plum throughout the day.

It blends flawlessly and covers the dark circles and blemishes amazingly. I haven't had issue of creasing or cakiness under my eyes, not any more with this concealer. With amazing coverage the wear time is very good as well and it lasts whole day without creasing and making your skin dry. It is perfect concealer for dry skins who struggle with almost every concealer with some being to moisturizing and not being pigmented and other being too dry.

Overall i highly recommend these both products who want moisturizing formula in foundation and concealer which also can give them high and long lasting coverage. Both products blends flawlessly and make your skin smooth and brightened.




My Rating for Makeup Revolution Conceal & Hydrate Foundation and Concealer

5/5


Makeup Revolution Conceal & Hydrate Foundation is priced £9 and Makeup Revolution Conceal & Hydrate Concealer is priced £7
comments powered by

Disqus