Best Eye Makeup Brushes by Sigma Beauty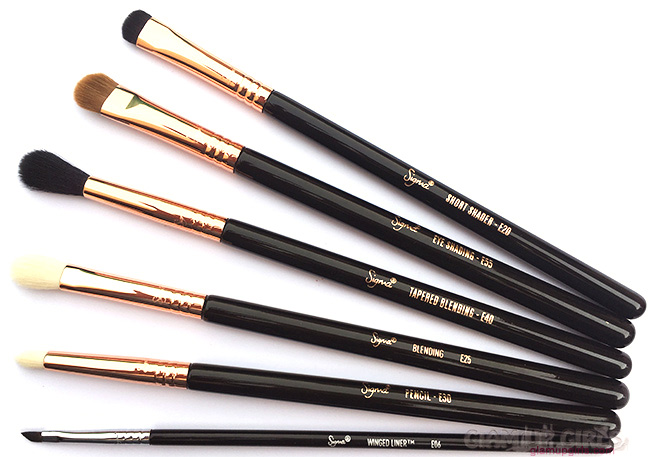 Good makeup brushes create a whole lot difference in you makeup look, trust me. I used to do my makeup with ordinary makeup brushes but since i have used a brushes from Sigma beauty, i am totally hooked to them. With these brushes you get right amount of product with good color payoff and a lot of difference is visible in smudging and blending. In this post i will share 6 best Sigma eye brushes must have for flawless eye makeup.
Soft blended crease. Using just the tips to apply color, sweep back and forth through the crease for a diffused and blended finish.

This brush has soft and long bristles which are not dense and have round shape. This brush is great for applying base shade on whole lid and can be used on brow bone for highlighters. It provides great movement across the eye lid and blend eye shadow like dream. This is one of my favorite brush.
Controlled blending. Blend colors together onto the lid with added control. Buff out harsh lines for a well blended effect.

This brush is tapered but fluffy having dense and soft bristles. I love this brush for blending and applying shades on outer corner and crease. It is one must brush for blending.
Even application of color. Place color across the whole lid for an even and strong application of product.

I have reviewed this brush separately here. It is great to apply shimmery or matte shades on the lid perfectly and is one of my most used brush.
The E20 Short Shader Brush features a small, soft brush head great for smudging out color along the lash line. Offers superb control when applying color to very small areas of the eye.

This brush have soft precise head which is perfect for to apply color on smaller areas like under eye smudging, outer crease for cut crease or for high lighting brow bone.
The E06 Winger Liner™ features a small, steeply angled brush head great for creating a winged liner look with precise control for all eye shapes.

This brush have stiff bristles with small angle which is perfect for precise line either for winged liner or straight line. If you struggle applying eye liner this brush will be game changer for you.
Soften and smoke out lines. Soften pencil liners along the top and bottom lash lines, add shadow to line the eyes, or use to highlight inner corner of the eyes.

It is long round brush having dense but little stiff bristles.I love this brush to apply color on lower lash line and can be used to highlight inner corners. It is perfect to work with crease and help creating cut crease look.

These are basic eye brushes you need for every day makeup look. If you are makeup enthusiast and want to enhance your makeup skills to next level, Sigma ultimate eye brush set will be perfect for you. You can buy these Sigma eye brushes individually or with their basic eye kit which includes two more brushes.

Do you have Sigma brushes? Which one is your favorite?
comments powered by

Disqus