I have very silky and straight hairs which remains charged most of the time so when it comes to styling i always look for some thing which make my hairs stay at one place and prevents them from flying. I recently spotted the Yardley of London almond and aloe vera hair cream and bought to see if it will help me style my hairs.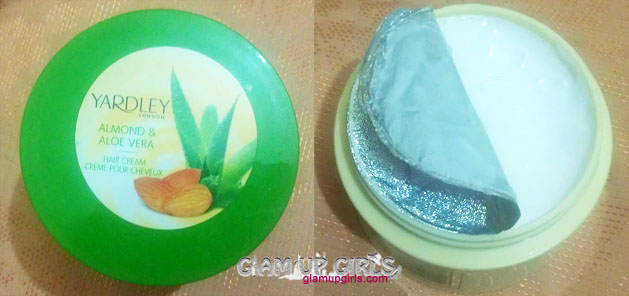 My Thoughts
As this cream is defined as pomade so it is very thick textured and have light fragrance similar to fresh aloe vera which disappear very soon. This cream can be used on scalp to prevent dryness however i did not tested it on my scalp for dryness so cannot tell how much this claim is true. I have always used it on hairs to prevent fly aways after washing my hairs.
This cream doesn't feel sticky or greasy and smooths the hairs. It did the job to prevent hairs from flying and charging and keep them in place for very long time. It did add good amount of shine to hairs as well as it claims. It is light weight cream and the ones with thin hairs might don't like it as it will make their hairs more weightless and thin. If you have frizzy curly hairs it will help you tame frizziness and make them straight longer if applied after straightening. I have noticed that it will make hairs little stiff if you put too long this cream on your hairs like hair gels.
Overall this hair cream is good for all type of hairs to prevent flyaways and taming frizziness except for too thin hairs as it will make them more weightless.
In Favor
Makes hair styling easy
Tame frizzy hairs and fly aways
Doesn't feel heavy on hairs
For all type of hairs
Budget friendly
Not in Favor
Make thin hairs more weightless
Make hairs stiff if put too long
My Rating

4/5
Yardley of London Almond and Aloe Vera Hair Cream is priced
PKR275
Have you used this hair cream? What is your favorite hair styling product?