Eyeliner is one part of makeup, which can make your look different and sophisticated but at the same time can ruin your day if not put carefully. You can go for winged line, precise line, cat liner or smudged look depending on your choice and ease to work with eye liner. Liquid and pen eyeliners comes with their own applicator and mostly convenient if you are new to applying eyeliner. The experts can create any style from any eyeliner but in beginning it is good to know what works best with different products and styles. Today i am going to share different type of eyeliner brushes and for what style and product they work best for.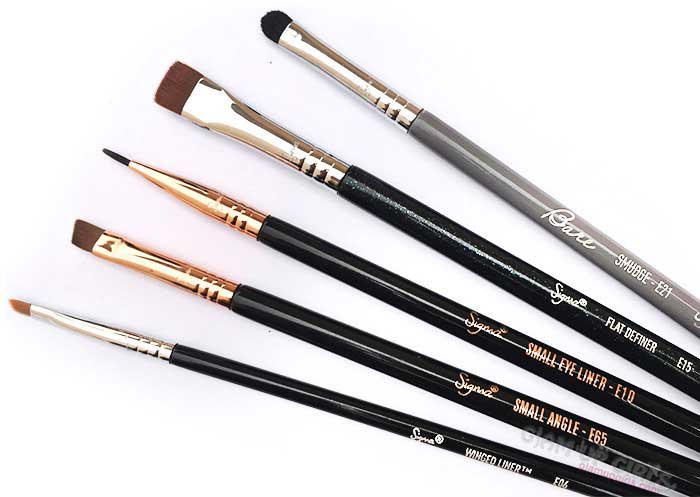 I am sharing 5 best Sigma eyeliner brushes which i have been using with gel, cream, pencil and powder eyeliners. Depending on which style you use most you can pick these brushes for their usage. A different brush can not only help you get your desired line but also help you get the look quickly.

Precise - minimum eyeliner
In precise eyeliner look you apply gel, cream or pencil eyeliner as close as eyelash line as possible and finish at the end of lash line. This look is good for every day natural makeup look and make prominent your lash line by darkening it. The best brush for this eye liner style is
E11 Eye Liner brush
. Its thin and precise tip is perfect for this type of eyeliner look.
Cat eyeliner
For cat eyeliner look, after precise line on lash line give a flick at the end of lash line with little upward stroke. The flick do not need to be straight line instead it can be little curvy as well. After that you can thick the line on lash line to complete cat eyeliner look. The brushes for this style can E11 Eye Liner brush but the perfect one is
E06 Winged liner Brush
. This brush have small precise angle and let you achieve precise flick for cat eye look.

Smudge eyeliner
For smudge look you can use gel, pencil or powder eyeliners. The perfect brush for this look is
E20 Short Shader
. The small and soft bristles of this brush is really good to smudge color along lash lines. For pencils, you can apply them directly along lash line and then smudge with this brush. For powder and gel liners, use this brush to first apply product and then blend for smudge look.
Winged or dramatic eyeliner
To achieve wing eyeliner look you need straight flick at the end of the lash line. There are some
eyeliner hacks
to achieve this look including using cards or other stencils. The best brush for this look is
E65 Small Angle
. This brush have little wide angle then E06 and with this angle you can get straight flick and then further fill the rest of line. The best way to use this brush is first mark the place of wing with light hand, then sketch lines towards lash line and finally fill them. You can use
E06
or E10 brushes as well but they will take little more time to get perfect wing.
Under eye liner application
You can either skip applying any color under lower lash line or can go for defined or smudge look. To apply eyeliner under lower lashes the best options are pencil or powder eyeliners. Gel eyeliner can be little too intense if not applied carefully. To apply liner under lower lashes the best brush is
E15 Flat Definer brush
. This brush let you apply the liner with both as defined or smudged. Press the product along lashes with this brush for precise or defined look and blend for limited smudge look.