5 Best Budget Friendly Foundations in Summers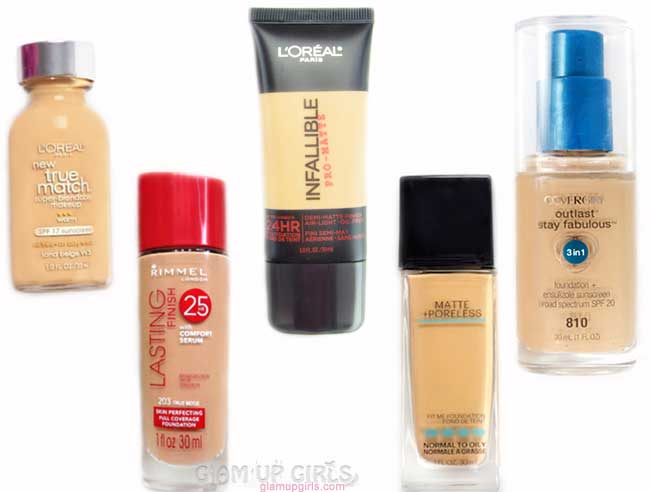 In summers wearing makeup can be really problematic specially in parts of world which become really hot like Asia. No matter what type of skin you have, the humidity will turn your face shiny or patchy and layering is also not an option. To combat these issues you need foundation which is not only long lasting but keeps your skin shine free for longer while stay light on the skin. Today i will talk 5 budget friendly foundations which in my opinion are best so far.

Product Description
All-in-one foundation with a long-lasting formula that fuses primer, concealer, and foundation in one easy step! The 3-in-1 formula provides a flawless look that lasts all day long.

This foundation was raved and is still the favorite of many and the reason is its light weight full coverage. The not so runny or thick formula is easy to blend and gives semi matte finish. Set with powder it can survive more then 7 hours on hot days for oily to combination skin while dry skin will not need to set with powder. The full coverage can make you skip your concealer for acne marks or any red spots.

Good for: If you need full coverage with semi matte finish which lasts long. The oily skin need to be set with powder after few hours while dry skin need to be moisturized before application.

Product description
Achieve a matte finish that won't fall flat with this air-light, longwearing liquid formula. Lightweight and creamy, foundation goes on smooth with a demi-matte finish that lasts up to 24 hours—hiding imperfections for a smooth, clear complexion.

The formula is bit thick and you have to be fast in blending as it dries down quickly. For the same reason it might not work for very dry skin but oily skin will love it. It sets into matte finish then demi matte but once blended it is light weight despite having bit thick formula. The coverage it provides is medium with extremely good staying power.

Good for: If you need long lasting foundation with medium coverage, matte finish and keep your face shine free without setting powder. Not suitable for dry skin.

Product description
With patented color technology, True Match™ Makeup precisely matches your skin's tone and texture and coordinates perfectly with True Match™ Powder, Blush, and Concealer. Formulated with Precise Match™ Technology so you can control coverage and fine-tune it. Ultra-pure formula contains no oils, fragrances, or pore-clogging fillers, so all you see is beautiful, radiant, flawless skin. With Vitamins A and C, wheat germ and grape fruit extract to keep your skin nourished, protected and healthy.

This foundation provides medium to full coverage while the not so thick formula is easy to blend with stippling brush or sponge. The intense pigmentation of formula only need little amount for whole face. It provides semi matte finish and feels very natural on skin with out looking cakey or patchy and have very good lasting power. It is more suitable for dry, normal or combination skin and for oily skin it needs to be set with powder and primer prior to using it.

Good for: If you need long lasting medium to full coverage with semi matte finish which feel very natural on skin. More suitable for normal, dry and combination skin. Oily skin need primer and setting powder to keep skin shine free for long.

Product description
Instant perfect coverage that feels extra comfortable and lasts all day.
- Blends flawlessly, seamlessly, instantly and easily into the skin
- Sweat, heat, humidity and transfer proof for up to 25 hours

The formula is slightly thicker then Rimmel Match perfection which is runny. It blends flawlessly and provide semi matte finish. It provides medium to full coverage but can look cakey if layered. It is very long lasting and keeps the skin shine free for whole day without setting with powder. For dry skin it can be bit drying through out the day so make sure to moisturize your skin.

Goo for: If you need very long lasting medium coverage foundation which keeps skin shine free with out setting powder. It provides semi matte finish and is more suitable for oily to combination skin. It can enhance dry patches or lines on dry skin.

Product description
Fit Me Matte + Poreless Foundation face makeup. Mattifies and refines pores and leaves a natural, seamless finish. Ideal for normal to oily skin, our exclusive formula with micro-powders controls shine and blurs pores. Leaves a natural, seamless finish.

Maybelline fit me range is very light weight,easy to apply and sits perfectly on skin but the original was for dry, combination and normal skin while the new version matte + poreless is for oily skin. It keeps the skin shine free then the original Maybelline fit me foundation and if set with powder it lasts whole day. The coverage is light to medium but can be built which will not look cakey and it gives the semi matte finish. It does minimize the appearance of pores comparing to other foundations if not disguise them completely. However if you apply it with sponge the effect is more better then using fingers or brush.

Good for: It is suitable for normal, oily and combination skin. Provides semi matte finish and minimize the appearance of pores with long lasting staying power.

What is your favorite foundation for summers?
comments powered by

Disqus