Drawing is an important skill for any artist or the one who wants to be. It is the base on which all other types of visual art stand. Learning to draw is a must if you want to be a painter, a graphic designer, or an animator, or just improve your skills for the sake of a hobby. However, it is not possible for everyone to have access to quality art schools in their local area. So the best alternative is drawing.
What is an online drawing school?
Online drawing schools are website-based online learning portals which offer different art-based courses, tutorials, and resources for students from beginners to high skill levels. They provide a flexible and accessible alternative to traditional art schools, which can be expensive and geographically limiting. With online drawing schools, students can learn at their own pace, from anywhere in the world, and often for a fraction of the cost of traditional art education.
fantasyroom.online
is one such school that offers many drawing and painting-related courses at very reasonable prices.
The expert artists from Ukraine run this online drawing school where they offer many attractive courses for beginners to expert levels. The courses include video lessons with step-by-step tutorials on all levels and creative projects and tasks to enhance your skill. You can learn fashion illustrations, botanical illustrations, drawing for beginners, interior design sketching, and many more at almost 50% off currently.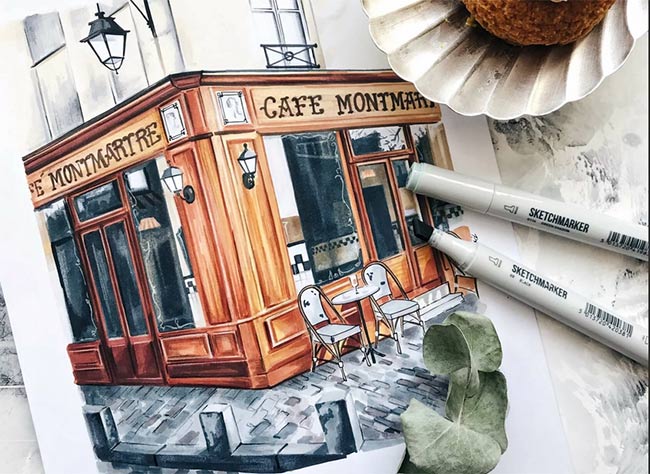 Advantages of Online Drawing School
One of the best advantages of online drawing schools is the wide range of courses and resources they provide. Unlike traditional schools, which might have limited resources and faculty, online drawing schools bring expert teachers from their field and offer a variety of classes. In this way, students can select courses that are most interesting to them, which can be portrait drawing, comic book illustration, or animation.
Another advantage of online drawing schools is the flexibility of time. Students can access classes and resources at any time, which is helpful for those who live in different time zones. As most online schools use video tutorials, they can be paused and replayed, which allows students to learn at their own pace. This flexibility makes it easier for students to learn easily and passionately, whether they're working full-time, raising a family, or just looking for a more convenient way to learn.
Online drawing schools also offer a sense of community that can be hard to find in traditional art education. Many online drawing schools have forums, social media groups, and other online communities where students can share their work, get feedback, and connect with other artists. This sense of community can be particularly valuable for students who live in areas where there are few opportunities to connect with other artists in person.
How Fantasyroom.online is different?
There are some drawbacks to online drawing schools. One of the biggest challenges is the lack of in-person instruction. While video tutorials and online resources can be helpful, they can't replace the experience of working with a teacher in person. In fantasyroom.online you can get feedback from teachers which is very important. They also help you to connect with further opportunities, so you can thrive professionally. As for the fashion illustration courses, they publish the illustrations of students in Vogue.
Online drawing schools are an increasingly popular option for aspiring artists. They offer a flexible, accessible, and affordable alternative to traditional art education, and can provide students with the skills, resources, and community they need to develop their craft. As technology continues to advance, it's likely that online drawing schools will only become more sophisticated and effective, making them an even more attractive option for artists of all backgrounds and skill levels. So if you are interested in becoming an artist or want to learn about drawing and painting then take courses from Fantasyroom.online and start drawing at the beginner's level.