Trying to find the perfect gift for a loved one (be that a cherished friend, significant other, or family member) can be tricky sometimes. Personally, I've always been a strong proponent for handmade gifts, but it definitely doesn't hurt to add a little something extra alongside that. Depending on who you're shopping for, some jewelry could easily complement that heartfelt creation.
Honestly, I think it's pretty easy to immediately dismiss getting jewelry for the men in our lives, too. It's a real shame, since there's not a rule saying that men can't wear it – in fact, many of them already do. Rather than that sort of standard, we should try to pick something that would appeal to their sense of style and their taste.
Say you know their favorite color is blue or teal – what does that make you think of? Probably sapphires or aquamarines, right? Well, you can apply that same principle to pretty much whatever it is that they like! If you're still feeling uninspired, don't worry – there are plenty of blogs out there
like this one
that can give you some additional inspiration.
Why Jewelry?
Many of us are shifting away from materialism, instead preferring to live minimalistic lifestyles. A lot of my friends have started to do that, although personally I would probably consider myself somewhere in the middle of those two extremes. That always makes me hesitate when I'm going to buy something for them – is it something that's going to clutter up their home?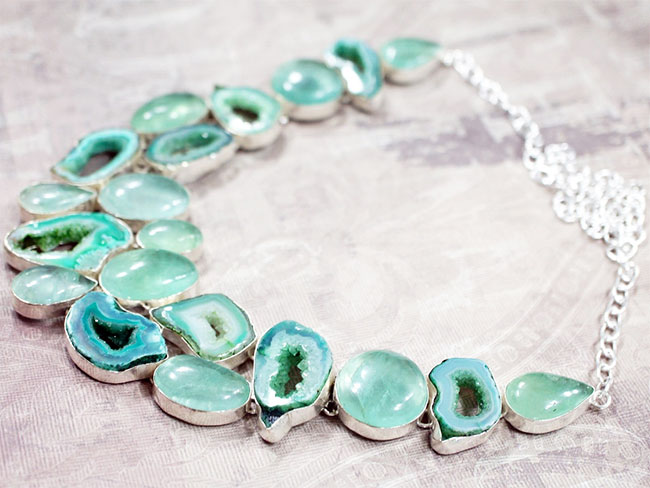 My mom is like that, really. For years, she would always complain about any Christmas or birthday gifts that my brother and I gave her. So, this past year, I was really having trouble deciding what I wanted to get for her this year. Turns out, her birthday is in March – that means her birthstone is an aquamarine.
Naturally, this got my gears turning. For some context, I do know that she enjoys a nice necklace or ring every once in a while. I realized, though, that this might work out perfectly. She likes antiques, her birthstone is an aquamarine – surely, this gift wouldn't be a swing and miss like the past years.
That's why I decided to get her a nice necklace this year, with an
antique aquamarine
inside of it. When my mom was younger, she'd gotten an old ring with the same stone in it from her dad, so I thought it was a nice homage on top of everything else.
To say I was nervous when she finally retrieved the last gift under our tree this year is an understatement. Terrified that she would hate it, I sat with bated breath, just awaiting any sort of response once she took the top of the box off. There it was – a necklace completes with an antique aquamarine proudly displayed in the middle. It really looked like something straight out of the Victorian age or something!
What was the verdict though? I needed to know – did she like it or not? After what felt like an hour (but was more like fifty seconds, looking back), a huge smile broke across her face. Success – my impossible-to-please mother was finally satisfied with one of her gifts. Maybe that was the real Christmas miracle this year, right?
Why Any of that Matters
By this point, you're probably tired of hearing me tell that story, so I'll make this brief: I told it because it's way too easy to forget the fact that our goal is to make sure that the giftee is happy. During the holiday season, I often find myself swept up in what the best deals are or how I can save a quick buck. I blame Black Friday (and totally not my poor spending habits, definitely not that).
It's probably not a secret that those things don't line up with the whole "spirit of Christmas, time of giving and joy" schtick. Heck, I even started looking at articles like this one,
https://www.forbes.com/sites/forbesfinancecouncil/2019/12/10/
, to get myself in a better mindset. No one wants to look like a Scrooge because they were so busy hunting for deals that they didn't prioritize their loved ones.
What about if you're shopping for yourself, though? That's a question I get a lot while writing blogs like this – with the whole minimalism movement, a lot of folks are really hesitant to put themselves first sometimes. I get that, but honestly, there's nothing wrong with doing it.
I feel like people forget that a lot – it's okay to treat yourself every once in a while. If that means getting yourself a nice piece of jewelry, then I say go for it. Now, I'm not suggesting you go into financial ruin over such a thing, but I mean…it's okay to give ourselves something nice. Personally, I love unique pieces that complement my eyes or hair color.
Next time you're going gift shopping (whether it's for yourself or your loved ones), consider thinking outside the box. Something like intricate or well-crafted jewelry, especially if it has a unique gemstone in it or encrusted on it can be quite a statement piece. I can't think of many people who wouldn't enjoy that, even for a little display on their dresser.
Who doesn't like getting nice things, right? Gifts like this make a big statement. In particular, I think they'd be pretty nice for something like Valentine's Day or an anniversary. Think about what your significant other likes to wear – maybe it's a necklace like the one I got my mom, but they could also prefer a ring or earrings, or a variety of other pieces.
You could even ask them some subtle questions if you're really not sure what way to go. No matter what, just remember my advice – put them first, and don't stop hunting until you find the perfect gift for them. It'll be a moment to remember as they light up with joy and happily clasp it on.