Clays are very popular and beneficial in skin care routine. They not only give you a great spa time at home but are deep cleanser and can help acne and breakout skins by reducing inflammation and keeping oil at bay for longer. There are many types of clays which are being used vastly by beauty enthusiasts around the world. Where most brands have introduced their clay masks and i have used from
L'Oreal clay masks
and most of
Freeman clay masks
, you can also buy pure clays and make your own mask by mixing them with rose water, apple cider vinegar or plain water. In today's post we will focus on just Multani mitti or fuller's earth.
Multani mitti has always been favorite of the women in our region and they have used it for their skin and hairs for centuries. In fact as this clay contains good amount of calcium, pregnant women have its craving and often you will find them eating. Although how it effects on your health while taking orally is a debate for another day.
1. Uses of Multani mitti for skin
All the clay are beneficial for oily skin and specially this clay is very effective for acne prone skin or for occasional breakouts. Even just mixed with plain water, it can clean the pores by drawing out impurities and oil while also minimizing the size of them. You will instantly find smoother and brighter complexion after using it. It is also very effective for sunburns. During extreme weather, if applied after coming home, it will remove dullness and slowly lighten the sunburned area.
It is not just good for oily and acne prone skin but dry skin can also take benefits from it. They should use milk for mixing this mask so it wont dry your skin. As it is has tightening properties, it is great option to reduce wrinkles. It also reduce inflammation helping in calming irritated skin. Continuous use will lighten the pigmentation and scars.
2. Uses of Multani mitti for hairs
This clay can also be used as hair pack. It nourishes and soften them. As it pulls the excessive oil from skin, it is very effective for oily scalp. Not only it cleans and condition the scalp, it also help in reducing dandruff. On the days when you need dry shampoo, multani miti is perfect for you. Rub it properly in to the scalp after sectioning them and with clean brush, brush your hairs thoroughly.
3. Difference between Aztec indian healing clay and Fuller's Earth.

After so much hype of Aztec indian healing clay i was curious to know what exactly this clay is about and found that it has only one ingredient called 100% pure Calcium Bentonite.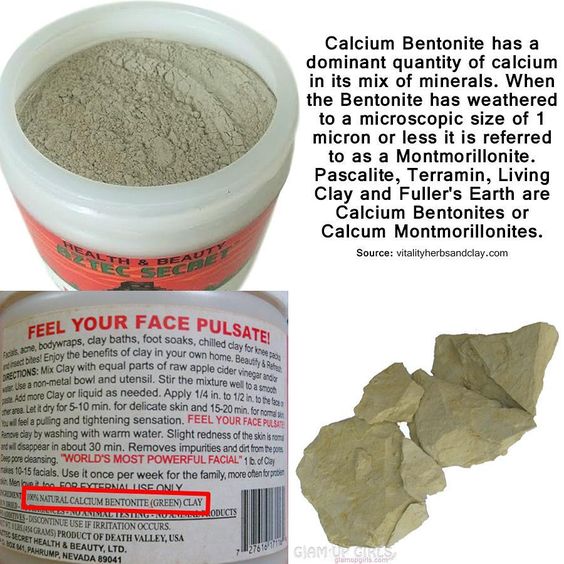 Calcium Bentonite has a dominant quantity of calcium in it mix of minerals. When the bentonite has weathered to a microscopic size of 1 micron or less, it is refereed to as montmorillonite. Pascalite, Terramin, Living clay and fuller's earth are calcium bentonites or calcium montmorillonites. (vitalityherbsandclay.com)
You will find this clay in many colors from grey, beige, green or light grey depending on the source, environment or life span. This change of color also have effect on how it work on your skin. Some may be more tightening, drying, expanding when damp etc. However their function is more or less is similar. So if you cannot find the bentonite clay by Aztec, you can use fuller's earth or Multani mitti instead which is already very famous and used widely in our region for centuries.