A Helpful Guide to Buying and Wearing a Maxi Dress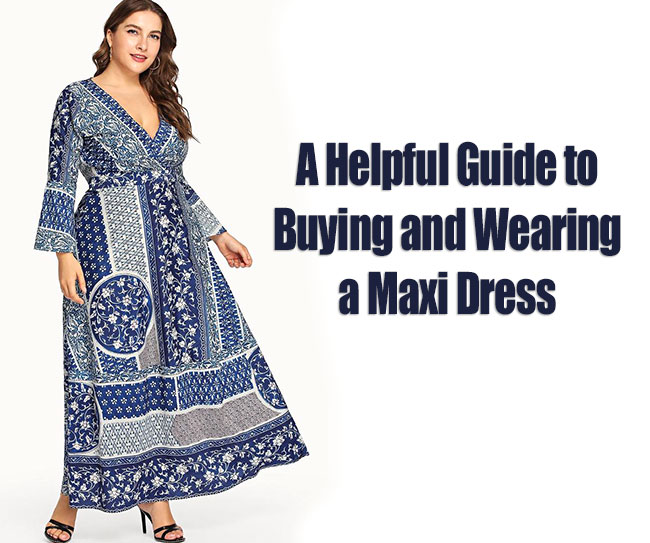 What is summer without the ever-stylish maxi dress? The flowy allure of the maxi dress is impossible to deny, and neither is its incredible convenience and functional style that looks beautiful to everyone. With the perfect maxi dress on your wardrobe, you have a go-to outfit that you can effortlessly dress up or down for casual Saturdays or a beach holiday.

Because this staple needs a chance to shine, this article will show you how to buy and wear the perfect Maxi Dress for you:

Identify the structure of your body
Every female's body is distinct, so the dresses you wear can make your frame stand out. Recognizing the body parts that you want to emphasize will help you determine the most appropriate Maxi dress for your form. Study varying outfits on Pinterest to choose the type of style you want and it could look amazing on you.

Tips:

Create an hourglass shape wearing a strapless, halter, or spaghetti strapped maxi dress.
Showcase your curves by wearing an embellished fabric with wide straps or a plunging neckline.
Accentuate an athletic body with a maxi dress that has a belt that slides down the body or appears to make a long, slimmer silhouette.
Consider cinching the waistline and using basic silhouettes to play down a bigger chest or use plunging necklines and open sides.
Delicate pleating with belt designs should highlight your curvy figure and get a crafty, mid-calf style if you're petite.

Pick the best prints and colors
The physique, colors, and design can greatly influence your maxi style. Select the right color and pattern for your body to match your maxi properly. Try tiny and simple prints or solid colors if you have a petite body, or choose bolder patterns or bigger floral designs if you're curvy.

Highlight
Based on the aesthetic and overall look that you're aiming for, emphasize one item from your ensemble. Leave the rest of your outfit plain. It might help the maxi and jewelry from overpowering you. Focus on the dress if it has bold designs or is wrapped in floral patterns. When the maxi has a bunch of material and is quite flowy, you would like to keep the spotlight on the dress itself. Using pieces such as rings or accessories when your dress has a darker shade or a plain design will be excellent. You can then add some extra glitz by getting a beautiful updo.

Layer
You can create your ensemble by adding various pieces to your outfit. Keep in mind that you would like to focus your attention on clothes or accessories, so complete your wardrobe with simple items. Watch the weather report before you incorporate pieces to your dress, so in the summer or fall, you can use a soft blazer or cardigan, and in the colder months, you might add a thick jacket or bandana around your neck to complement your maxi.

Simple footwear
Since maxis are mostly long and fluid, to have a more casual look, go for simple footwear. For most situations, a pair of ballet flats or plain, neutral-colored sandals work best. Wear flip-flops or slides if you want a more modern feel or wedge espadrilles. Choose open-toe and strappy platforms when the occasion is formal. Don't use closed-toe shoes.

You can't overlook the ease of a maxi dress, but it may be perplexing to find out how to wear it well. Remember, the trick to wearing a maxi dress is confidence!


comments powered by

Disqus